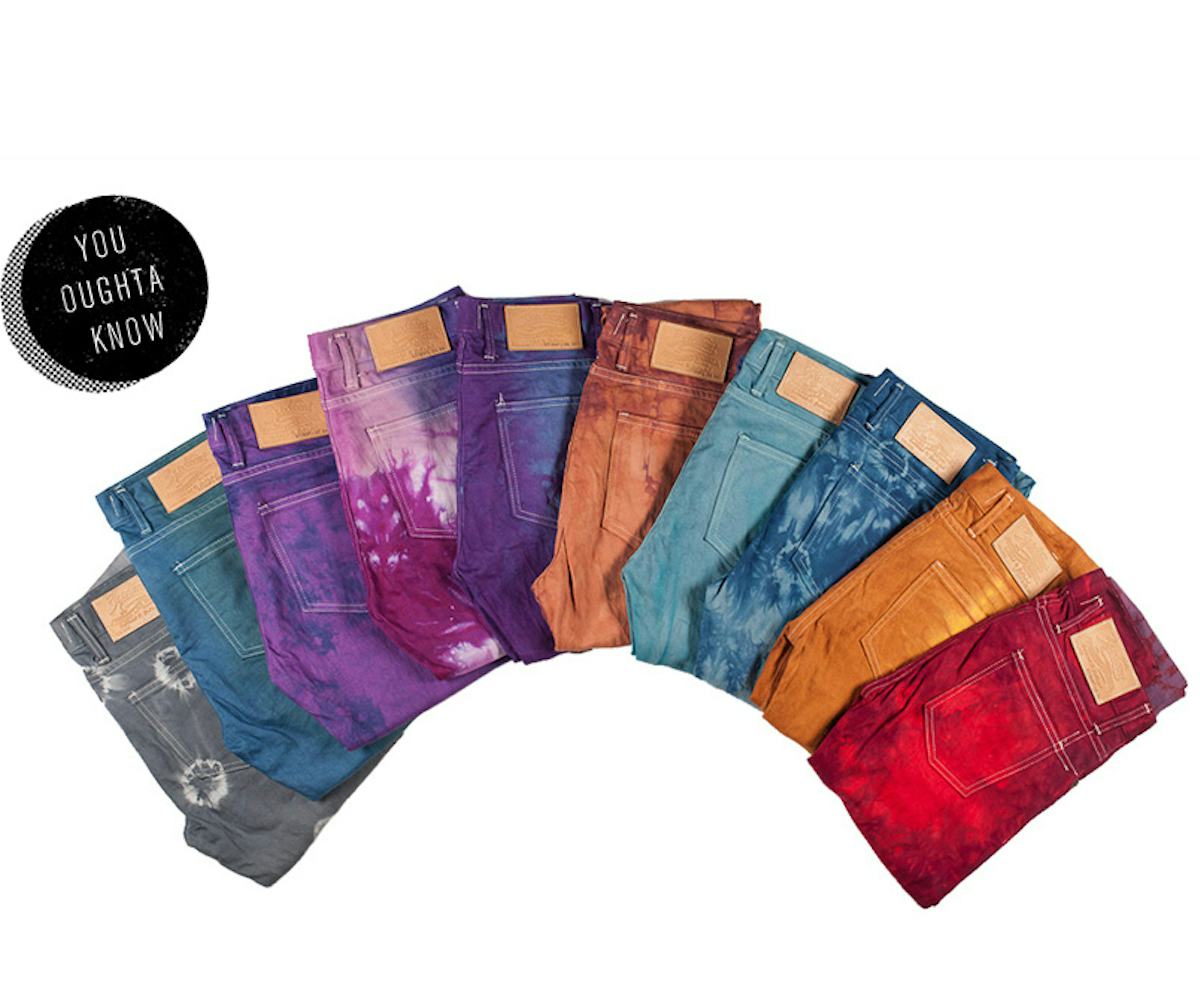 you oughta know: self edge
traditional tie dye denim with a twist.
Welcome to our new awesome column, You Oughta Know. No, it's not a '90s Alanis Morissette fan column, though we'd be totally OK with that; it's the place to find out about everything new, cool, and 100-percent NYLON, from bands about to hit the scene to designers who are on the verge of making it big. Consider it the place to meet and greet the new generation of talent. This week we're getting the scoop on hand-dyed jeans from Self Edge, which would go great with Oz Shoes crazy platforms...just sayin'.
It's pretty obvious that there's few material we love as much as denim--we have a whole issue dedicated to the stuff! So when we heard about an exciting new project from selvedge and Japanese denim brand and retialer, 
, we knew we had to explore it more. 
That led us to hop on the phone with Rain Delisle, the master tailor behind Self Edge's darning studio, Darn It, who created ten exclusive pairs of shibori dyed jeans for Self Edge's store in San Francisco. The rainbow jeans are truly awesome, from their intricate patterns to their rich colors, so we can't really blame you if you hop on a plane to SF now to scoop up a pair.
Or, if you're daring, you can read our interview with Delisle below where you'll get the scoop on the shibori techniques and then try dyeing your own pair of Self Edge's just-launched white, raw skinny jeans for women (available to buy on their website!), the
. Either way, you win because you'll have the coolest jeans on the block. 
How did you get started in working with Self Edge?
I'm originally from Boston, Massachusetts. I did a lot of fashion design there, went to school there, and I did an internship in NY with Christian Joy, who makes costumes for Karen O from the Yeah Yeahs Yeahs and a couple other bands. When I graduated school, I moved up to San Francisco and I landed in denim serendipitously. I passed by this shop that had a sewing machine in the window, went in, and started working with this guy who introduced me to the whole denim world in San Francisco. Then, I met Kiya [Babzani], co-owner of Self Edge, kind of randomly one day, and a couple hours later, I was working with him. We opened up this hemming and repair studio--All Self-Edge stores have a hemming and repair studio, but they're mostly inside or the back of Self-Edge, but our shop is called "Darn It" referencing the repair service that I do, which is on a darning machine. We're our own entity now, so we got to do these projects like this tie-dye one/
Could you explain the shibori technique that is used to dye jeans? 
Shibori is basically Japanese tie-dye. It's really ancient art and is usually done with indigo. I've always been interested in fabric treatment, and I really like hand-made, one-of-a-kind things, so [the technique] naturally spoke to me. The cool thing about this project was that I was just talking to Kiya, and he was telling me about the white jeans, and I was like, "That'll be cool if I get could a pair and tie-dye them." I was looking into some methods and thought it was natural to use shibouri methods since Self Edge is typically Japanese denim and shibouri is a Japanese technique, so I thought it'd be cool to reference that but bring in modern colors and silhouettes. Some of my favorite methods I used were things I've never done before; one of them is called
yanagi
, and it basically means "weeping willow". It's supposed to look like little branches. I also used
ne-maki
, which is where you see the circles and it's bound in string or by rubber bands. 
Did you have any inspiration for your design other than just seeing where the dye takes you?
A lot of it was organic due to the nature of tie-dying. The colors and the kind of techniques I use are actually inspired by vinyl records, and I have a lot of color vinyls, and I just like the color combinations on them. That, and just thinking about what I would want to see on a jean, and going back to cool color combinations. I'm really inspired by music. 
What kind of music was on your tie-dye playlist?
Honestly, I listened to a lot of Kiss. They're kind of like the anti-hippie thing but I love them!
If you could see any person living, dead, or imaginary in your jeans, who would you want it to be?
I would love to see Joan Jett, Kathleen Hanna, or Debbie Harry--any super-strong female musician I respect. I also think Janis Joplin would love them. 
I know with a lot of raw denim, people recommend not to wash them very frequently. Would you recommend caring for these jeans in the same way or a specific way because of the dye?
I would probably hand-wash them. They've been washed already, so they're not going to shrink anymore. They'll stretch normally, but just be careful with hand washing. The dye is super strong, so it shouldn't bleed into anything.
Besides the dyeing, do you have any favorite processes to do to the jeans? 
I think studding is really cool. I'm personally not a huge fan of distressing since my day job is repairing jeans that have holes in them [laughs]. But yeah, I like patching a lot, especially if you already have a hole already and put a cool fabric under it. I'd encourage people to try dyeing themselves; it's a really cool and fun thing to do, and you can get dye at any art supply store, it doesn't even have to be super nice. If you see something, just try it and emulate it. 
What is your favorite part of your job as the master tailor of Self Edge?
I would say getting to see jeans at all stages of wear is my favorite part. At Self Edge, it's all pretty much untreated, pure, raw, indigo denim; they're really heavy and stiff and stand on their own. It's cool to see that transformation from that form to when, maybe six months down the road, they come in for repairs and they're faded in a really interesting way. A lot of people say wearing in raw denim is like a fingerprint because it's based on how you wear your jeans. It's cool to see a personal touch on every jean. 
Need more fashion inspiration? Follow our Fashionista board on Pinterest!