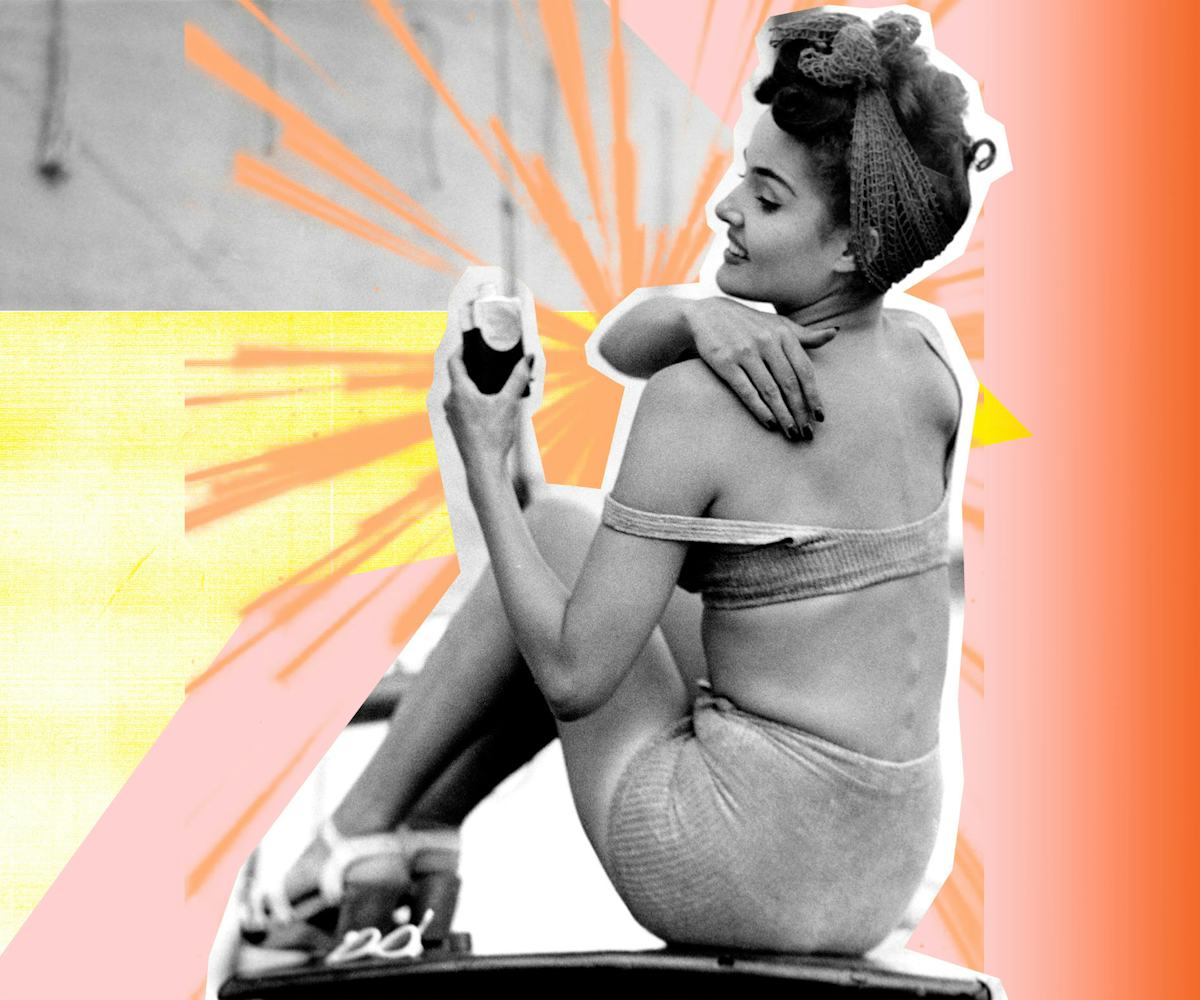 Collage Photo via George Marks / Stringer / Getty Images
9 Self-Tanners That Won't Turn You Orange
Your guide to an Oompa Loompa-free tan
We all know by now that the sun is damaging and dangerous to our skin, so the only "safe" options for achieving that fresh-from-the-beach glow come in the form of spray tans and self-tanners.
Whether we opt to shell out for spray tans (which can really add up) or try at-home self-tanners nowadays, we've all had our fair share of nightmare-ish situations—trying to achieve the perfect golden glow sans the sun and ending up turning a non-flattering shade of orange, resulting in an Oompa Loompa-like situation, which is never cute.
Yeah, it's in our best interest to avoid turning ourselves into human carrots.
Lucky for you, we tested a range of self-tanning lotions, mousses, overnight masks, and even towelettes to put together a list of superstar products that will bronze you—not "orange" you—so you can dodge any potentially traumatic experiences. 
Click through the gallery below to see some of our foolproof favorites.
Vita Liberata, 'Fabulous' Medium Self Tanning Tinted Mousse, $30, available at Nordstrom.
This mousse is awesome—it's super easy to apply and dries almost instantly. You'll get an instant bronzy glow upon application, but the conditioning and odor-free formula will deepen even further over the course of four to eight hours.
Clinique, Self Sun Body Tinted Lotion, $23, available at Clinique.
This fragrance-free formula develops over the course of a few hours but goes on with a slight tint so you can see exactly where it's going (preventing any accidental streaks).
Tarte, Brazilliance Set Of Five Self-Tanning Face Towelettes, $10, available at Tarte.
These are perfect for the girl on the go who is in need of a little glow. The easy-to-apply, single-use towelettes brighten, nourish, and hydrate the skin while delivering a sunless tan that develops over the course of four hours.
James Read, Sleep Mask Tan For Face, $38, available at Saks Fifth Avenue.
This soothing overnight mask allows you to go to sleep and wake up with a healthy, golden glow. The formula is super nourishing, infused with aloe and cucumber, and is also stain-free. It's more on the subtle side when compared to others, but sometimes less is more, am I right?
Sisley-Paris, Self Tanning Hydrating Body Skin Care, $132, available at Neiman Marcus.
This one is definitely the most luxurious out of the roundup. The hydrating lotion melts almost instantly into your skin, giving you an even, healthy glow just with the first application. You can reapply two to three times a week to build up to the desired intensity.
St. Tropez, Gradual Tan In Shower Lotion, $25, available at Ulta.
This one is the ultimate mess-free self-tanning lotion. You apply it in the shower after your normal body care routine and stay put for three minutes. Then you just rinse off, pat yourself dry, and voilà—you'll have an instant glow that you can build up over the course of three days.
Sephora, Gradual Self-Tanning Face Water, $18, available at Sephora.
This self-tanning "water" gives your face a gradual glow. The formula is gentle and goes on completely clear, so you don't have to worry about staining, and it has a light summer coconut scent. You can apply every day until you reach the desired color. 
Jergens, Natural Glow Revitalizing Daily Moisturizer, $8.99, available at Drugstore.com.
Ah, the classic drugstore self-tanner. I've used this one since I was in high school, and I must say, you really can't go wrong for the price. It smells great, doesn't streak (as long as you're sure to apply evenly), and is buildable.
ModelCo., One Night Tan Instant Bronze Mousse, $20, available at Birchbox.
This is the perfect quick fix for an immediate (and temporary) golden glow. The mousse will bronze you instantly and dries completely in about ten minutes—not to mention, the formula smells heavenly and will give you the slightest hint of sparkle. The formula is also commitment-free—it'll wash right off in the shower, as soon as you're ready to go back to your paler roots.