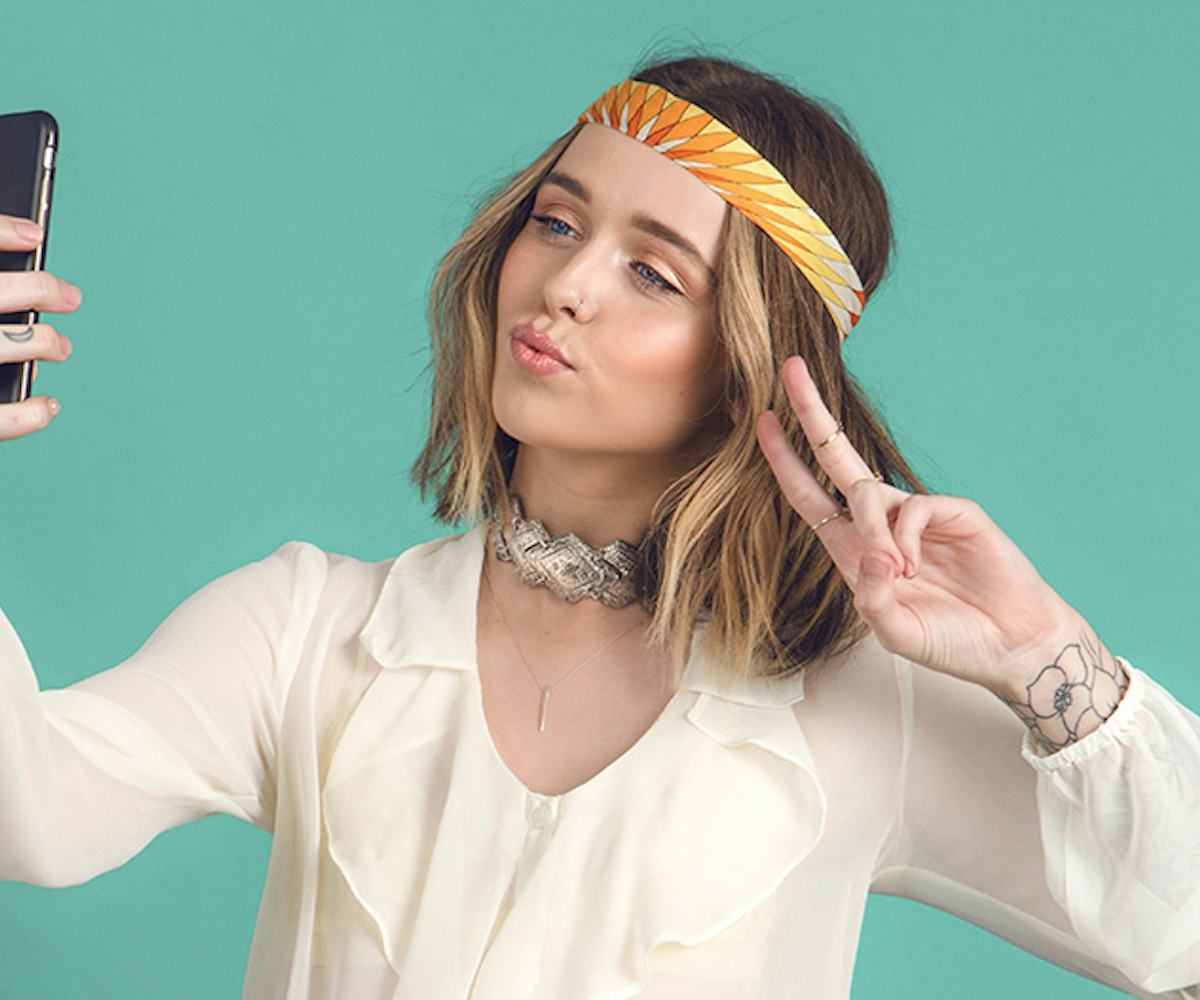 Photographed by Janell Shirtcliff.
How To Beauty Hack Your Way To A Better Selfie
but first, lemme nail that beauty routine…
The selfie has gone from private practice to public spectacle. Now, there is no shame is raising your arm above your head, finding your light, and taking a quick photo of yourself. You were just feeling your look, right? Can you live? You can live! You can even thrive. Mastering your best angle is but one step toward taking a better selfie. Lighting is another, but how you make up your face is also key. Of course, your selfies should always reflect your personality and style. With that said, we've found that a fresh glow and natural makeup look translates best in selfies. It highlights your features without hiding them. We teamed up with Clinique and Acacia Brinley to show you how to accentuate what you already have and bring your A game to the selfie arena. Ready? Set. Pose.
Photographed by Janell Shirtcliff; Makeup by Natalie Malchev; Nails by Miss Pop; Hair by Bobby Eliot; Styled by Dani Michelle.
The first step towards a perfect selfie look is cleansing the face. Makeup artist Natalie Malchev cleaned Brinley's using Clinique's Liquid Facial Soap and patting Pep-Start cream under and around the eye's orbital area, using her ring finger. The peptides—which are essentially amino acids that affect your skin's collagen—in the cream wake up the areas around the eye, making them look brighter.
Clinique, Pep-Start Eye Cream, $26.50, available exclusively at Sephora. 
Malchev then used two different foundations on Brinley. A lighter shade was applied as a concealer, beneath the eye and around "areas of concern." (Those are, obviously, unique to the individual.) She then blended a darker, more natural shade towards Brinley's face. Malchev said blending with your fingers or a beauty blender will get you an even complexion.
Clinique, Chubby in the Nude™ Foundation Stick in Abundant Alabaster, $24, available at 
Clinique; Chubby in the Nude™ Foundation Stick in Intense Ivory, $24, available at Clinique.
As a means of accentuating Brinley's eyes, but not bringing too much attention to them, Malchev added a creamy eyeshadow all over the eyelid, and lightly dabbed the inner part of her eye with a light pink shade to add highlights.
Clinique, Lid Pop in Cream Pop, $17, available at Clinique; Lid Pop in Petal Pop, $17, available at Clinique.
Before patting a light pink-tinted gloss to Brinley's lip, Malchev used Sweet Pots™' sugar scrub to exfoliate and smooth her lips. This step helps whatever makeup is applied after—be it a gloss, glaze, or lipstick—last longer. The subtle and warm gloss Malchev used brought just the right amount of pop to Brinley's beauty look. Perfect for the quintessential kissy face.
Clinique, Clinique Sweet Pots™ Sugar Scrub & Lip Balm in Pink Framboise, $19.50, available at Clinique.
Finally, as a means of enhancing Brinley's natural lip color, she applied a nude lacquer all over the lips. This step adds shine and keeps the lips from drying out and becoming chapped.Clinique, Clinique Pop™ Lacquer Lip Colour + Primer in Nude Pop, $18, available at
Boom. A look that's both camera-ready and, well, ready for anything.
But first, lemme take a selfie.