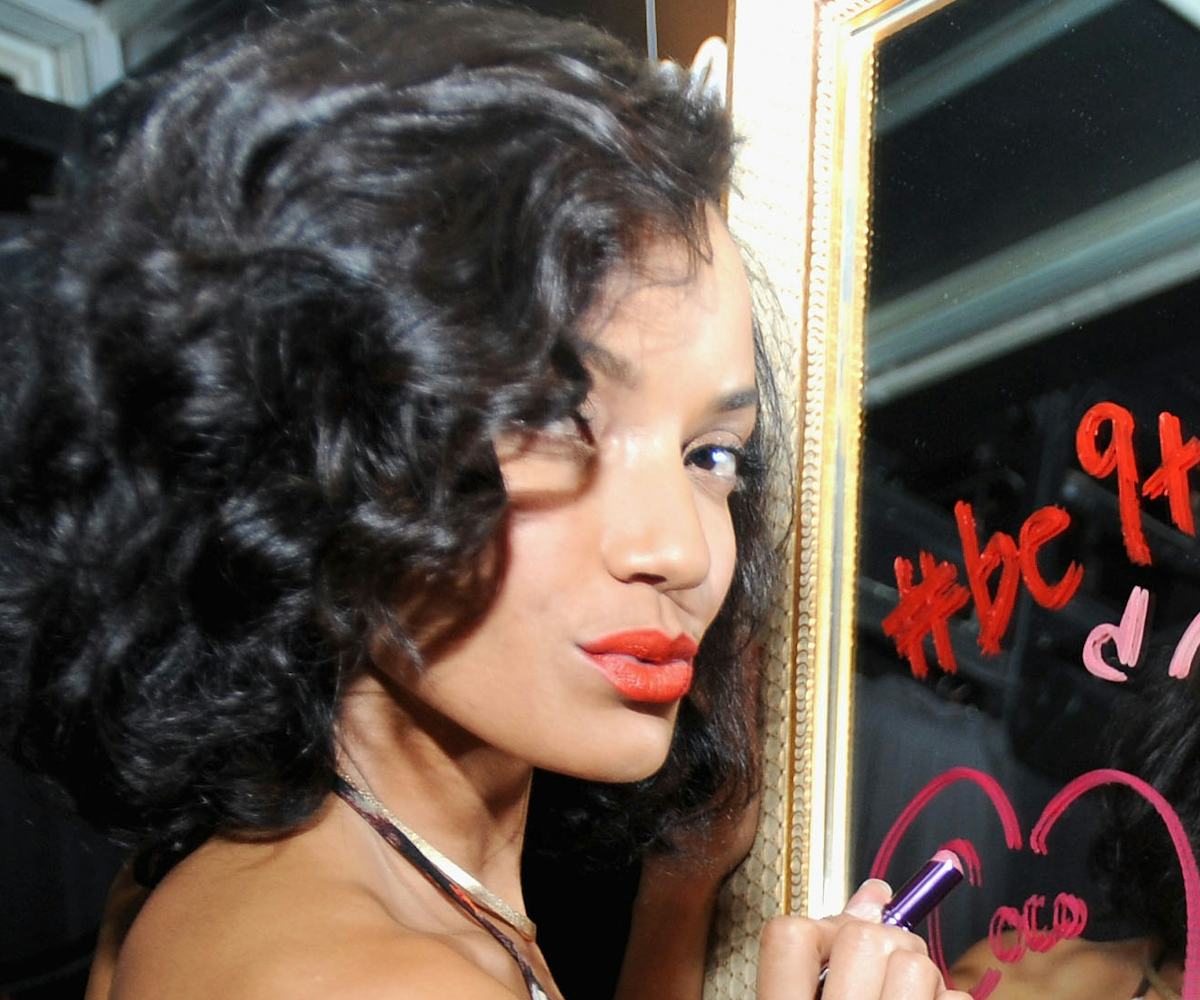 obsessed: selita ebanks
"i literally pretend i'm harry potter and put on my invisibility cloak."
Selita Ebanks done it all, from appearing on TV shows like How I Met Your Mother to walking the Victoria's Secret runway in her skivvies. Oh, and she also starred alongside Kanye West in his film/video/piece of performance art, Runaway as a phoenix fallen from heaven. (Yeah, we'e jealous.)
That's why when we spied the major model at the launch of Bebe's new ad campaign (starring our other favorite model, Nina Agdal), we knew we had to pick her brain. What we learned is that she is a crazy good chef who might be a little tooobsessed with spicy foods. (When you start crying from the tingly pain is when you know you have a problem with the Sriracha.) She's also probably the person you want making your first date playlist... you'll see why.
You have to have a powder in your purse all the time to blot. I use MAC Blot Powder Pressed in "Dark."
Of course, I always have a lipstick in my purse! This is "Lady Danger" by MAC.
Phuket, Thailand
I went to Thailand for the first time this summer. It was amazing. I went to Phuket while I was there and I have to say it is one of God's greatest creations. Thailand is the land of smiles, truly. The people are amazing. And the food! It was kind of a blessing and a curse because I really like spicy food, but when they say spicy, they mean it! I drank like a gallon of milk after each bite because they said it was going to help. It didn't help. Nothing helped. I was in tears, my nose was running--it was not a sexy moment for me, but, it's so delicious. It's a hot-that-feels-so-good burn.
Being Productive
I try to stay productive, so, even on my days off I'm working on my other projects, like studying lines for an upcoming TV show or movie. I love to write too.
Dinner Parties
I always have dinner parties. I cook dinner, I get my friends nice and toasty, and then I make them work. Nobody's allowed in my kitchen, though. I make them work in other ways. If I have a project idea, I'll literally make them brainstorm with me. I'll say, "You want more chicken? Help me!" I actually do let my friends into the kitchen, but only to clean up!
Cooking
Cooking for me is like therapy--it's very relaxing. My mom taught me how to make her signature dish, which is rice and beans with coconut milk. I also do an amazing pork loin stuffed with mushrooms with a vermouth reduction. I have seven brothers, so I had to pick up the slack growing up. My brothers were the worst critics, too, like if I made something they didn't like they would tell me to my face, throw it in the trash, and make oodles of instant noodles. The worst!
Sexy Music
When I'm at home, I definitely listen to a mix between Sade and Bob Marley and The Wailers--I like those sexy and good vibes.
Beyonce
Probably the best thing I've ever been given is tickets to a Beyonce concert. She is awesome. I'm like her biggest fan ever. The fact that she knows my name... I can't handle it. When I'm around her I literally pretend I'm Harry Potter and put on my invisibility cloak so she can't see me. That's how insecure I become.