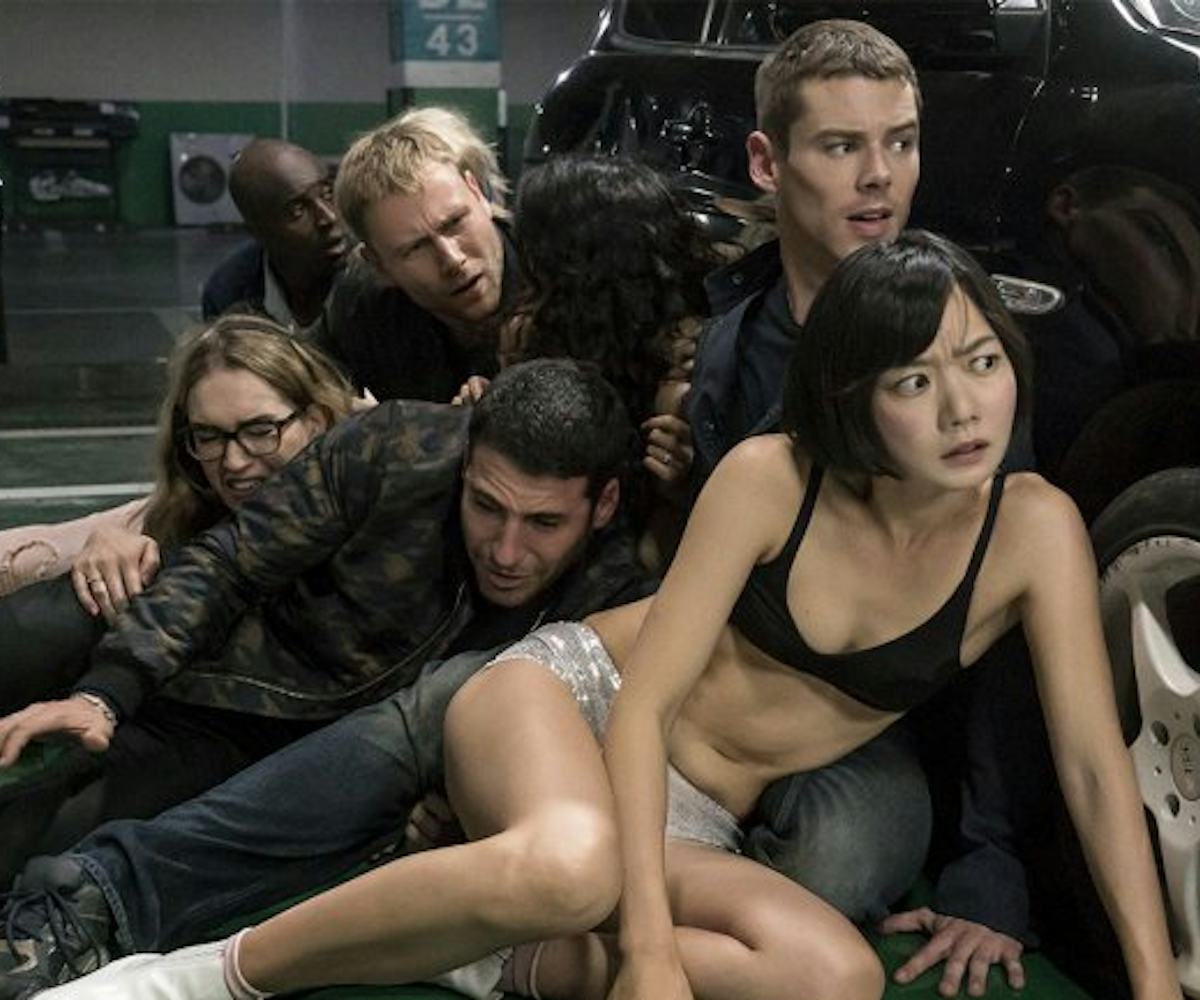 Image via Netflix
Fans Are Devastated That 'Sense8' Is Being Canceled After Two Seasons
It's one of the most diverse shows on TV
Yesterday, Netflix announced it would be canceling Sense8 after just two seasons, and fans of the show are crushed. As one of the first sci-fi drama series to explore themes of sexuality and gender, Sense8 was more diverse and LGBTQIA-inclusive than almost anything else on TV.
Created by two transgender siblings, Lana and Lilly Wachowski of The Matrix fame, Sense8 followed the lives of eight pansexual characters from all over the world, who were psychically linked to one another. The news of the show's cancellation comes less than one month after season two's May 5 premiere, and just one week after Netflix canceled The Get Down, another show that offered diverse representation on screen. 
"After 23 episodes, 16 cities and 13 countries, the story of the Sense8 cluster is coming to an end," vice president of original content for Netflix, Cindy Holland, said in a statement. "It is everything we and the fans dreamed it would be: bold, emotional, stunning, kick ass, and outright unforgettable. Never has there been a more truly global show with an equally diverse and international cast and crew, which is only mirrored by the connected community of deeply passionate fans all around the world."
This is especially sad news to get at the beginning of Pride Month, as a large number of the show's audience is LGBTQIA. Sense8 featured same-sex relationships and starred trans actor Jamie Clayton.  
It's unclear why Netflix has decided to cancel Sense8, but actor Brian J. Smith, who plays Will Gorski on the show, tweeted that, "not enough people watched the show and it's $$$ to produce." 
Other actors in the series expressed their disappointment. "I'm sorry #Sense8 has been cancelled," Tina Desai, who plays Kala Dandekar, tweeted. "It was an incredible experience. Thank you to everyone who watched and supported the show." 
"#Sense8 will live on through YOU," Clayton
. "Get out there and LOVE, VISIT, LEARN, SHARE, VOLUNTEER AND FIGHT FOR EACHOTHER & THIS BEAUTIFUL WORLD."
Fans are so devastated by the news, some are calling Netflix to protest the cancellation and others started a petition to keep the show on the air. So far, it's received more than 200,000 signatures in less than 24 hours. 
"It is not just a tv show," the petition states, "Sense8 has given the world a new way of seeing others: with acceptance, love and understanding."