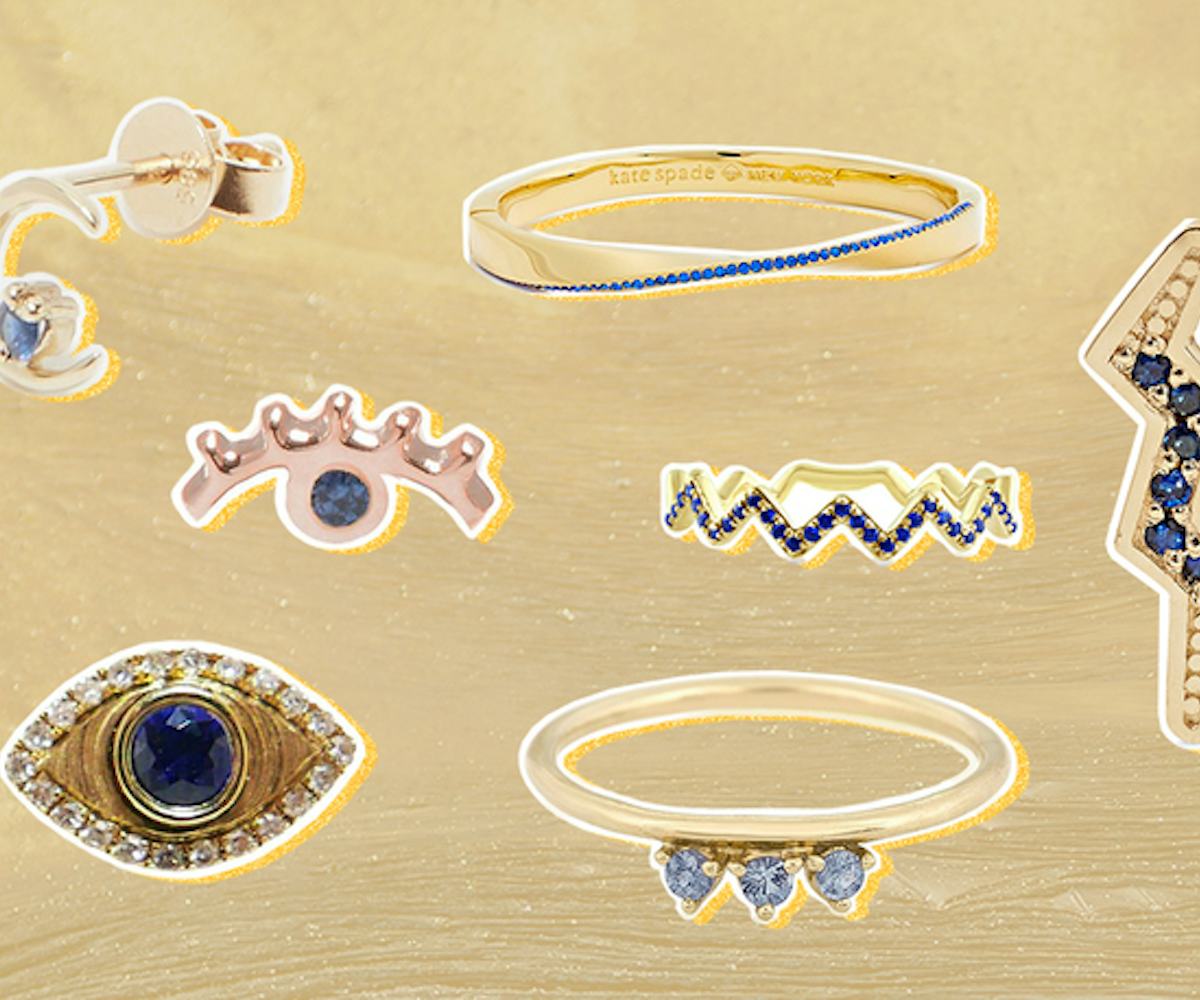 13 Stunning Pieces Of Sapphire Jewelry To Ring In September Birthdays
September is officially here, and with that, the official end of summer and the arrival of fall. In addition to bringing on a new season, the coming of September also brings in a new birthstone. August's summery yellow-green peridot takes a backseat to the radiant, vibrant blue sapphire—quite a symbolic transition in terms of the changing seasons.
The sapphire, thought of as the stone of wisdom and royalty, has deep history and lore in many religions and cultures. From symbolizing celestial hope and faith in the ancient and medieval world to being used as a healing and protective talisman throughout the ages, the sapphire has long been believed to do everything, from healing the mind and aiding in focus to stimulating the throat and third eye chakras and protecting its wearer from black magic and plague.
Believe it or not, the sapphire isn't always found in its bright, vibrant blue form. You can find it in a range of cool hues, from pale azure to indigo, but also in shades of yellow, green, pink, and more.
There's no denying the beauty of the sapphire—and the luck of those who get to call it their birthstone. For all of the September birthdays out there, we rounded up 13 stunning pieces of sapphire jewelry. (Did we mention they make the perfect gifts for your Virgo and Libra BFFs?)
Click through the gallery below the check them out.
Tarin Thomas, Gold & Sapphire Reagan Ring, $188, available at Local Eclectic.
Wwake, Three Point Sapphire Ring, $529, available at Stone & Strand.
J.Luu, Zig Zag Sapphire Ring Yellow Gold, $450, available at J.Luu.
Porter Lyons, Sapphire Evil Eye Stud, $295, available at Porter Lyons.
OTEM, Signature Cuff With Sapphire Baquette, Sterling Silver, $300, available at OTEM.
Blue Nile, Sapphire Pave Bar Neckace, $350, available at Blue Nile.
Kate Spade, Do The Twist Pave Bangle, $68, available at Kate Spade.
Sarah & Sebastian, Bezel Line Earrings, $175, available at Sarah & Sebastiana.
Mociun, Moon Ray Studs in Sapphire, $210, available at Need Supply Co.
Bing Bang, Winking Eye Studs, $78, available at Bing Bang.
Scosha, Open Cuff With Sapphire, $225, available at Scosha.
Andrea Fohrman, 14-Karat Gold Sapphire Earring, $355, available at Net-A-Porter.
Alison Lou, Minus Stud, $160, available at Alison Lou.