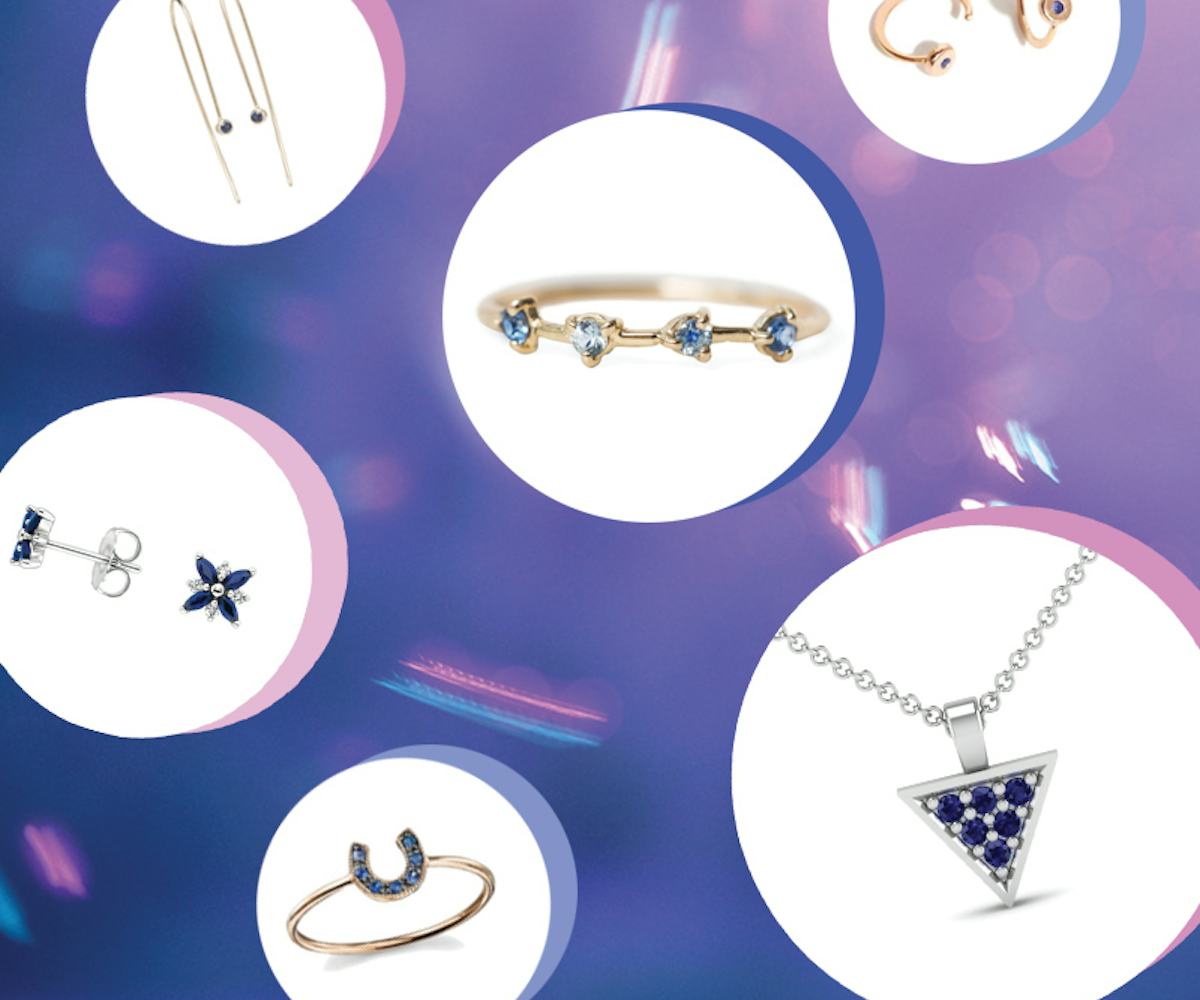 Background photo via Sapphire Dream Photography on Flickr
The Most Radiant Sapphire Jewelry For September Birthdays
For all the Virgos and Libras born this month
Last month, the muted pale green peridot was the stone of choice for anyone celebrating their birthdays. Now that September is finally here, it's time to acknowledge the new stone in town. This time, it's a bolder jewel getting ready to step up—make way for the deep, vibrant blue of the sapphire.
Ancient Persian rulers once accredited the color of the sky to this precious stone's reflection. A symbol of purity and wisdom, the sapphire is thought to help with peace of mind and serenity. It was also once considered a favorite of priests, kings, and healers, probably in part because the stone was thought to promote good health, both by cooling fevers and even protecting against mental illness. 
Whether you believe the folklore or not, there's no denying how covetable the beautifully blue sapphire is (and how awesome they look around our necks). We rounded up our favorite sapphire baubles at every price point, which also happen to make the perfect present for any Virgos and Libras in your life. 
Click through the gallery below to check out our picks.
Jennifer Zeuner, Ivy Otis Blue Sapphire, Sterling Silver, & Velvet Choker, $132, available at Saks Fifth Avenue.
Melissa Joy Manning, Sapphire Hug Hoops, $200, available at Melissa Joy Manning.
Wwake, Four Step Ring, $581, available at Catbird.
Anna Sheffield, Skinny Wheat Bangle, $500, available at Anna Sheffield.
Loren Hope, Clara Crystal Bracelet, $58, available at Nordstrom.
Ariel Gordon, Sapphire Pave Huggies, $630, available at Ariel Gordon.
Jennifer Meyer, Thin Sapphire Stacking Ring, $175, available at Ylang 23.
Indulgems, Evil Eye Pendant Necklace, $140, available at Max & Chloe.
Sydney Evan, Mini Rose-Gold & Blue Sapphire Horseshoe Ring, $465, available at Sydney Evan.
Zoe Chicco, 14K Blue Sapphire Wire Earrings, $375, available at Zoe Chicco.
Catherine Weitzman, Gemstone Fade Chain Bracelet, $90, available at Catherine Weitzman.
Brilliant Earth, Sapphire and Diamond Petal Earrings, $795, available at Brilliant Earth.
Brady Legler, Inverted Pave Triangle Pendant, $160, available at Iconery.
Lili Claspe, Sapphire Prism Ring, $125, available at Lili Claspe.