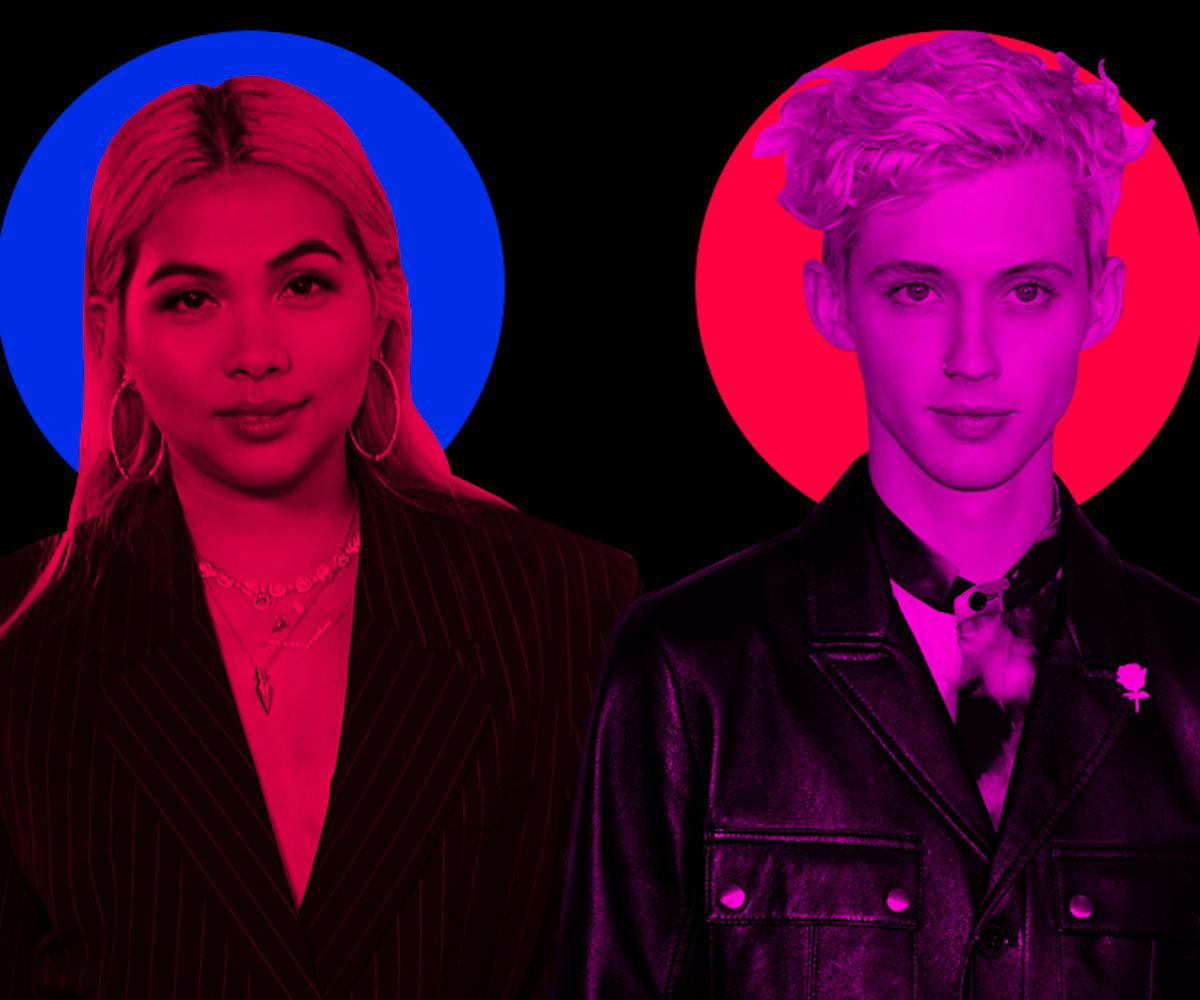 Graphic by Lindsay Hattrick
The Hottest Sex Jams Of 2018, So Far
Summer is here, and with it comes all the sweaty, pheromone-laden lust you associate with the temperatures rising. Because while it may be blistering outside, it's no secret that the heat can bring a potent sexual energy to a situation. And so a carefully curated soundtrack to amplify the mood is essential to ensuring a good time. In celebration of getting down, we put together a list of the 10 hottest sex jams of 2018—so far, that is. Crowdsourced from the NYLON staff, we have songs for the sexy, smooth moments; the fun, flirty flings; and everything in between. Check out our picks, below.
Troye Sivan - "Bloom"
Undoubtedly one of the best overall songs of 20GAYTEEN, Troye Sivan's cheeky (LOL) gay sex anthem celebrating his love of being a bottom is pure pop perfection. The kind of sweeping song that soundtracks movie montages, we recommend "Bloom" for a frisky afternoon romp. 
The Internet - "Come Over"
Syd's sleek croon is what drives The Internet's "Come Over," an adorable song about that one crush you just wish would come over. What makes it feel so real is the slight twinge of self-conscious vulnerability that also comes with making the first move, so this is definitely a seduction song for the brave! A dreamy song that's unbearably sweet in its lovestruck, starry-eyed attitude, this one is definitely for a special, tender occasion. Use wisely! 
Janelle Monáe - "Make Me Feel"
There's just something about this song's rubbery bassline and slick groove that practically forces you to think about sex. Unsurprisingly, Monáe's new album was recorded with the help of the late Prince, and you can hear his devilish touch all over this track. Though make no mistake, "Make Me Feel" is strictly Monáe's show. With the level of raw, sensual energy she brings to the table, honestly, Monáe may be giving the "Love Symbol" himself a run for his money. 
Shawn Mendes - "Lost in Japan"
Shawn Mendes isn't exactly the first musician that comes to mind when you're thinking "sex," but "Lost in Japan" may change that. His latest foray into atmospheric, funk-tinged experimentation is just a damn good song—plain and simple. Seriously, try to ignore some of his corny lines and just let that throb-tastic bassline do all the talking.
Gallant - "Gentleman"
Nothing will quite knock the wind out of you like your first listen of Gallant's "Gentleman." A carnal slow-burner of a song that was just made for writhing to, this song is a sexual serenade for someone really special.
Kali Uchis ft. Tyler the Creator - "After the Storm"
To be frank, no list of horny songs would be complete without an entry from Kali Uchis, and "After the Storm" seems like the perfect place to start. Honestly, this entire list should just be Uchis, so if you like what you hear, we recommend also going back to her smoky 2015 effort Por Vida—post-coital. 
Alina Baraz ft. Khalid - "Floating"
There's something so dreamy about this gorgeous duet between Alina Baraz and Khalid. Between her honey-sweet voice and tender lines like, "I caught you skinny-dipping inside my head," "Floating" is definitely a song for all the hopeless romantics. 
Lykke Li - "hard rain"
While it may seem completely antithetical to the idea of sensuality on paper, Lykke Li's "hard rain" is probably one of the sexiest songs of 2018. Futuristic pop-R&B with a silky smooth hook and ample robotic vocal distortion, it's a strangely contemplative slow-burner. 
Hayley Kiyoko - "Curious"
Okay, so while maybe not the emotionally healthiest song to put on this list, there's just something so real about the sexual tension that still lingers between exes, especially the ones prone to playing games. So if that's the kind of situation you've found yourself in, playing this track is a total power move. Leave it to Kiyoko to communicate all of our complicated feels via one perfect pop song. 
The Carters - "Summer"
Last but not least, we have The Carters' "Summer," which—like much of Bey's and Jay's work–fuses hazy fantasy with a hefty dose of reality. And while the entirety of Everything Is Love is incredible, there's just something so sexy about the way "Summer" drifts in and out in between that dubby bassline.