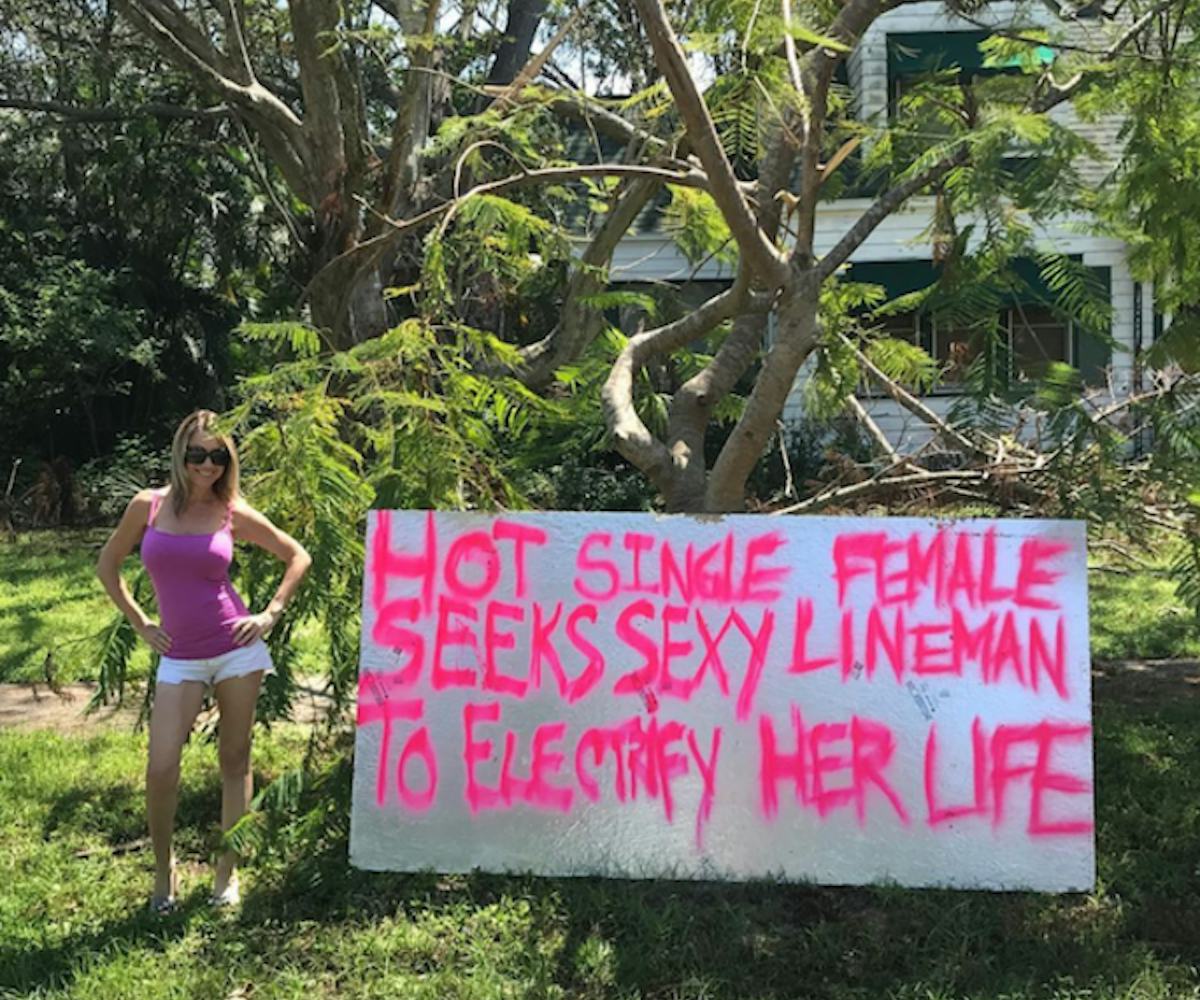 Photo via Instagram @remaxdreamkynse
This Woman Used A Sexy Sign To Get Her Electricity Back After Irma—But That's Not The Whole Story
Kynse Leigh Agles has received quite a bit of attention for the provocative sign she used to help get electricity back to her home after Hurricane Irma. In the picture widely shared from her Instagram, Agles stands next to a huge sign that says (in big pink letters, no less), "Hot single female seeks sexy lineman to electrify her life." But before you roll your eyes or, should you be a male internet troll, start typing out a manifesto about a woman using her sexual wiles to get something, the story behind the cheeky move is, well, quite moving.
Agles is a 37-year-old single mother and real estate broker who very recently underwent a kidney and pancreas transplant surgery just before Hurricane Irma hit Tampa, Florida. As anyone who's spent any time in a hospital can understand, all you want to do after a procedure is go home and be with your family, which is precisely what Agles wanted to do. But, Agles realized what a challenge it would be to fend off infection from her recent procedure if she were without electricity for at least two weeks, possibly more. As she told PEOPLE, "I couldn't be without electricity because after receiving an organ transplant, you're highly susceptible to infection—and it's hard to keep your house clean without electricity!" So, she made the sign as a humorous way to draw attention to her situation or, if nothing else "maybe my neighbors could get a good laugh about it." Next thing she knew, a local radio station was interviewing her about her story and soon enough, a power crew came to restore electricity to her house and the surrounding neighborhood. 
As for the sign, it's still gaining Agles a lot of attention. One of the linemen who worked in her neighborhood posted a note of his own, saying "Power on due to your PPL lineman." She's also received numerous messages and propositions for dates on Facebook, as well as some criticism. But she's not focusing on the latter. Instead, Agles is using her spotlight to talk about the importance of being an organ donor and call attention to the shortage of organs that cause at least 22 people to die every day. She herself received her organs from 15-year-old Elijah Mayhew, whose organs have already saved six other lives. Mayhew's family has set up a GoFundMe page for his medical bills and funeral cost, and Agles is frequently in touch with his mother.
Certainly, this attention is more than Agles ever expected. But helping someone sick and in need and highlighting an important cause is something that's worth getting a little hot and bothered over.