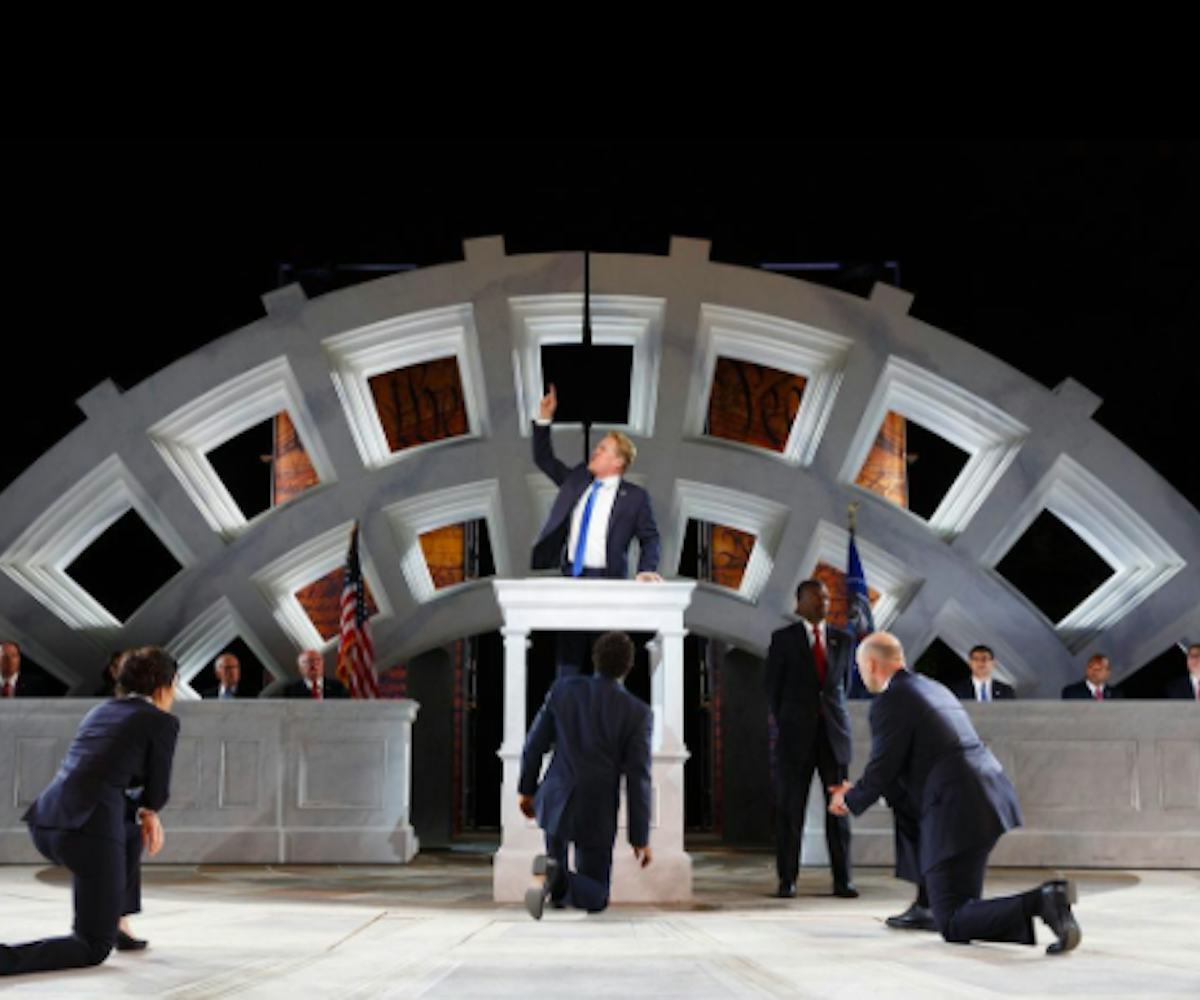 A Bloody, Trump-Inspired 'Julius Caesar' Is Making Conservatives Angry
Delta and Bank of America have pulled funding from the play
Shakespeare in the Park, an annual free program put on by The Public Theater in New York City's Central Park, is getting some major backlash right now for their current production of Julius Caesar, in which the title character is portrayed by an actor with a striking resemblance to Donald Trump. It is not merely the fact that the Public's staging draws a connection between the current president and a power-consolidating, occasionally despotic ruler that is upsetting conservatives, rather it is the fact that the Trump lookalike is assassinated in a particularly gory manner. (Shades of Kathy Griffin, anyone?) It's the blood-and-guts aspect of the whole thing that has conservatives referring to the play as "shocking and distasteful" and sponsors, Delta and Bank of America, pulling out.  
In a statement, Bank of America explained their decision to withdraw funding was due to the fact that "The Public Theater chose to present Julius Caesar in such a way that was intended to provoke and offend." Delta also noted that the company doesn't condone the interpretation, stating that "their artistic and creative direction crossed the line of standards of good taste."
The Public Theater has yet to issue a statement on the matter, though Oskar Eustis, the show's director, wrote previously on the website that the play doesn't condone assassination. "Julius Caesar can be read as a warning parable to those who try to fight for democracy by undemocratic means," he writes. "To fight the tyrant does not mean imitating him." He continues: "Julius Caesar is about how fragile democracy is. The institutions that we have grown up with, that we have inherited from the struggle of many generations of our ancestors, can be swept away in no time at all."
It's worth noting that The Acting Company in New York staged the same play five years ago with an Obama stand-in, and nobody was complaining much then. It's also worth noting that Shakespearean drama is often brought into contemporary times in order to comment on current events, but that since, you know, it's almost always an imperfect analogy (for example, both the real and fictive Julius Caesar was a war hero; Trump, not so much), so it's kind of absurd to get worked up over it.
Many on Twitter also noted that the withdrawal of funding, ironically, occurred during one of the biggest nights celebrating the theatrical arts: The Tony Awards. Cynthia Nixon spoke briefly about the incident after the award show. "The arts are not funded very well in this country as compared to other places in the world," she said. "You fund people because you think they're good artists, not because they reflect your political viewpoint."
If you are still in favor of free artistic expression, though, Julius Caesar is slated to run until June 18. You can also donate to The Public Theater here.