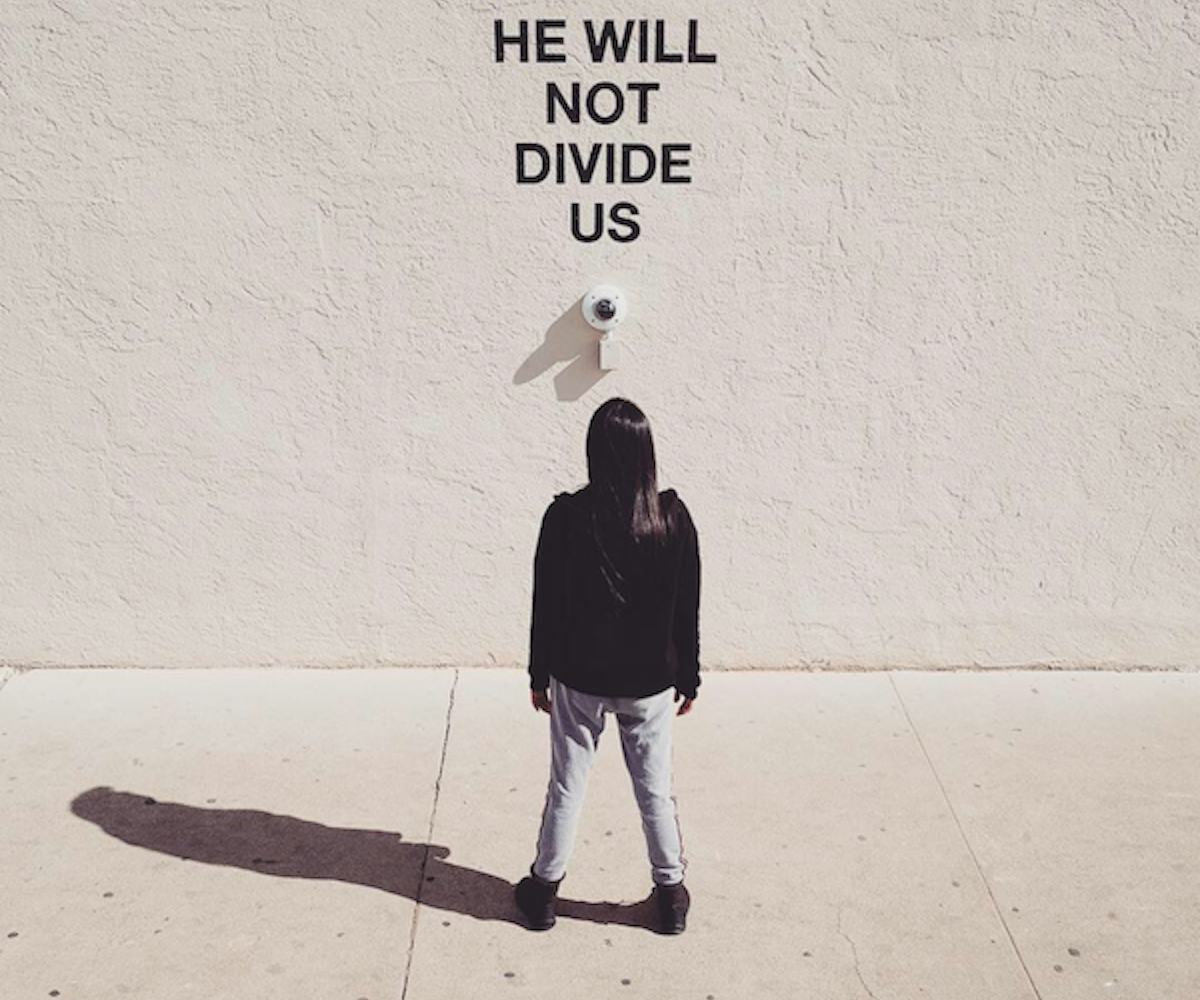 Photo via Instagram/@shialabeoufdaily
Shia LaBeouf Restarts His Anti-Trump Art Project In New Mexico
After Shia LaBeouf's HEWILLNOTDIVIDE.US art installation was canceled at New York's Museum of Moving Image, cited as an "ongoing public safety hazard," the actor and his collaborators, Nastja Säde Rönkkö and Luke Turner, have reopened the project at the El Rey Theater in Albuquerque, New Mexico. 
Of course, this didn't come without a few harsh words on behalf of the artists. Yesterday, LaBeouf, Rönkkö, and Turner released a joint statement slamming the installation's previous home, New York's Museum of Moving Image, for disrespecting them and "abandoning" the project earlier this month. The piece, a four-year live stream that encourages people to say "he will not divide us" into the camera, became a rallying point for the alt-right, who used the unguarded stream to make racist, anti-Semitic, and sexist statements. LaBeouf was famously arrested at the installation for shoving a white supremacist who confronted him. The museum shut down the stream shortly thereafter.
In the joint statement, LaBeouf, Rönkkö, and Turner said that the museum mistakenly framed the piece as a political rally "rather than as a participatory performance artwork resisting the normalization of division." The artists said they had spoken to the museum about this and about subsequent incidents of hate speech occurring at the site, but their concerns were disregarded. In apparent response to the piece being called an "ongoing public safety hazard," the artists say that "there had been no incidents of physical violence at the site of our project that we are aware of, nor that we had been informed of at any stage by the museum," and that the museum was bowing to "political pressure" in closing the installation, noting that the museum's attorney works for the current president.  
As of yesterday, the stream has been reopened at the El Rey Theater and can be watched here.
(Via People, thecampaignbook.com)