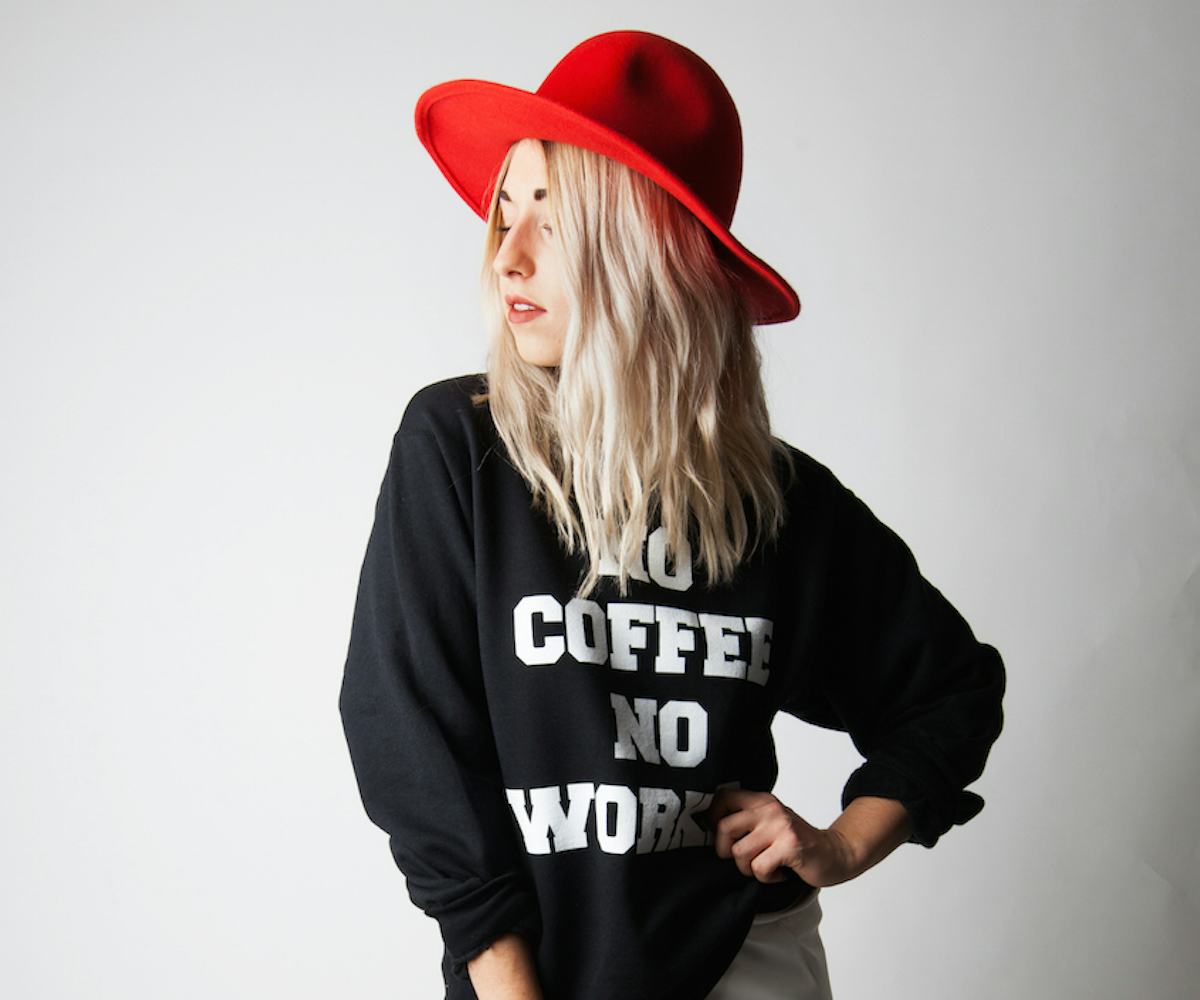 photos by suzanne darcy
get to know stylist kristi scarrozzo
find out how she became the lady k.
Name/Brand Name: Kristi Scarrozzo of The Lady K
Occupation: Fashion Blogger/Stylist/Consultant
Hometown: Berlin, CT
Current City: 
New York, NY
1) You started blogging in 2013— how has The Lady K grown since you started/what opportunities have been made available to you that weren't available prior to the blog?
The Lady K went from just a simple idea of sharing my style with the world, to opening up so many opportunities within the fashion industry. I created The Lady K to showcase my personal style and share with my viewers my unique finds, thrifting deals, and overall love for styling. Since the start of The Lady K, I've been fortunate to work with so many innovative designers, social media mavens, fashion tech companies, and really translate my creativity to style with some outstanding people. With the growing bond of fashion and technology, the fashion world is opening up so many tech doors to make fashion fun, relatable, and limitless. The concept of The Lady K is about wearing what you love, self-expression, and at the end feeling comfortable with your own creativity. Social media platforms, such as Instagram, Twitter and Facebook have really given me a connection to link The Lady K's concept with individuals who share the same fashion and lifestyle goals and feelings.
2) Tell us a bit about your design background and how it's helped you with your love of styling.
My design journey started as a young girl. I would spend all my time learning how to sew from my mother and grandmother. I would construct and deconstruct garments and make some really unique, experimental pieces. I had my sights set on going to FIT, but after being denied entry for my freshman year, I went to Framingham State University in Massachusetts to take a year to create, educate, and concentrate on my studies in fashion and continue to follow my dream of attending FIT. After finally being accepted to FIT, I started the journey to finding what I really love within the fashion world. My four years at FIT exposed me to so many different layers within the fashion industry. While I really enjoyed the construction aspect of Fashion Design, I discovered I had an undying passion for styling the entire look of an outfit. Directly out of college, I jumped right into freelance event planning and styling. Event styling was one of the pivotal steps into guiding me into fashion styling. It tested my creativity and helped me realize I had more of a vision of styling for people at the events than the actual events. I've applied my education and experience to style various editorial shoots, promotional shoots, and e-commerce sites. At the end of the day, styling just feels right. Do what you love, and LOVE what you do!
3) You get a lot of your pieces from thrift stores—what's the best piece you've thrifted recently?
On the way to Lake Tahoe, I stopped off at a thrift store in downtown Reno, NV. I found this vintage brown leather bomber jacket (think uber hottie Tom Cruise in Top Gun) for $5.99!  
4) No outfit is complete without?
Leather, Lipstick & Heels
5) What's next for The Lady K/what can we look forward to seeing from you?
LA! In the next couple weeks I'll be ending my six years in NYC by packing and moving to sunny LA! Before moving to NYC, I set some serious goals and dreams which I've achieved. While chasing those dreams, I've met some amazing people, made some great connections and have really done NYC right. I feel like LA is the perfect next step to taking the blogging and styling life to a new place, and ultimately give me the bi-coastal stylist life I've been working towards. Also, with 
, I've started to use the site as a platform to tell the stories of young innovators, and their unique paths to turning their creative dreams into their everyday life professions. With this addition to the blog, I'm going to take a modern twist on fashion storytelling to reveal this generations tastemakers to the world.
6) Anything else we should know about you?
I have secret love for 90's hip hop music, an extensive collection of vintage mugs, am obsessed with my Anna Nicole Smith bobble head, drink coffee as if it is water, and my shoe collection is nearing triple digits.
Shop The Lady K style on
!
reason clothing: bad kids varsity jacket—$130. never fully dressed: sienna white jumpsuit—$95. (available here.)
reason clothing: bad kids varsity jacket—$130. never fully dressed: sienna white jumpsuit—$95. (available here.)
hot mess: toyshop panel jacket—$170. 8 other reasons: liquid candy ear cuff (purple/green)—$55. galisfly: sun tribal faux septum ring—$34. (available here.)
hot mess: toyshop panel jacket—$170. private archives: white fitted crop top—$125. galisfly: sun tribal faux septum ring—$34. (available here.)
local heroes: internet princess sweatshirt—$89. motel: himalayan checked midi skirt—$75. dorici: on fleek beanie (black)—$24. (available here.)
married to the mob: blue bitch relax pouch—$25. (available here.)
from phoenix with love: no coffee no workee sweatshirt—$55. (available here.)