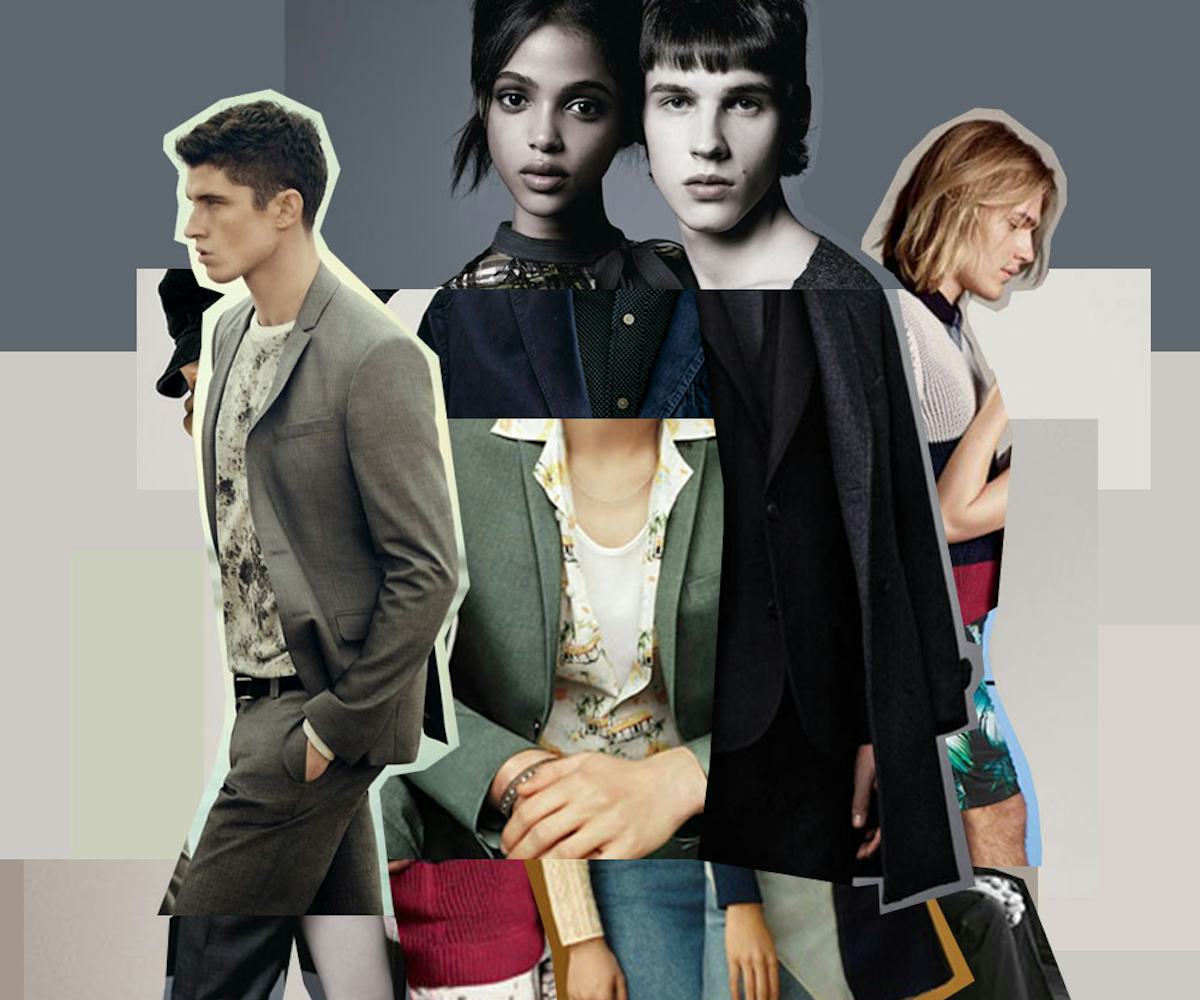 Shopping In The Men's Section When Your Gender Is Nonbinary
shopping experiences, ranked
It was one of those hot, hazy summer days where your grandma packs two frozen water bottles in your lunchbox instead of the usual one and shoos you off to the playground so she can sit in peace with her A/C. We were traveling: My grandparents, mom, and I were en route to a family get-together that felt lightyears away. Every rest stop was a cruel hell-oven and despite the packs of Combos and purple Gatorade I'd convinced my mother to buy me, I was complaining. After a while, my grandfather sternly suggested that I stop airing my grievances and instead focus on the pool. If I had any desire to experience the glory of my cousin's huge, in-ground, kidney-shaped pool (with a diving board and water slide!), it would be in my best interest to hush up about the lengthy drive. Once we arrived, I ran to the pool, tore off my shirt, and cannonballed into its crystalline depths.
Upon surfacing, I was overcome by weird vibes. My cousins, 13 and 14 going on 30, peered down at me from their plastic deck chairs laughing. "Don't you have a bathing suit?!" the elder asked, gesturing toward her neon bikini. "Your mom should have packed one." She didn't need to pack one, I countered, since I was already wearing it. In minutes we came to an impasse and they dropped the bomb: "You're a girl, duh! You can't wear a boy's bathing suit!" Suddenly, everything I'd been feeling but didn't have words for came to light. I was a girl but felt like a boy and because my mom loved me, she mostly let me wear what I wanted. But the rest of the world wanted me to fit in.
As I got older, my experience of gender became increasingly more bizarre. My boobs and period came by accident, it seemed. And my mother, one minute tolerant and loving, would demand I dress and act feminine (particularly in certain social contexts) the next minute. I realized that participating in my gender allowed me to unlock totally weird American societal stepping stones that actually meant nothing to me but everything to my family and peers. If I wore an uncomfortable dress and got a French twist, then I could slow dance with some random dude and prove I was worthy of attention. Unfortunately for society, I discovered the Internet and a trove of people just like me who didn't have a gender and were totally into it.
Fast-forward to now. Okay, yeah, I'm happy and fine or whatever, but I need clothes. Actual outfits that look amazing. And I bet you do, too. Ahead, a handy, little list of the best and worst stores for people like me to shop. Featured are many shops in Lower Manhattan's Chelsea neighborhood, an area with a high concentration of high- and low-end stores, but also some curveballs just because. 
1. John Varvatos on the Bowery
The menswear guru opened his best location in the old CBGB's. I couldn't resist hitting this spot because what was more sexually fluid and gender-smashing than the heyday of punk? (Probably a lot of things, but that's besides the point.) I entered the store with low expectations and more than a little chip on my shoulder (because I'm an ex-punk/hardcore kid), but was totally floored by the kind and attentive staff. Upon entering, I was greeted by a sweet dude and asked very insightful questions about what fabrics and cuts of clothing I liked. He brought tons of piece and explained what types of outfits worked for different activities.
Best: Included in the cost of each item is tailoring, and they will hand-tailor every piece of clothing until you look hot AF and are actually happy (a.k.a., you can come in 15 times and get things altered).
Worst: Why is a luxury menswear brand in one of the most important subculture incubators of all time? Also, I wish there was an agender vibe. So sick of tall, longhaired rocker fuccboi adverts.
2. Topman
You simply cannot go wrong with Topman. Every time, the staff is fun and irreverent and the floor is full of pretty much everything I need. On this occasion, I went with the express desire to try on suits. I was helped by a boi and, in-between making fun of everything in the entire world, he fitted me with several incredibly sexy, slim-fit suits. Perfect for business or leisure, darling!
Best: Literally everything you want to wear is in the store and it fits! Like actually fits.
Worst: Kind of repetitive.
3. H&M
From my fave fast-fashion store I wanted three looks: A roll-out-of-bed brunch thing, a sexy important person at a nice function thing, and a nice-looking everyday thing that I could wear and look formal or nah. Once I explained these outfits to a person on the floor, I was directed to the dresses. After I politely explained that I didn't identify with that garb, she kind of disappeared and another girl took her place. Girl Two explained that the women's section was upstairs and she'd be happy to guide me there. Once again, I told her I didn't want those clothes and she directed me to menswear, and I guess disappeared to the same place her coworker did. I absolutely didn't expect that treatment! Usually I love H&M. Oh, well.
Best: Affordable.
Worst: IDK why but everything in the store was sinfully boring.
4. ZARA
It has been said that ZARA can be pretty bad for agendered folk, and I'm here to tell you that it is. I asked a dude for help finding a nice, "business-looking outfit," and he looked confused and replied, "For you? Here? Like men's?" I said, "Yeah," and he waved me off toward some Oxfords and chintzy tweed pants. Oh well, 2.0.
Best: Some decent clothes, tbh.
Worst: The quality doesn't match the price, tbh.
5. Armani Exchange
Pleasantly surprised! The staff didn't bat an eye and helped me gather a couple of outfits without any drama. I was, however, led to the women's dressing room. People in the store were weirded out by my trying on menswear. Sometimes the world makes me really tired, you know? Anyway, I wouldn't wear most of this bizarro dad-bro-wear in a million years, but I figured there are people who really might.
Best: Super-decent winter jackets
Worst: Kind of everything?
6. Forever 21
You may not know, but everyone's favorite secretly hyper-Christian ripoff megastore has a menswear department. My experience there isn't even worth mentioning because when I asked for help, it was met with an exasperated reply and directive to "just look over there."
Best: Nothing
Worst: Nothing
7. Prada
Yes, Prada. Always Prada. Super-simple, elegant, and weird. Like some kind of sensitive Fascist uniform, Prada makes utilitarian sense and is just austere enough to show the world you're an unforgiving alien. Anyway, despite the grungy outfit and old sneakers I showed up in, I was treated to several suit fittings and had fun trying on their fabulous genderless shoe selection.
Best: THE SHOES. THE SHOES. THE SHOES.
Worst: Prada wants you to be skinny and tall only.
8. Express
After waiting a ridiculously long time to speak with someone, I was approached by a person who seemed afraid to help me. I expressed (pun intended!) that I wanted a dressy outfit, and they told me where the women's store was. When I rerouted the conversation and detailed how I presented and what I was looking for, I was once again directed toward women's, but this time specifically to some basic, office-girl pants. The folks at Express really didn't seem to understand that I was seeking assistance in the menswear department, even though I was in the menswear department. 
Best: There's something called the Editorial Pant there right now, which I guess is the only thing you're allowed to wear if you're an editor? [Editor's note: I resent this.]
Worst: Has Express been making the same clothes since I was in sixth grade? Because literally everything looks exactly the same.
9. American Eagle
No. Just no. The end.
Best: I said no.
Worst: Every single thing.
10. High Snobiety NYC
For years I was a sneaker freak, feverishly collecting kicks and hoarding them in my closet. It was time of pointless fights (don't step on my shoes!), expensive leather cleaners, and obsessive weather checking (30 percent precipitation? UAK, I'm not wearing the suede). My best friend and worst enemy during this period was High Snobiety, a website dedicated to every pair you want but can't have. I was beyond psyched to go to the store they'd taken over for their 10-year anniversary and get stupid with some sneakers. Once I'd been looking for about 15 minutes, I was approached by a dude and asked if I needed help. I said I did and he asked me what size I was and what I specifically I was looking for. "I'm an eight and I'm looking for something dressed-up, clean, and black. Classic Timberland flair but extra." He brought me to the five pairs of women's shoes in the entire store (all sherbet colored) and explained that these were the only women's shoes available. I told him in no uncertain terms that these were the opposite of what I was looking for and that I wear a 6.5 men's. "Could we look at some of the clean boots and stuff in the men's section?" He said no, that all the men's sizes started at 8 and there were literally no more women's options in the entire store (we're talking hippo fashion mogul fallout fashions for days). Uh, okay. Bye.
Best: I WANTED EVERYTHING IN THE STORE.
Worstest: I scared the men in there by being assertive and IDGAF.
Honorable mention: Uniqlo
This store has neither gender bias nor flair. It's perfect for really basic basics that last forever.
Conclusion: In order to have fair and equitable shopping experiences for all genders, clothing and shoes should be available in smaller sizes and all store employees should be trained to cater to whoever they encounter. Perhaps beyond all that, we should teach kids in school that gender doesn't exist and the only thing that matters is being a good person and caring for others and the earth and that lacking a gender is actually a gift. But the world is rapidly changing, and agender fashion is at the fore—which is titillating news for those of us who self-identify as aliens, or otherwise.