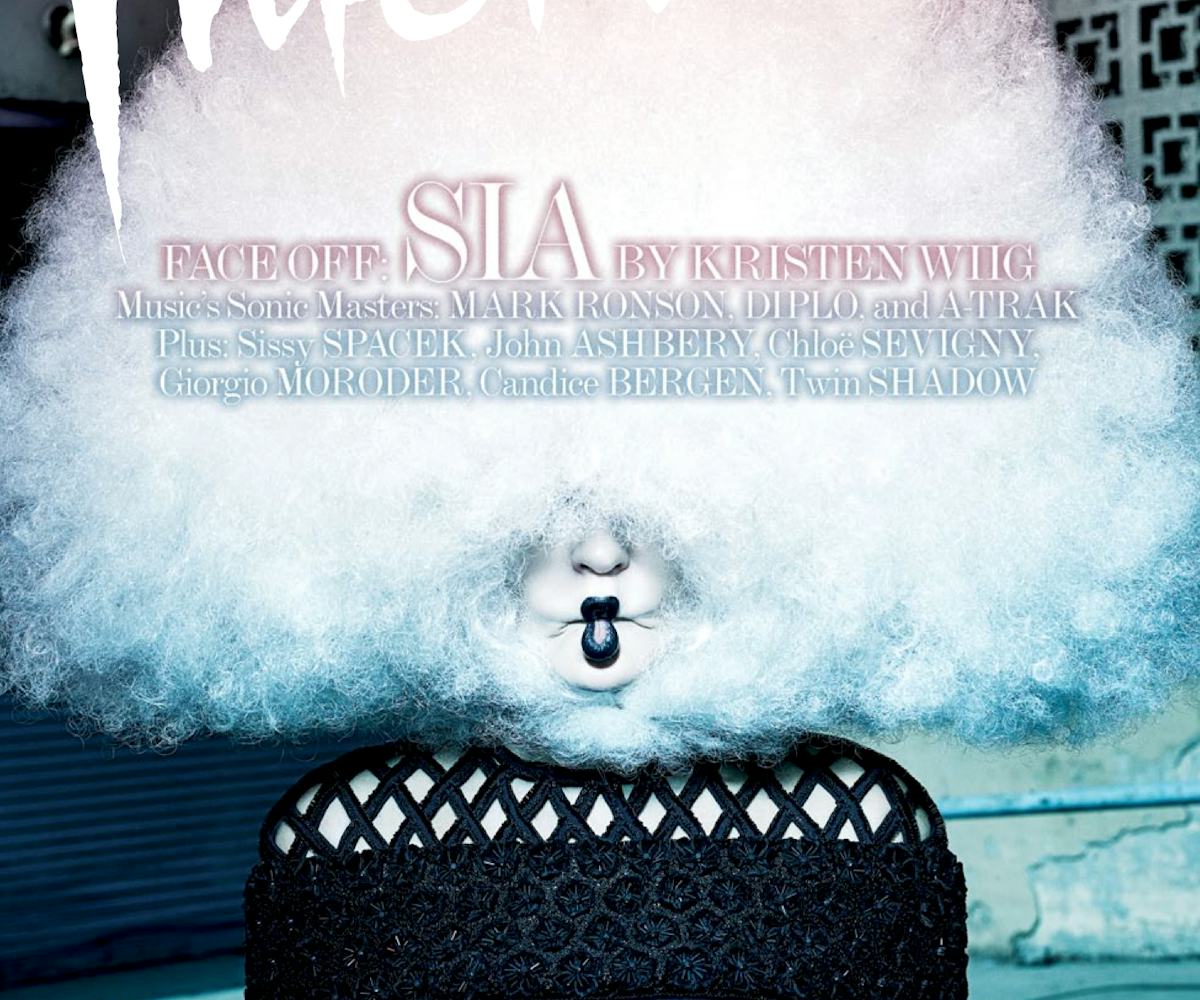 photo via interview
sia reveals why she hides her face
in the new issue of interview mag
Not even landing the coveted cover of Interview magazine's hugely anticipated music issue could get Sia to show us her face. And in the accompanying interview conducted by her newest proxy Kristen Wiig, the singer explains why. 
"I'm trying to have some control over my image. And I'm allowed to maintain some modicum of privacy," she explains. Sia has long maintained that the reason she obscures her face with a variety of oversized wigs stems from a desire to remain anonymous despite being one of the biggest pop stars on the planet. Some observers have questioned the singer's sincerity, and have accused her of using the technique as a ploy for attention, which she acknowledges is only partly true. 
"People say, 'Enough of this shit where she doesn't show her face,' and 'It's a gimmick.' For sure. I'm trying to do this differently, for serenity. And it's a fun game for me as well. I have nothing to lose." 
It's a revealing side of the notoriously press-shy star, who admits that the beauty standards in her industry often take their toll. "I would like not to be picked apart or for people to observe when I put on ten pounds or take off ten pounds or I have a hair extension out of place or my fake tan is botched," she tells Wiig.
Wiig and Sia became fast friends after the actress joined her onstage at the Grammys, becoming the latest body double in a string of groundbreaking performances by the "Chandelier" singer. "I'm 39, and I would like to be able to make great pop music for another 20 years," she adds "And it feels like creating a sort of inanimate blonde bob and allowing other people to play the role of the pop singer, it affords me a little bit more freedom in terms of my expiration date." 
The new issue of Interview hits newsstands in April. Read the rest of  Sia's revealing interview here.