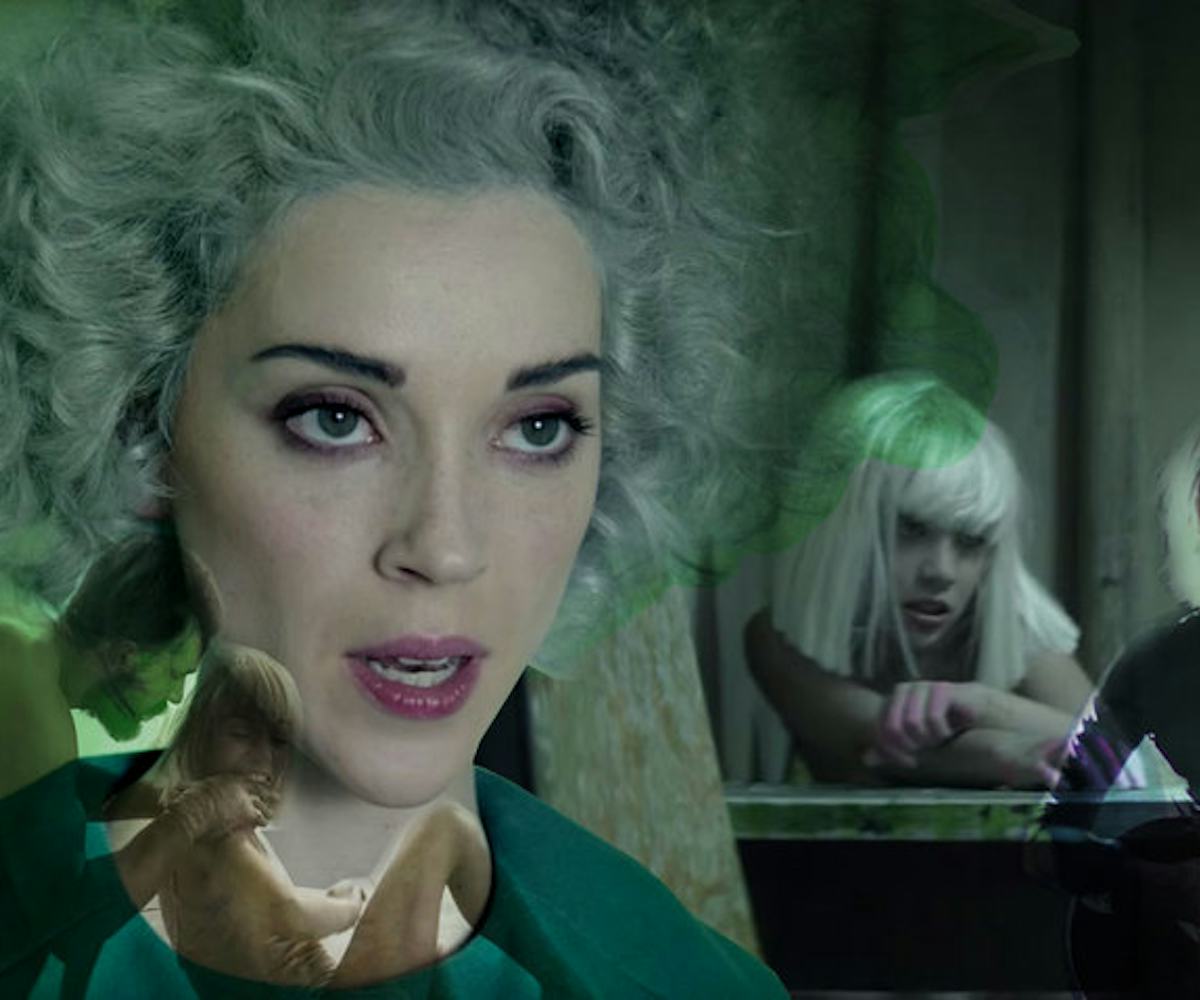 What Will Sia And St. Vincent's Directorial Debuts Look Like?
An exploration of aesthetics
For years, Sia and St. Vincent (aka our October cover star Annie Clark) have been translating their singular sounds into the visual medium, crafting some of the most memorable and aesthetically striking videos in the entire industry. Now, both artists are taking the next step as visionaries and placing themselves in the director's chair for feature-length projects.
Sia's film, Sister, has been in the works since 2015. It's based on a one-page short story she wrote roughly a decade ago, which she's since developed into a script with children's book author Dallas Clayton. It also boasts some star power, with Kate Hudson and Maddie Ziegler part of the cast. The Australian singer has been directing her own videos for years and collaborated with filmmaker-visual artist Daniel Askill on many notable ones from 2014's 100 Forms of Fear and 2016's This is Acting, so she's got plenty of experience behind the camera.
Clark would seem to be making the leap within a more established framework, as her first feature will be an adaptation of Oscar Wilde's iconic 1890 novel, The Picture of Dorian Gray. However, she's already shown the intention to do more than simply shepherd another overly faithful iteration of the oft-adapted book—she's making the traditionally male protagonist a woman.
To get a sense of what each artist's first feature may look like, let's break down some of their most iconic music videos (and Clark's short film, "The Birthday Party").
St. Vincent: "Digital Witness" dir. Chino Moya
Rolling Stone included the video for "Digital Witness" in their "10 Best Music Videos of 2014" list, aptly describing it as "calmly neurotic." There's a sense of bubbling chaos just beneath the surface, to both Clark's performance in the video and the entire camera world.
The mix of striking blue-green hues (including the seafoam green on Clark's dress, as well as the intermittent splashes of mustard yellow and teal), give "Digital Witness" a surreal visual palette without going for anything too bright or grating.
From a narrative standpoint, the video also resists any overt imagery. "Digital Witness" is about social media vanity, a topic that would be incredibly easy to belabor with shots of vapid teens glued to devices. Instead, the world of the video is dystopian without relying on technology. Characters are staged to mirror each other and simulate screens in a much more subtle manner, while there's a steely, zombified quality to Clark's vocal delivery and the movements of the video's extras.
The ability to craft a world that feels a couple standard deviations from reality will surely be helpful for Dorian Grey, as it's a kind of early example of magical realism, and Clark's work with Moya could certainly prove helpful in that regard.
St. Vincent: "Birth in Reverse" dir. Willo Perron
The "Birth in Reverse" video is even more visually experimental than "Digital Witness," as it plays with both negative colors and frames within frames. Those two elements seem a bit bold to play with in a directorial debut, though it could be a technique employed well during some of the story's more graphic moments.
Writing for Slate, Sharan Setty said the "Birth in Reverse" visuals cemented Clark's "stripped-down look and a cold, quirky air of detachment" that she cultivated on her self-titled album.
The clip isn't too narrative-heavy, but, even as a performance clip, Clark and director Willo Perron create a sense of unreality that makes the simplest tight shots of her guitar have a surrealist feel.
St. Vincent: "Cheerleader" dir. Hiro Murai
Clark takes performance art to a whole new level with the clip for "Cheerleader," in which she's depicted as a massive living sculpture in a museum (akin to the work of artist Ron Mueck, as Genius pointed out). The song itself is almost unnervingly confessional and brutally honest, so it's fitting that the soul-bearing track's video would feature Clark quite literally putting herself on display.
Hiro Murai, who made the leap to TV in 2016 by directing seven episodes of Donald Glover's series Atlanta, helps shepherd the vision here, one which SPIN's Devon Maloney said was about "objectification, powerlessness, 'the man,' if you want to go there."
It's an ambitious work that makes incredible use of perspective, particularly with the POV shots of the giant, porcelain Clark gazing at the exhibit patrons and the way the video depicts her statuesque form eventually decomposing and crumbling.
Seeing as how Dorian Gray deals with the relationship between art and our idealized selves, it's fair to expect some of the work she did here with Murai to factor into her film.
St. Vincent: "Cruel" dir. Terri Timely
"Cruel" is perhaps the creepiest of Clark's videos; it's an absolute chiller in which an unwitting Clark is captured, abused, and ultimately buried alive. Directed by her frequent collaborators Terri Timely (Ian Kibbey and Corey Creasey), it's a haunting depiction of suburban evil with a muted, inky color palette.
There's some pitch black, Coen Brothers-esque humor here, like the shot of Clark playing guitar while bound in the trunk of a car.
It's also a powerful example of non-linear storytelling. The video jumps between shots of Clark in her captor's home doing banal suburban tasks, then flashes back to her being captured. The video's more straightforward performance shots also come while the family is burying her.
Though it's obviously bleak, the video is an impressively compact and resonating narrative, proving that Clark (as well as Kibbey and Creasey) can experiment with story structure and create lasting, leery images.
"Luckily, it didn't take much method acting to honestly react to, well, having a sack thrown violently over my head and my body thrown into the trunk of a car," Clark told the Huffington Post.
XX Anthology à "The Birthday Party" dir. St. Vincent
Clark's contribution to the 2017 horror anthology XX is a whirlwind of tension and release set against the absurd backdrop of a child's birthday party. Unlike the other offerings in the compilation, which are shadowy and more in the vein of traditional scary movies, "The Birthday Party" fits into the surrealist aesthetic of her St. Vincent-era videos like "Birth in Reverse" and "Digital Witness." The colors are rich and dense and considerably brighter, creating a setting that feels both otherworldly and decidedly more quotidian than your typical inky horror backdrop.
It's unsettling, but it's also rather funny, thanks in part to a great lead performance by Melanie Lynskey and Clark's keen knack for keeping your expectations off-kilter and throwing in obvious jokes when they're least expected, including the film's final shot.
Clark cited directors like Michael Haneke, Todd Solondz, and Claire Denis in an interview with New York Magazine's Emily Yoshida, and described the film as "Weekend at Bernie's meets Who's Afraid of Virginia Woolf?"
She also said that the short was partially inspired by a striking shot she saw in the magazine Toiletpaper. "...There was this immaculate shot of a living room, with beautiful Memphis-style Italian furniture and a rug, and there were two feet sticking out from under the rug. And that sort of encapsulates my worldview in a quick picture," she explained.
Part Wes Anderson, part Don't Hug Me I'm Scared short, the film is an impressive debut that feels like a culmination of many of St. Vincent's most iconic videos, proving that Clark is more than capable of the leap to a full-length feature.
Sia: "Chandelier" dir. Sia & Daniel Askill
Sia's soaring, career-making hit also happened to be her first collaboration with eventual muse Ziegler. The dancer was just 11 when she starred in this clip conceived by Sia and frequent collaborator Askill.
The fluidity of Ziegler's movement is undeniably impressive, but so is the way the camera moves with her. While other first-time feature directors might be tempted to rely on static shots, Sia understands the value of an ambulatory camera, which will surely lead to some creative framings.
The song itself is about a socialite living at full speed and the addiction that lifestyle breeds, and the video is true to that concept with a subtle elegance. As Bustle's Alex Kritselis noted, "Ziegler's insane dance moves and endless child-like energy perfectly embody the reckless abandon with which the storyteller is living her life."
Compelling, self-referential (Ziegler dons the unmistakable blonde Sia wig), a touch creepy, and masterfully choreographed, "Chandelier" is the rare video that makes unobvious connections that underscore the song's meaning. It proves Sia's gift for metaphor and unconventional storytelling, and topped Rolling Stone's 2014 video rankings to boot.
Sia: "Elastic Heart" dir. Sia & Daniel Askill
Easily the most controversial of Sia's clips, "Elastic Heart" picks up where "Chandelier" left off. Ziegler is in the same outfit, though it's dirtier and grittier (perhaps an allusion to the toll of the lifestyle she depicts).
Ziegler is in a cage with Shia LaBeouf, wearing the bare minimum around his waist to make the video YouTube-friendly. The singer described the characters as "Two 'Sia' self states" on Twitter, and she and Askill do an excellent job of staging the two characters in opposition, fitting the song's message of both resilience and fragility.
What is most striking about the video is how Sia and Askill contort and bend the space onscreen. The video is set entirely within a cage, which initially appears massive during the opening wide shot, but seems to shrink as the two forces interact and when Ziegler attempts to free herself from the cage and LaBeouf.
It's easy to see how a very unsophisticated reading of the video could lead to outrage, but as you watch, the underlying narrative becomes clear, and "Elastic Heart" is a powerful piece of visual storytelling that further proves Sia's ability to capture the beauty and agony of physical expression (and her willingness to stir up some controversy, too).
Sia: "Cheap Thrills" dir. Sia & Daniel Askill, lyric video dir. Lior Molcho
The "Performance Edit" version of "Cheap Thrills " is another impressive Sia-Ziegler collaboration, and it plays with light, space, and color beautifully, but the Lior Molcho-directed lyric video is a hilarious change of pace from the thematically consistent Ziegler-starring clips.
After a '50s sock hop parody that begins with a stilted, talk show-style introduction to the track, the video bursts to life when an anonymous couple, clad in Sia's blonde-black wigs, appears and steals the scene with an absurd array of dance moves (there's plenty of breakdancing and even a moonwalk shot).
It's a wryly funny video that—if it doesn't necessarily inform Sister—proves that Sia recognizes the power of well-placed parody.
Sia: "Breathe Me" dir. Daniel Askill
Comprised of 2,500 Polaroid photos, the "Breathe Me" video is technically impressive and almost unbearably nostalgic. The sheen of the photographs makes the somber track's story of isolation and sorrow even more resonant, and its optimistic ending is uplifting as a result.
The video was Sia's first collaboration with Askill, and it shows her willingness to subvert the conventions of her typical visuals. She's not the first or last artist to experiment with stitching together a video from static shots, but "Breathe Me" is a rich example of unconventional storytelling.
It's hard to picture something like this working well multiple times in a feature, where it might potentially feel gimmicky, but it shows that since much earlier in her career, Sia was actively trying to expand the creative parameters of her videos.
Sia: "Soon We'll Be Found" dir. Claire Carre
A powerful video where Sia and Claire Carre emphasize the elegance of American Sign Language, "Soon We'll Be Found" is as dynamic as any of the singer's clips.
It sticks to a motif of telling stories with hands, from the solo shots of Sia that begin the clip to her crew of backup dancers all clad in different colored gloves to the magnificent shadow shots where an entire forest and an ocean are simulated with nothing but a few well-placed limbs.
Eventually, the video moves into a black-light state, completely flipping the color scheme. It's another stunning example of how Sia uses human movement to tell stories, and it speaks to her ability to work without elaborate set pieces (certainly a beneficial quality for a first-time director).
The camera work here is not quite as fluid as when Sia eventually started directing her own clips, and it would be incredible to see her revisit this visual concept for a new track (or potentially a segment of Sister) with Ziegler, of course, in the starring role.