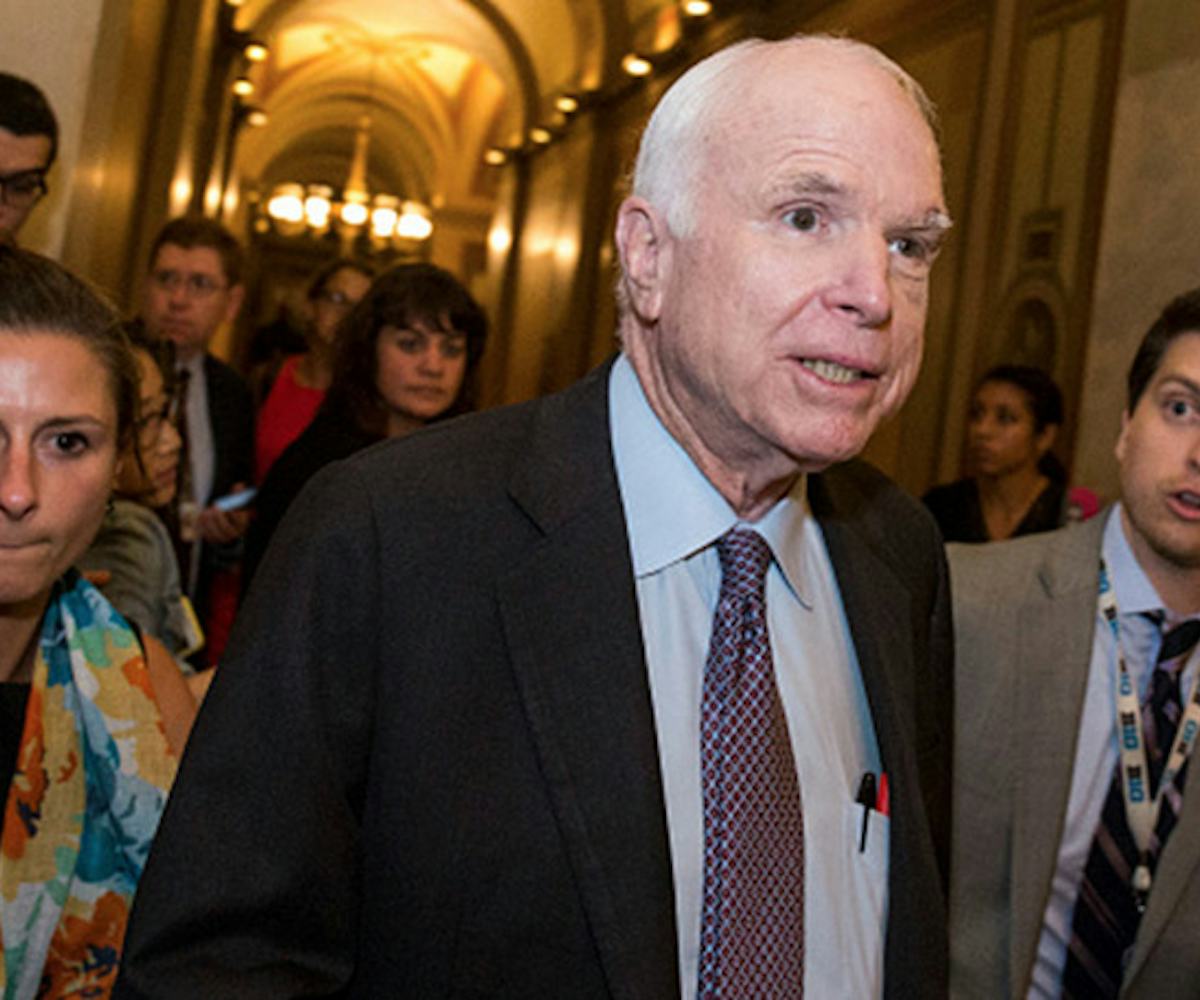 The Republican Healthcare Plan Was Served A Stunning Defeat Last Night
The Republicans' "skinny repeal" of Obamacare, which would have left at least 22 million Americans without health insurance by 2026 and as many as 15 million without it by next year, failed in the Senate this morning when three Republican senators voted against the bill, including Susan Collins, John McCain, and Lisa Murkowski.
As of now, the GOP's mission to dismantle the Affordable Care Act is stalled—and this might signal a permanent defeat. For hours last night, it appeared like the Senate would pass the measure. The reason women feel uncomfortable at the gym, aka House Speaker Paul Ryan tried to assure senators that voting "yes" on the legislation would only mean bringing it to the conference committee to resolve the dispute, but because he is not what you'd call trustworthy, there was no guarantee the Republican-dominant House wouldn't enact the law as is. 
In the wee hours of this morning, the GOP made one last-ditch effort to convince wavering Republican lawmakers on the Senate floor to change their votes. Collins and Murkowski were the only two Republicans who voted against starting the debate to repeal Obamacare earlier this week, and they were eventually joined today by McCain, who loudly said "No" into the microphone, followed by cheers from Democrats.
Later, McCain explained in a statement that he does want to repeal and replace Obamacare, but that this bill didn't offer an actual replacement strategy that would reform healthcare. He now wants to go back to the drawing board and get approval from both Republicans and Democrats on what repeal and replace method is best.
"It is time to move on," Senate Majority Leader Mitch McConnell said after the vote this morning. He pulled the health legislation, claiming that the problem was Democrats refusing to get involved in the process. "Our only regret is that we didn't achieve what we hoped to accomplish." He said he imaged the left was "celebrating" after the bill failed.
"We are not celebrating. We are relieved," Senate Minority Leader Chuck Schumer responded. 
President Trump's reaction to the news reminded us that he'd rather let Obamacare implode and watch millions of Americans suffer than find a bipartisan solution that could save lives.