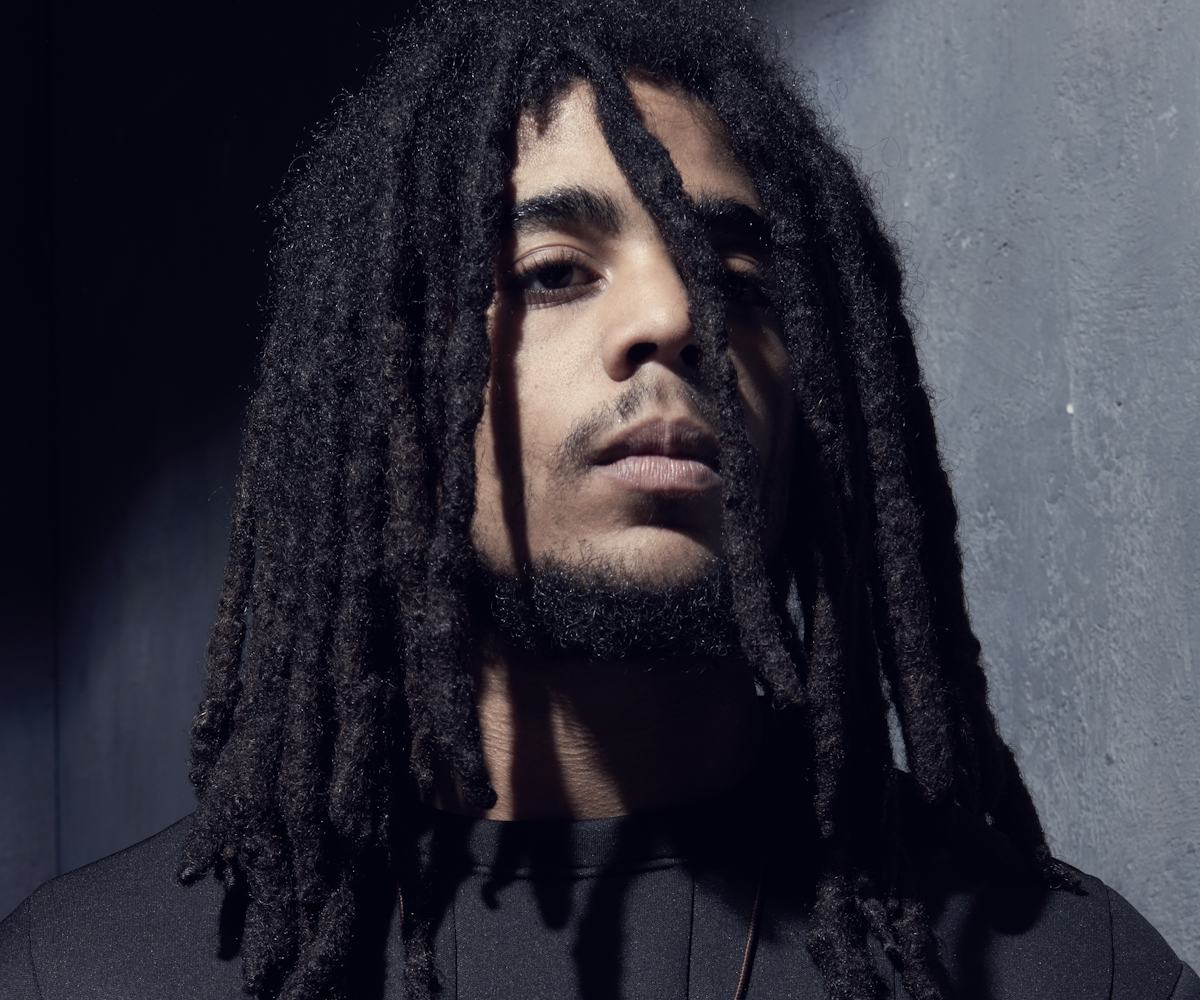 Photographed by Meredith Truax.
Skip Marley Is Keeping His Family's Legacy Alive
He's racked up streams, earned a spot on the Top 10, and surely making his grandfather proud
Interviewing Skip Marley feels almost like sitting down with his legendary grandfather; whether by virtue of word of mouth within their family or just straight-up genetics, Bob Marley's emphasis on love and self-empowerment, his laid-back nature, and even his iconic voice are tangibly present in the rising reggae artist's ethos. So when I mention to Skip that his feature on Katy Perry's "Chained to the Rhythm" has allowed him to become the first member of his family to have a Top 10 song on Billboard's Hot 100, his response is expectedly simple: "It's a big accomplishment."
Surely, though, he's proud of his ability to continue his grandfather's legacy by spreading the philosophy of the Marley dynasty and its Tuff Gong brand, while distinguishing himself with accomplishments such as his collaboration with Perry, appearance in Gap's 1969 campaign last year, and pursuit of an education in music business and production. And given the success of his anti-war, pro-unity single, "Lions"—which actually spiked in popularity after serving as the soundtrack for the controversial Pepsi ad that aired earlier this year—and latest track, "Calm Down," his music is just what we need these days. Here, get to know Marley as he talks about his music, family, and why Bruce Lee would make the perfect roommate. 
What are you most proud of so far in your career?
Many things but, to narrow it down, working with Max Martin and MXM, working with Katy, also, that was a big thing for me. And a couple of years ago I had a show at the Hollywood Bowl with my uncles. 
I love that your family is big, but still so tight-knit. 
We're raised that way. That's really instilled in us from birth, that we're all brothers and sisters. 
What famous person, dead or living, do you wish you could have as a roommate?
Bruce Lee—that meditation that he's on, that focus, and that drive. And also to work out and get fit like him, man. 
What's your favorite music to drive to?
Right now it's Legend Remixed, with the remixes of my grandfather's Legend. It's cool hearing people doing my grandfather's music.
Which of the remixes is your favorite? 
I'd have to say [Stephen Marley's] "Easy Skanking." I always work out to that one.
Whose career would you most like to emulate?
My grandfather is my guide, the first to do it. But also [my mom, aunt, and uncles' band] Ziggy Marley and the Melody Makers. They uplift people, and my career is a continuation of that. 
Describe your aesthetic in three words.
Militant, loving, and spiritual. 
Why "militant"? I didn't expect that one.
It's more "disciplined" than "militant," but still, to stand firm and stand strong. I can't be deterred by whoever. So it's a militancy in that sense. 
If you had to wear one thing for the rest of your life, what would it be and why?
My sneakers, so my foot wouldn't get caught in things. [Laughs]
Okay, so you went the practical route. Is there a particular brand that you prefer?
Adidas or Nike.
Do you have any superstitions or rituals that you do before you perform?
I just say a prayer and give thanks. 
If you had to live in a past time, when would you prefer to live, and why?
The '70s. That's when people started really to love each other, but also rebel for freedom, so there's a lot of things in the '70s that I think that I'd like to be a part of. 
That's probably when your grandfather's music had the most impact, too. 
Of course. The '70s was his golden age, when he really grew as a man and an artist. 
What activities do you most enjoy doing alone?
I meditate, I read, and I work out alone sometimes. 
What would you say was the last great book that you've read?
The Wise Words and Philosophy of His Majesty. It's a book about the wise words that His Majesty [Haile Selassie] has spoken. 
When are you most relaxed? 
When making music, when I'm with my family, when I go to the beach or chill out. I meditate, so I'm relaxed most of the time. It's the lifestyle. 
What kind of person were you in high school?
I was a sportsman, but I was a person with values. I wouldn't get in trouble, but [laughs] I'll just say, I felt like sometimes I wasn't learning and I wanted to be learning. So that's when I found music, which is really interesting. I really focused myself on music at that time. 
What sports did you play?
Soccer and basketball. 
What's a quality about yourself that you're genuinely proud of? 
The love that I have for people, no matter someone's race, color, or anything. It's a unifying aspect I have. I like to bring people together. 
Do you have any phobias? 
Not really. Sometimes, but it goes away because I just calm down and relax. It's mental, you know? Everything is mental. That's why I mentioned Bruce Lee earlier. 
What's a side of you that you think that people are unlikely to know about you?
People probably know a lot about me—I just think about ways that we can make the world better all the time. There's not really a side of me that people don't know. But there's my cool calm side, and my rough side when I'm playing sports. You don't want to watch me play sports. 
I'll take your word. What are some new hobbies that you wish you could take on?
I want to start farming. Nowadays it's better to have your own things growing. My mother and grandmother really instilled that in me. I want to plant a bunch of vegetables, fruit trees, herbs. I want to get a piece of land and get a farm growing. Organic is better. 
What can we expect next from you?
Experimentation in my music, messages in the music—"food," as I would say. There are uplifting vibes for the people, and I do a new twist on the old. 
Where do you hope to be professionally in five years?
I hope to be a better musician and a better person. Anywhere I [end up], that's where I'm supposed to be, so I don't really think about that too much. I deal with now, you know? 
Between your mom being CEO of your family's music label and your own interest in business, do you think that you're going be more involved in the business side of music, too? 
That will come, but my older brother works in the business of music and production. In this generation [of Marleys], we have a lot of minds at work, young minds being prepared to take over. 
If there was one phrase that best sums up your approach to life, what would it be?
Live, laugh, and love.