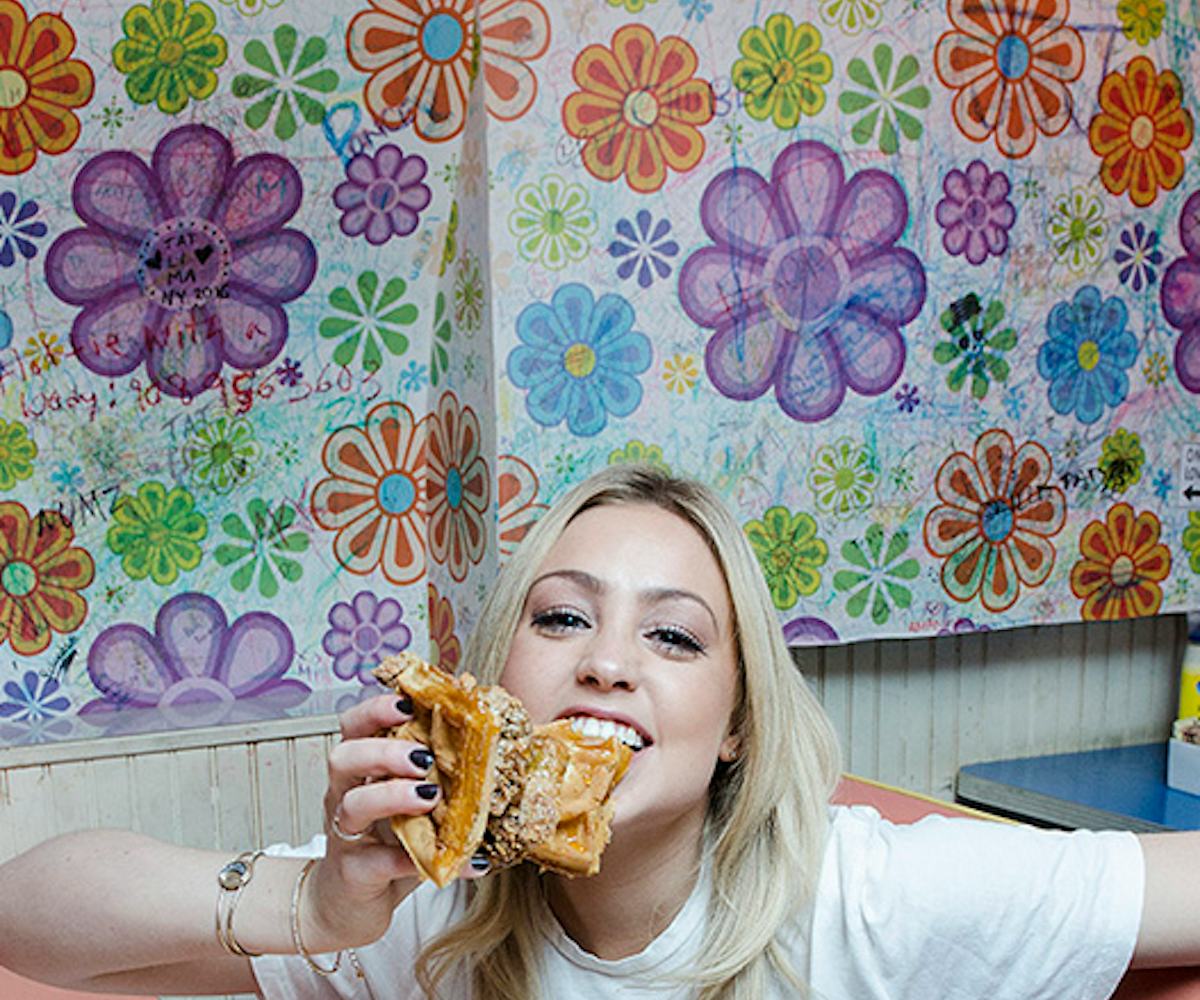 Photo by Heehyun Oh.
Skyler Bouchard: A Woman With Dreams As Big As Her Appetite
"I wouldn't be living happily without soup dumplings"
Don't call Skyler Bouchard a food blogger. Yes, she runs an insanely popular Instagram, where she posts about her foodie adventures all over New York City, and has built a 128,000-follower army in doing so. But she's also an entrepreneur, an activist, a clothing designer, and a mini media mogul.  
Bouchard's namesake operation, Dining With Skyler, is a beefed-up food networking platform where fans can find drool-worthy photos of today's hottest culinary trends. It also features recipes, restaurant suggestions, and a new video series called Ballsy Bites, in which snack-sized treats are showcased. Dining With Skyler makes a point not to shy away from the big, bold, and greasy—a welcome counterbalance to all the Instagram health-spiration popping up in 2016. One glance at her page will have you craving every decadent burger and ice cream cone that NYC has to offer. 
Check out the interview below to learn more about Bouchard, and scroll through the gallery to check out Bouchard in some of our favorites from NYLONshop.
Also, big thanks to Big Daddy's Diner for letting us use their fabulous retro diner in Gramercy Park!
What food and beverage can't you live without?I can't live without pizza, it's a given. But I wouldn't be living happily without soup dumplings.
Let's talk about dining etiquette. What are your biggest deal breakers when dining with someone?Honestly, someone who's too much of a snob. Eating is supposed to be fun, it's supposed to be an experience where you let loose and enjoy something. People who are too tamed is bad. Oh, people who complain all the time and people who just won't eat. I like to get down and dirty with someone and just enjoy the meal.
What current food trend are you totally on board with? Any food trends you're not about? I love a good milkshake, but some of these milkshakes are insane, like not edible. People are throwing doughnuts and full-sized cakes on top of ice cream and milk, and to me, it doesn't make sense. I've gotten criticized for making crazy foods, but I've always made sure it's edible. I've literally seen these crazy milkshakes everywhere lately. I can testify they aren't edible. You have to smear Nutella on the edges so you can stick brownies to it. One food trend I am on board with is the cereal trend. I've always used cereal to embellish certain things. 
What inspired you to post about food?
I've always wanted to entertain. I've actually grown up with a family who loves food; I have an uncle who's a chef. Also, I grew up playing squash, which is very strange. I ended up played internationally and traveled to really cool places, like New Zealand and Bermuda. My favorite thing about it was the fact that I got to travel and try all the new food. So at a young age, I got this view on culture and cuisine. Then in high school, I was like, "How do I separate myself from everyone?" Then I got into NYU and everyone in my journalism class was like, "You have to find your niche, do something no one's done before to stand out."
So I had this epiphany. I was at brunch and ordered this black pudding waffle with foie gras butter. Black pudding is this blood sausage, and I realized that was my favorite thing about New York City—that you can try all this bizarre stuff. There's also nothing that involved women trying bizarre food. There are no millennial women in this industry. So I put the two together and I was like, "Okay, that's it. That's my niche."
Being a foodie on Instagram has gained traction in the recent years. What social media dos or don'ts can you give to help someone create the perfect food post?
A do is knowing the vision for your brand. A don't is don't do what everyone's posting. I see a lot of accounts that blindly approach the food Instagram thing, like a lot of people just post the same things. Who wants to follow food Instagrams that are posting the same things? Post when you're drunk, occasionally. People say that's a don't, but I think it's a do—especially when you're trying to build a brand. People want to get to know you, so show them how you get funky on the weekends. Bottom line, don't be boring!
Brands like Kid Dangerous and Look Human are two of our vendors here at NYLONshop. You often post wearing their tees. How did your business relationships start with them?
With Kid Dangerous, my friend got me a shirt for my birthday and I was just obsessed. It said, "Love" with pizza as the V. I wore it everywhere and tagged Kid Dangerous on Instagram, and they saw and got in touch. At this point, I already had a shirt that I designed, and I really wanted to work with someone to produce it. I created two more with Kid Dangerous and that is how our relationship formed. With Look Human, someone set us up and I collaborated with them. Their shirts are very relatable to what I'm doing. They face food head-on in a very funky and funny way.
What is your personal style?
My personal style depends on the day. In this industry, I'm always in workout clothes because I'm always cooking or running into the next restaurant. But if it's a normal day, I like to wear a T-shirt, Converse, or boots.
If you weren't a food blogger, what else would you see yourself doing?I would still be in the media—television, maybe a correspondent. I can't do hard news. I've tried, but I get too emotionally attached to the people.
Being a young media entrepreneur, what advice can you give to others trying to pursue their dream career?
Thank you for calling me a media entrepreneur—a lot of people consider me as a food instagramer. It's terrifying to start something. At first, my friends thought I was crazy. But along the lines of what Albert Einstein once said, good ideas will be ridiculed. You'll get feedback from people who are like, "Are you kidding?" But stick to your vision, work really hard, invest in yourself. Once you really invest in yourself, you'll know how to play smart and take risks.
Interview by Christine Yeom.Photo by Heehyun Oh.
Kid Dangerous, Yummoji tank, $28, available at Kid Dangerous.
Kid Dangerous, Yummoji tank, $28, available at Kid Dangerous.
Kid Dangerous, How I Cut Carbs Tee, $34, available at NYLONshop.
Kid Dangerous, Pizza Smile Tank, $28, available at Kid Dangerous.
Kid Dangerous, Pizza Smile Tank, $28, available at Kid Dangerous.
Kid Dangerous, How I Cut Carbs Tee, $34, available at NYLONshop.
Kid Dangerous, How I Cut Carbs Tee, $34, available at NYLONshop.