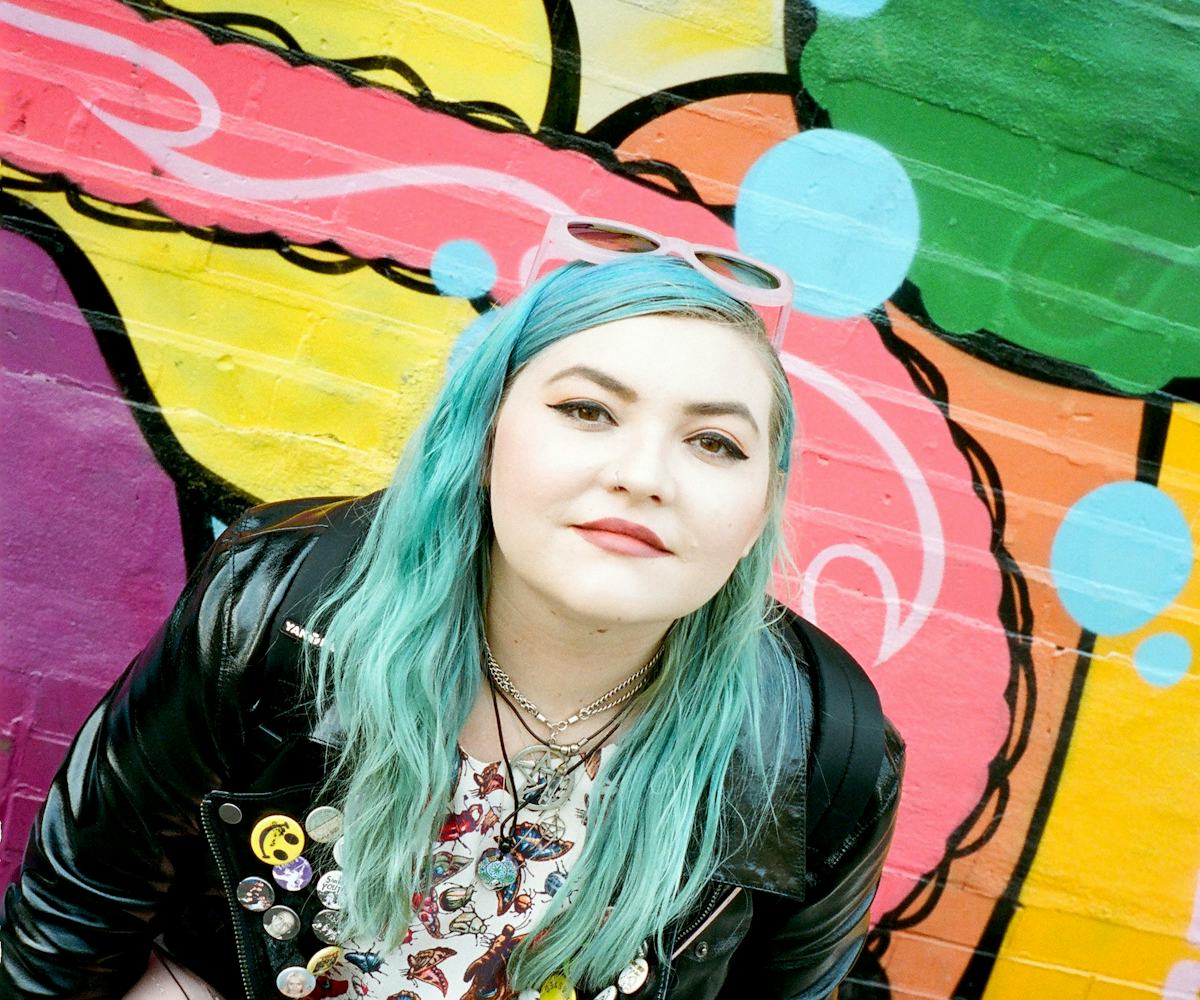 all photos by beth garrabrant
prime time
beauty assistant-approved: smashbox's new 24 hour shadow primer is a game-changer!
As NYLON's Beauty Assistant, I'm constantly (like, every.single.day.) asked questions by co-workers, friends, family, and--not to exaggerate--almost everyone I meet, about all things beauty-related. ("How do I apply liquid eyeliner?", "What's the best moisturizer with SPF?", "My hair is frizzy, should I be using oil?", to name a few.) But hands down, the one question I'm asked most is, "How do I get my eye makeup to last all day without creasing or melting off?" To answer your conundrum, let me first start by saying I have hit the beauty jackpot by discovering the holy-grail, miracle, savior product to end all products, and I'm so stoked to share it with all of you: Smashbox's Photo Finish 24 Hour Shadow Primer!
Anybody in the beauty world will tell you the secret to long-lasting, flawless makeup is a primer, but finding the right one (that actually works) is often an uphill battle of trial-and-error. In addition to my awesome job, I also lucked out in the genetics department with big, round eyes that are a dream for applying shadow and liner, so I know all too well what works and what doesn't. To prove my love for Smashbox's 24 Hour Shadow Primer, I enlisted my best friend (who just so happens to be NYLON's Bookings Director), Beth Garrabrant, to hangout and take photos of me from 9 AM until the wee hours of the night to document how well my eye makeup held up using the aforementioned primer.
See the results for yourself and scroll through our gallery to see a day-in-the-life of me, myself, and my eye makeup!
*This post is sponsored by Smashbox
Good morning! Here I am at 9 AM sans eye makeup, holding my little slice of heaven: Smashbox's 24 Hour Shadow Primer.
It was 70 degrees (!!!) outside so I opted to apply my eye makeup like any classy lady would: On my stoop!
Ooooh, look how evenly it blends.
Still applying...
...and blending it out!
Time for eyeshadow! I'm using my all-time favorite shadow palette: Smashbox x Curtis Kulig Love Me Eye Shadow palette. (Sadly, this was limited edition so you can't purchase anymore, but Smashbox has a new collection with Santigold and they have awesome eyeshadow palettes.)
I'm using a Real Techniques shadow brush to blend into the crease of my eyes.
Blending away. (Sidenote: My sunnies are from Wildfox!)
All done!
Time for much-needed coffee.
I started off my day by paying a visit to the lovely and insanely talented nail artist Fleury Rose at Tomahawk Salon in Bushwick!
Here we are post-manicure. She decked out my digits in pastel floral water colors!
Off to brunch!
I could fit at least 20 Smashbox 24 Hour Shadow Primers in my brand new Marc by Marc Jacobs pink pastel bag. Hehe.
Mimosa time at Ange Noir Cafe in Bushwick!
I decided to add a little cat eye to wake-up and define my eyes!
I'm using the Smashbox Limitless Liquid Eyeliner Pen, which is a dream.
Adding the finishing touches...
Voila! Eyeliner done. Now time for mascara using Smashbox's Full Exposure Mascara.
Bam, look at my lashes!
Now off to go thrifting (my favorite weekend pastime), but first a quick photo shoot.
I thought this wall complimented the colorful-ness of my outfit and hair.
P.S. Two hours down, and not a single smudge in my eye makeup.
Urban Jungle! This place is literally a vintage jungle.
I regret not buying this sweater.
I don't regret not buying this dress.
Faux fur!
Now off to Williamsburg...but first, I stopped to smell the flowers with my matching mani from Fleury Rose.
Here I am in McCarren Park eating ice cream, still soaking in those 70 degree rays.
Every time I'm in W'Burg I make sure to stop in to VeraMeat. This cat bag stole my heart...
It matches my eyeliner purrr-fectly.
Still being a crazy cat lady.
Now off to meet my bff (and NYLON's Executive Producer) Blair Waters for a cocktail.
P.S. This nine hours later and my eye makeup hasn't moved at all.
And now off to have dinner at Crown Victoria!
Sitting outside at Crown Victoria because it was gorgeous weather!
Ended the night with some photobooth pictures, duh.
(Yeah, this happened...) But 14 hours in and my eye makeup is still intact!