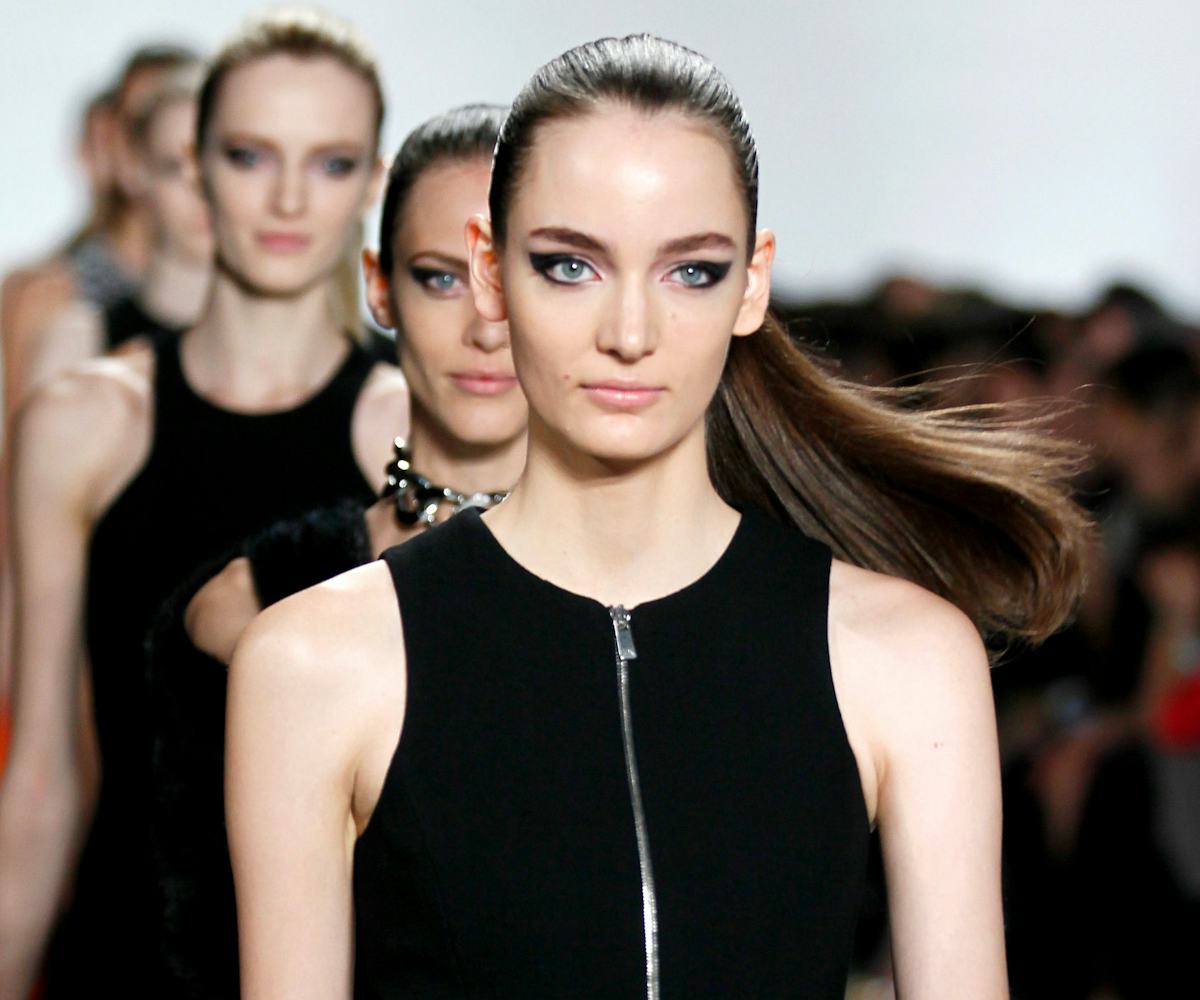 photo by getty images
get the look: michael kors
meet our new fave beauty hybrid, the smokey cat eye.
When it comes to dramatic beauty looks, you've got the smokey eye and the cat eye. We love both on their own--but what happens when you combine them into one? You get something like what we saw at the Michael Kors fall '13 runway show. The face, conceived by makeup artist Dick Page, is sultry without looking too serious. Which is kind of how we want to look every day.
And the great thing is, you totally can; we featured our product picks in the November issue (turn to page 62 to see for yourself), but for a detailed breakdown of the look chatted with makeup artist Fabiola. "This is a cool, downtown girl--she can do this during the day--especially with a nude lip--and at night," she says, adding, "It's a very wearable look."
But it's not basic; look closely and you'll realize that it's actually comprised of three different shades (brown, black, and pink). Are you ready for the tricolor smokey eye? You better be, because we've got the breakdown!
What you'll need:
- 1 matte brown eyeliner (Fabiola recommends Chanel's Le Crayon Yeux Precision Eye Definer in Brun Cuivre)
- 1 matte black or charcoal eyeliner
- 1 matte brown eyeshadow (Nars' Cocoa Grove is a good option)
- 1 pink highlighter 
- 1 eyeshadow blender brush (try Chanel's Large Tapered Blending Brush #19)
(For the full look, check out our beauty director's picks in the issue!)
What to think about:
If you have deep-set eyes, Fabiola recommends not going too heavy with the smokey eye effect. Just "tighten" your blending so that it stays closer to your lashline.
How to mix it up:
Ready for an advanced smokey-cat eye? Play around with colors--burgundy, plum, pewter, or indigo blue are all shades Fabiola suggests. If you can't leave the house without wearing bold lipstick, keep the skin bare and the eye colors basic and go with a deep bordeaux on your lips.
How to do it:
1. Using a brown liner, draw a line along the outer third of your lash line.
2. Then take a black or charcoal liner and draw another line along the middle third of your lash line--make sure you don't bring it all the way in to the inner corner of your eye. Keep it close to your lashes, and to make your lashes appear extra-lush dot it in between them.
3. Smudge both liners to give a low-key smokey effect--and to make sure that the two shades are blended together.
4. With the liners as your "base" (this "creates more depth and volume to the eye," explains Fabiola), layer a cocoa-hued eyeshadow on top. Run it along the outer two-thirds of the lash line (again, leaving the inner-corner shadow free). 
5. Use the same shadow to create the cat eye. "You want to make sure that the cat eye shape is pulled out--if you make it more round, you're going to look like a panda--and you don't want that," advises Fabiola. if you have trouble winging it (no pun intended) with the shape, then Fabiola suggests using a business card lined up from the outer corner of your eye to the outer edge of your brows and applying shadow over it; this is your cat eye sweet spot (and yes, you can totally use this trick with regular eyeliners and liquid liners in addition to powder eyeshadows)!
6. Once again, blend the edges. "The key is blending, making this look soft," says Fabiola. "If you don't blend properly you'll see the harsh lines, which makes it a  bit theatrical and dated."
7. Take a pink eyeshadow and apply it to the innermost corner of your eye and up to your brow bone. You can use a fancy brush, but according to Fabiola your pinky will work just fine too.
8. Use the brown eyeliner along the outer two-thirds of the lower lash line. "You want to dot it--you don't want a heavy line--and then smudge it up to the upper lashes," she suggests.
9. Finish the look with a coat of mascara on just the top lashes ("I wouldn't add lashes or five coats of mascara on this, since you'll end up looking like Kim Kardashian," warns Fabiola), a quick grooming of the brows, and a nude-pink lipstick.