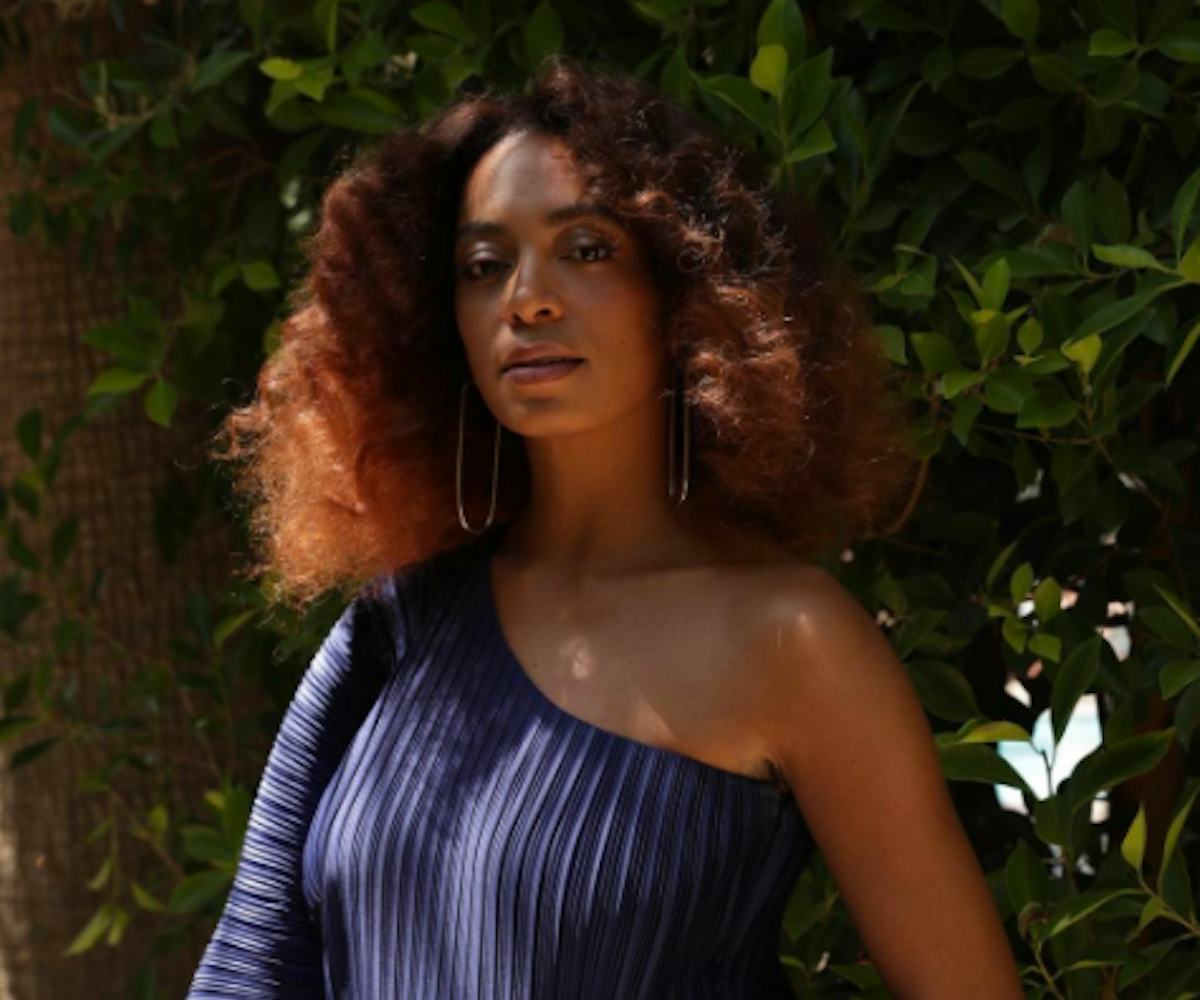 Photo via @saintrecords/Instagram
You Have To Read The Letter That Solange Wrote To Her Teenage Self
"You will feel good about who she is and who she is still becoming"
You could say that Solange is on top of her game right now. The other day, she was crowned Artist of the Year at the Webby Awards. All month long, she's been running the festival circuit from Coachella to FORM Arcosanti and Broccoli City Festival, and soon she'll be performing for two sold-out performances at the Guggenheim Museum for Red Bull Music Academy as well as at the Boston Calling. Everything that this Grammy Award-winning artist writes is brilliant, so we're not surprised that a note penned to her teenage self would strike a chord with us. 
The Teen Vogue cover story begins with a foreword written by Thelma Golden, the director and chief curator of The Studio Museum in Harlem, New York, about what makes Solange such an "astounding artist." She writes, "I am deeply moved by the pride Solange so clearly takes in her beautiful sonic and visual creations that take popular music to an incredible level of artistry. The combined effect of her multidisciplinary storytelling—often created in collaboration with a beautifully diverse group of artists and creators—and her very presence in the world transcends trends. A woman and artist supreme, her creative output is truly timeless and endlessly empowering."
As expected, the note from Solange reads more like a volume of poetry. She opens the emotional and deeply personal letter with the following statement: 
"there will be fear. a lot of it. there will be triumph. a lot of it. there will be constellations you want to reach for but can't put your finger on. you will trace them like the scars on your body you got from trouble and the times of your life. you will take the long way to get to these Orions. the long way will become a theme in your life, but a journey you learn to love."
From there, Solange highlights all of the different phases that she went through as a teen—"the dance-is-life phase," "the Bible-thumping-church-camp phase," "the Fiona-Apple-fan-club-president phase," "the Nas aficionado-brown-lip-liner-and-Vaseline phase," the Rasta-vegan-thrifter-who-is-determined-to-marry-Brandon-Boyd phase," and "the football-player's-girlfriend-who-wears-braided-blond-highlights-and-swears-by-capri-pants phase"—as a way of searching for her true self. 
Solange advises her younger self to take the time to find herself and promises that she gets there in time. She adds, "There's no rush to get there. You will sow each of these chapters in the land that you become. you will see bits and pieces of them scattered into the skin you grow into. you don't have to figure everything out now."
After she warns herself to ignore all of the words that are thrown at her, because words "only have power if you choose to give them power," Solange reminds herself that this is the craft she will cling on to the most and to always show gratitude. "trust in these words, even when you're feeling wildly insecure," she states. "hold on to your journals. cherish them. put them somewhere safe so that they may become a guide for you later, a revealer and a friend."
The next part about her mother, Tina Knowles-Lawson, will have you tearing up as she recognizes all the times she took her support for granted. She notes how she sees her mother in herself and "because you have your mama's blood, you are fiercely independent and outgoing." 
However, Solange urges herself to ask for help when feeling burned out. "Sometimes it is ok to say just that. It won't make you less strong or less powerful," she states. "No one you love will criticize you or blame you; in fact, they will lift you up." Once we reach 17, Solange explains how it was the "hardest year of your life," after losing a friend to gun violence and giving birth to her son, Julez. 
Despite these obstacles, Solange learns to live with her decisions that are made out of love. She concludes on a positive note with a sort of epiphany:
you have a long life ahead of you, and i'll tell you it's not gonna always be easy, but I can promise you it will be fruitful and with much purpose. all the bridges you've burned, you had to, so that you could rebuild them to become a stronger and more wonderful you.
there will be pain, there will be doubt there will be beauty, there will be the unknown. there will be so many moments of joy and delight that the whole universe will feel painted in hues of amber and wonder. there will be times you are so sad you can't lift your head. and there will be times you are so happy that the sensation of life knocks you down. but most importantly, there will be you. a whole, whole lot of it. and you will feel good about who she is and who she is still becoming.
Amen, Solange. Consider this as your daily dose of inspiration. Read the entire letter in the latest issue of Teen Vogue.