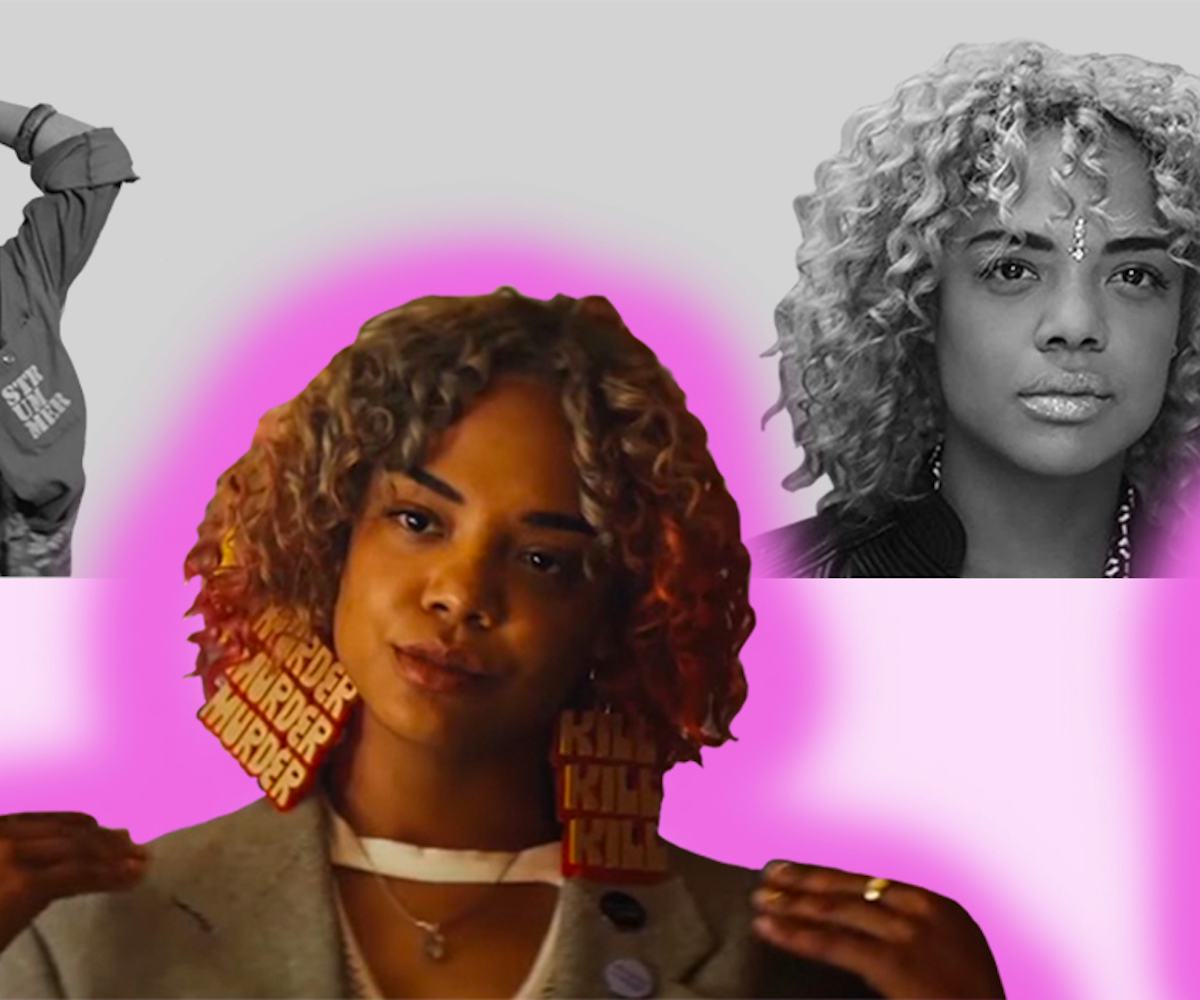 The Story Behind Tessa Thompson's Radical 'Sorry To Bother You' Earrings
"Murder, Murder, Murder" "Kill, Kill, Kill"
Costume designers don't get enough credit for their roles in contributing to a film's final, cohesive aesthetic; it's a daunting task, involving lots of detail-oriented work, but it's one that Deirdra Govan, costume designer for Sorry to Bother You, has been tackling for years now. She says of her role: "You have to be a little bit of a detective, and be anthropologists, and archaeologists, and psychologists, and everything you can imagine to articulate and put this all together for these characters," she says. While Govan has previously worked on projects like Roxanne, Roxanne and Boardwalk Empire among others, but Sorry to Bother You felt different than anything else on which she's worked: The script was visually rich and layered and exciting; this was something special.
There's a lot to marvel at in Sorry To Bother You: the cinematography, the acting, the bizarre-as-fuck plot. But among the most memorable aspects of the movie are the clothes and accessories, which serve as a necessary glimpse into each character's personality. "There are many layers [to each character], but they're all very intentional and very well thought out," Govan says. "I really want people to understand that this is a very carefully planned and designed project. It was not happenstance."
So, where do you start when planning a movie as trippy as this? Oakland, California—which also happens to be where the movie is set. "For me, Oakland is such a rich environment, both historically as well as culturally… and I really wanted to pay tribute and use the resources because that's what made sense, and that's what I felt was really real and true." Govan did a lot of research into the area's politics, dating back from the '60s to present day, encompassing everything from the Black Panther Party to Black Lives Matter and the more recent #MeToo movement. She wanted to look at "how all of that bridges into what's happening now, which I think is somewhat articulated throughout the film." Govan also scoured the Bay Area to find vintage, one-of-a-kind pieces that she then redesigned for the film, giving then a new, unique twist.
Ahead, we chat with Govan about her intentions with specific characters in the film, both minor and major, all as fully realized as the next.
Mr. _______
In the film, Mr. _______, played by Omari Hardwick, is everything the protagonist, Cassius (Lakeith Stanfield), wants to be. "The bowler hat and all of his style and swag, [Cassius is] like, my god, I want that, how do I get that, who do I have to be to get there?" Govan says. Her research for these particular style cues came from surrealistic art. His signature piece is a black structured bowler hat, which was all Govan's idea. "I loved this idea of his character having something that is familiar yet turning it on its head," he says. The eye patch came from a friend who owns a leather shop; Govan says, "It gave him a complete look that was unlike anything we had seen in the past."
Steve Lift
"Armie [Hammer] and I talked at length about how we we're gonna make this character someone that we knew we couldn't stand, but at the same time, is like God," Govan says. They decided to go the "guru" route. "We took a risk, and I wanted to do something different," she says. "That's how he ended up in the caftan, and a linen wrap skirt, and an equestrian jacket in a riding crop and his boots, because he is the embodiment of entitlement and wrongful cultural appropriation. That's the world where Steve lives."
Squeeze
Played by Steven Yeun, Squeeze's vibe is very minimalistic and utilitarian. Govan says Steve has this "very unfettered, very clear direction of 'I have bigger things on my mind besides what I'm wearing today." She explains, he is "still fashionable in his mind, but it's unwavering. His palette is very simple of grays, greens, and rich navy [blue]s and indigos."
Cassius Green
Lakeith Stanfield's character evolves throughout this film and so does his wardrobe. Govan describes his look at the beginning of the movie as being "like he's been borrowing from his father's closet." It's as though he watched the older men in his life get dressed in the '80s and never updated his wardrobe to fit into today's times. His closet is full of "vintage ties, coupled with short-sleeve, three-quarter shirts, and sweater vests," Govan say, adding, "and he probably borrowed his uncle's shoes." Perhaps not the most exciting look, but it is authentic to who he is. "There's a line in the film: 'Why is Detroit [Tessa Thompson's character] with Cassius?'" Govan recalls. "She's with Cassius because he's not of that pretentious world. He is real; he is who he is; what you see is what you get. And that is the beauty."
When Cassius' wardrobe starts to change is when he starts achieving success, and his "muted talent" transforms into "a high definition of technicolor style." Govan says, "In the script, there was no base at all for what his world would look like when he obtained money. So, I had to articulate it in such a way that shows his transition into a 'power caller.' I did that by exercising the use of color—jewel tones, rich reds, blues, purples, yellows, greens—all of those things to show that heightened sense of reality, that intensity of chasing the almighty dollar."
She points to a montage scene where Cassius is wearing a green plaid suit and a pink shirt as his exact turning point. Another central sartorial moment is when he meets with Hammer's character and wears a gray three-piece suit. "He's trying to impress the boss, but he's playing in an area of gray because you don't really know if it's black, if it's white, what's up, what's down," Govan says.
Detroit
Saving the best for last, we have Tessa Thompson's radical character Detroit, with whom Govan says she had a special connection. "I went to school in the late '80s, early '90s with girls like this," she says. "A little bit of Detroit was a part of me." Like her friends, Thompson's character experiments with fabric and clothes and color, all things very familiar to Govan. "The base of Detroit was that she was a self-assured woman, she was a very tuned-in artist, she was all about her work because she was not a sell-out," she says. "She achieved success on her own terms." There are obvious feminist leanings, but Govan also borrowed from Afro-Punk and Afro-Futurism. "All of these characters were visually rich, but the way women dress, there's a certain levity that we have where we are able to take risk."
But perhaps the biggest fashion risk in the film are Detroit's striking graphic earrings, a sartorial choice which writer-director Boots Riley specifically called for in the script. But while Govan knew she had to come up with statement earrings, the parameters were initially undefined, so she had to ask herself: What is this gonna be made out of? How am I gonna fabricate it? What's the weight? What are the dimensions? She enlisted a friend who worked on typography for the film to create the accessories that included text (notably, the "Murder, Murder, Murder; Kill, Kill, Kill" pair which you can buy on the Sorry to Bother You merchandise website). Then, they created a mockup—something that wouldn't be too heavy for Thompson to wear—and had a 3D team bring them to life. The electric chair and penis earrings were also done in-house.
Also memorable are Detroit's graphic T-shirts, including one that reads: "The future is female ejaculation" which Govan sourced from a New York boutique called Otherwild. Thompson was actually the one to bring the brand to Govan's attention. "I definitely wanted Detroit to have [graphic T-shirts] appear somewhere throughout the film, we just weren't really sure what we wanted them to say," she says. "I set about picking out the ones that would make the most sense for the character, and the ones that would be plotted specifically for those scenes where they appear." The aim was to take a familiar slogan, and turn it on its head.
Another stand-out moment is the black two-piece Thompson wears during her performance art piece. This, Govan says, she built from scratch. "That came about in a less-than-72-hour period of time, a day before we were supposed to go on camera," she explains. In the script, Detroit was initially supposed to appear nude, but Govan says she and Thompson didn't want to "have nudity for nudity's sake, it needed to have a purpose and meaning behind it." They didn't believe it served the story or her character, so they went to Riley, who suggested using gloves, "just something out of the box and arbitrary," Govan says. "And as I thought about it, I got more excited because it took me to a place of being a kid in the '70s and '80s. I remember having a T-shirt that had handprints on it. I remember those handprints that I did as a kid with paint that you bring home and your parents hang up on the wall."
So, she found some gloves at an army surplus store and started experimenting with weight and fabrication and sewing them so that they would almost formulate like a bra cup. The bikini bottom and the big middle finger symbol and the overall look was, what Govan calls, "a stroke of genius." She adds: "And what I didn't realize was that I was creating an even bigger statement on feminism, which is: My body is my own. I own this."
Sorry to Bother You is in select theaters starting July 6.