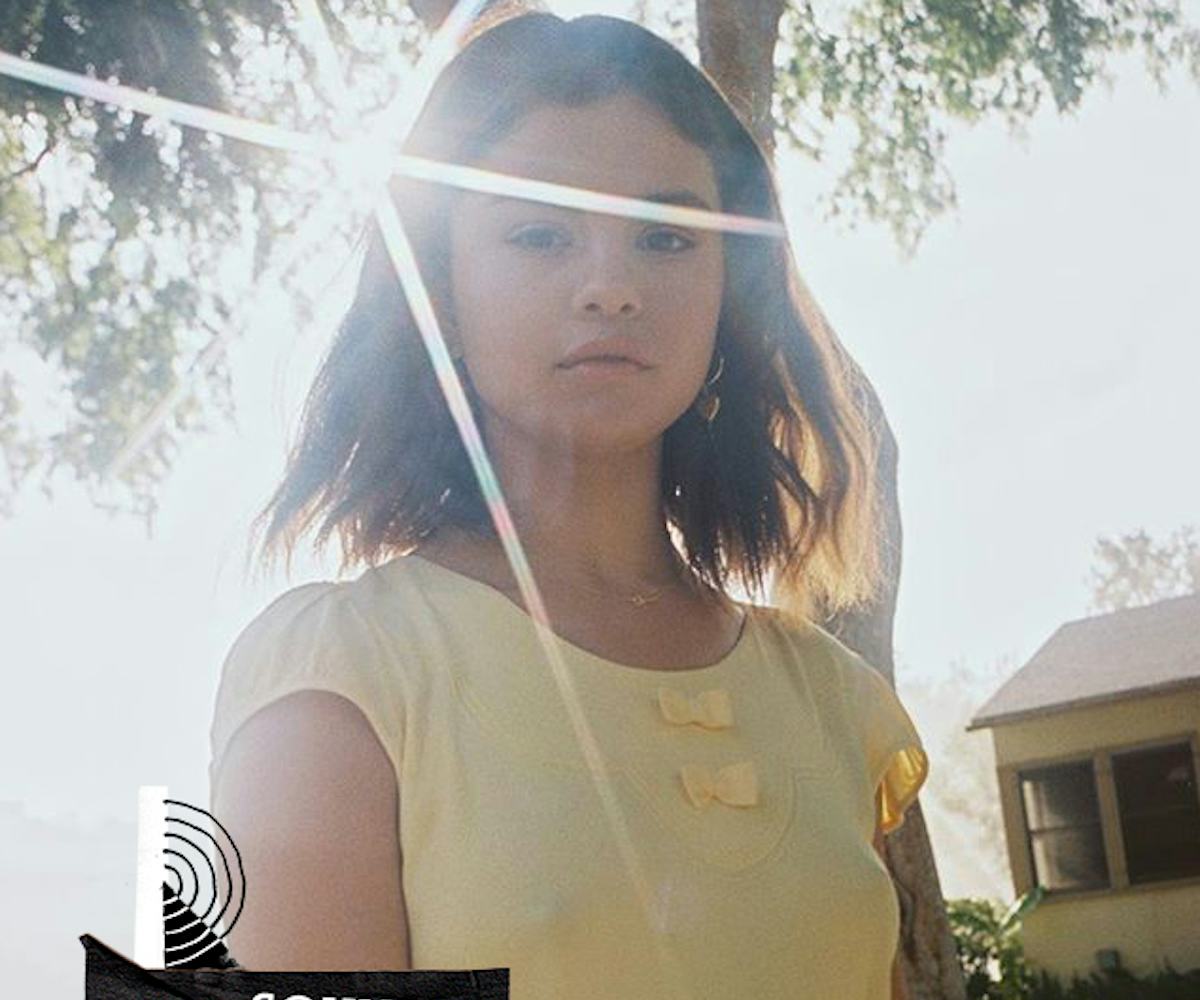 photo via instagram/@selenagomez
Soundcheck: The 29 Best Music Releases Of The Week
Selena Gomez, Lana Del Rey, Kesha, + many more
Every weekend, we're bringing you #SOUNDCHECK—your new destination for the best of the best new music that hit the web over the course of the week. Because you should always be prepared when someone passes you that AUX cord. This week's round features 30 of our favorite emerging and established artists including Selena Gomez, Lana Del Rey, Kesha, and so many more. Turn up, tune in, and tune out.
"Fetish (feat. Gucci Mane)" - Selena Gomez
Satisfy your dream-pop fetish with this hazy new tune, courtesy of Selena and Gucci Mane. 
"Know No Better (feat. Travis Scott, Camila Cabello, Quavo)" - Major Lazer
This inspiring new video from Major Lazer and co. is literally a dream. 
"Sorry Not Sorry" - Demi Lovato
With lyrics like "Payback is a bad bitch," Demi sends a strong message to her haters in this aptly-titled unapologetic single.
"9 (After Coachella) [KRANE Remix]" - Cashmere Cat
Fans are going crazy for producer KRANE's electronic remix of Cashmere Cat's "9 (After Coachella)," which features MØ and SOPHIE. Potentially one of the best remixes of the summer, the energetic track is guaranteed to have you dancing.
"Groupie Love (feat. A$AP Rocky)" - Lana Del Rey
This smooth track from LDR has us all waiting for it on the edge of our seats with anticipation for Lust For Life. 
"Magnolia" - Playboi Carti 
Carti takes over the streets of—you guessed it—New York City, in this trippy new visual. 
"Weekend In Atlantis" - Jaden & Willow Smith
A "Weekend In Atlantis"? More like a weekend in total bliss, thanks to this slow-burning, percussion-heavy tune from the Smith siblings. 
"Dreamer" - Nite
Get lost in the vibrant world of Kyle and Myles Mendes with this synth-heavy tune. 
"Butterfly Effect" - Travis Scott
Dive right into this freaky visual from La Flame—just try your best not to get lost on the way out. 
"Watch Me" - Jaden Smith
Smith tries his hand at rap-rock with this anthemic new track. 
"Boredom" - Tyler, The Creator
Tyler, The Creator's showcases his diverse artistry through powerful lyricism and a clean bass line. You'll be anything but bored vibing to this tune. 
"Nuggets (feat. Bonzai)" - Mura Masa
We dare you not to bob your head to this refreshing Mura Masa joint.  
"Go To Hell" - Empress Of
Who knew cursing someone's existence could sound so... ethereal? 
"Lay It On Me" - Vance Joy
Vance Joy continues to explore the depths of his soul in this new acoustic earworm. 
"Less Than" - Nine Inch Nails
Nine Inch Nails proves that new wave is back like it never left in this hypnotic, video game-inspired video. 
"Three Futures" - TORRES
TORRES' knack for writing authentic pop gems reaches a fever pitch in this slow-burning, heart-wrenching new video. 
"Woman" - Kesha
Kesha ditches the piano and opts for brassy, vibrant horns that'll get you rejoicing in your womanhood.
"XL (Acoustic)" - Fly By Midnight
This acoustic gem from NYC party duo Fly By Midnight will get your fingers snapping, toes tapping, and voice soaring all night long. 
"Fuck They" - SOFI TUKKER
Electronic dance duo SOFI TUKKER's new single is cheeky and playful, featuring a call-and-response chorus about not giving "a fuck about they" and "who's they?" to create a track you'll want to play over and over.
"Too Much" - SHAED
You'll feel the buzz of this bright electro-pop track down to your bones—we guarantee it. 
"Bicep" - TR/ST
Robert Alfons is back on his grimy pop grind and, honestly, that's just great. We missed you and your darkness.
"Fly" - Elley Duhé
"Fly" starts off like a nostalgic pop trip but grows into a hand-clapping, blissful, R&B-tinged anthem. Duhé is someone to not sleep on.
"Canyons" - ROZES
Summer 2017 was in dire need of an atmospheric electronic bop. Thank the music gods ROZES is around to deliver it.
"COPYCAT"- Billie Eilish
Is there anything Billie Eilish can't do? "COPYCAT" is yet another bop to add to her growing oeuvre and with her don't smile at me EP due out August 11, along with a North American tour in October, world domination is soon to follow.
LÉ FUNK - MAAD
MAAD's debut EP is here and it's pulsing with night time vibes. Dangerous women, this is for you.
"Lay Down" - Touch Sensitive
There is sensuality dripping from Touch Sensitive's latest single. Its allure gets amplified in the above lyric video that may or may not have you lusting after a chiseled, digital bust of a man.
"Cities In Wonder" - FUTURE FEATS
Well, we can add FUTURE FEATS' debut single to the Song Of The Summer contender pool.
"Stay The Night" - Jeffery Austin
The sophomore slump, in terms of singles, is non-existent on Jeffery Austin's latest. He's got pipes and introspection to boot. Longing and desire are futile, but so infectious.
"Other Worlds" - BUTTERJACK
Sometimes love makes you travel the world and beyond. It's not often, though, that it sounds as fresh as BUTTERJACK's debut single.