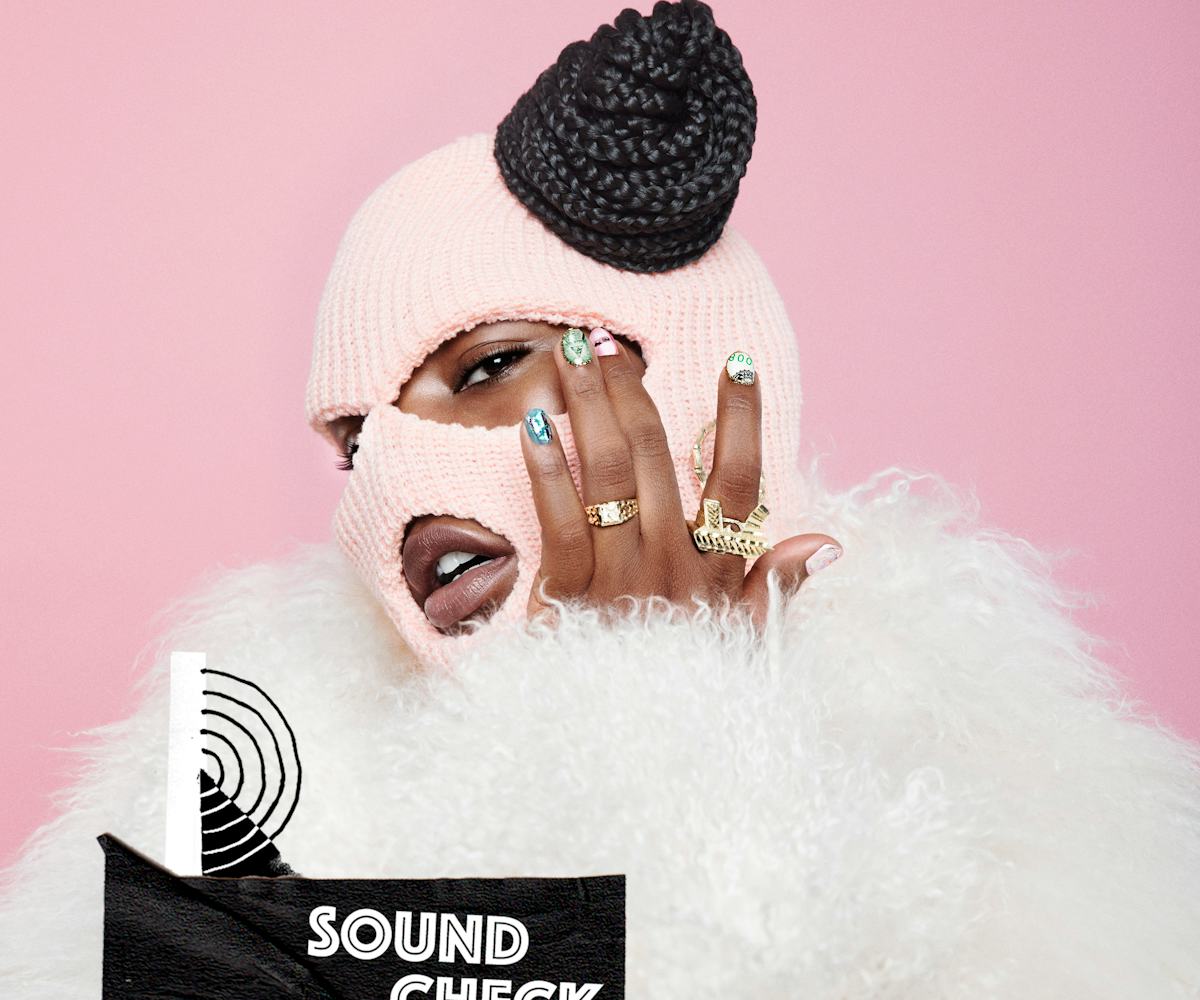 Soundcheck: The 33 Best Music Releases Of The Week
Leikeli47, Tinashe, Charli XCX, Rejjie Snow + more
Every weekend, we're bringing you #SOUNDCHECK—your new destination for the best of the best new music that hit the web over the course of the week. Because you should always be prepared when someone passes you that aux cord. This week's round features 33 of our favorite emerging and established artists including Tinashe, Beyoncé, Peaches, and so many more. Turn up, tune in, and tune out.
"Money"— Leikeli47
What does grinding get you? Money. What does Leikeli47 know well? The grind. This video is her reaping the benefits, Missy Elliott inspiration and all.
Nightride— Tinashe
Before she drops Joyride, Tinashe is going to take you on a Nightride. Turn up, get "2 On," and let's roll.
"Easy"— Bonnie McKee
You all need to stop sleeping on Bonnie McKee. She's putting out some of the best pop music today and this video is a testament to that. You're going to be singing this for the next few weeks.
"My Mind Is"— NVDES feat. Oliver Tree
Let's get trippy, y'all.
"Trust Me"— Mr. Tophat feat. Robyn
You know what the world needs more of? Cowbell. You know who's gonna give it to you? Mr. Tophat and Robyn. Press play and get lost in the majesty of the club for 10 minutes. Dance on your own, or don't.
"Find Me"— Sigma feat. Birdy
Everything about this video is perfection. Millie Bobby Brown delivers an impassioned performance lip-syncing Birdy's sorrowful lyrics while Sigma brings the emotional drama with their production. Watch this and try not to tear up.
"Pink Beetle"— Rejjie Snow
A melancholy trip to the dentist is the premise of Rejjie Snow's video for "Pink Beetle." The mundane aesthetic is broken up with the gorier bits of your annual dental visit, like teeth pulling, gum bleeding... you know, all that fun stuff. 
"Daddy Lessons"— Beyoncé and the Dixie Chicks
Country and pop come together beautifully in this special recording of Bey's LEMONADE song. These two Texas acts are unstoppable on their own, so best believe you're going to be shook after this. Now, where's that joint album?
"Guilty Pleasure"— Temptress
Time and relationships are tricky. Feelings come and go, and one day the one you love is not the one you fell in love with. Temptress' latest is a steamy ode to that, drenched in pinks, purples, and blues. 
"Dangerously"— Charlie Puth
Let this video be a warning to you hopeful romantics: Love is dangerous. Tread lightly, and watch out for flaming arrows.
"Call Me Up"— Homeshake 
This slow jam is exactly what the doctor prescribed for the long-distance blues. Give it a listen; it'll help you muster up the courage to call that special someone and talk it out.  
"Near to the Wild Heart of Life"— Japandroids
After a three-year hiatus, Canada's resident alternative rock band, Japandroids, have returned with this energetic single. "Near to the Wild Heart of Life" is a call to the raw beginnings of underground pop-punk and continues the band's legacy of fun, uptempo rock.
"Commas"— Ryan Hemsworth feat. Adamn Killa
Producer Ryan Hemsworth's finally dipping his toes back into the hip-hop pond. "Commas" features infectious beats juxtaposed with rapper Adamn Killa's swift, raspy rhymes about growing up. The result is a dance-worthy hip-hop track that has us out of our seats.
"Pull Up"— ABRA
ABRA's self-directed video for "Pull Up" plays on the gritty and super-appealing style of unconventional indie king Harmony Korine, but the Atlanta-based new wave R&B singer makes it her own. ABRA's voice, underproduced and subdued, relays charged lyrics as depictions of Harlem and Bushwick's nighttime counterculture flash across the screen. The video's a full-on artistic experience, leaving us wanting to see more of ABRA's vision. 
"Waiting"— RL Grime, What So Not, and Skrillex
Three of the hottest producers today have joined forces for the perfect four-minute blend of chants, synths, bass drops, and more. Listen for yourself above!
"Clouds"— Connie Constance
The 21-year-old singer is back with a relaxing new single that will have you up in the air.
"Hopelessness"— Anohni
The past and the distant future collide in this Alexander Carver-directed visual.
"Love$ick"— Mura Masa feat. A$AP Rocky
British artist Mura Masa takes it back to the '90s in his newest video. Oh, and in case you couldn't tell, the video was inspired by the 1995 movie, Kids. 
"Never Alone in a Dark Room"— Ricky Eat Acid
Ricky Eat Acid's latest video proves that art really is powerful. Watch the haunting visual for yourself. 
"Dog Years"— Maggie Rogers
Maggie Rogers' angelic voice is front and center on this track about love and trusting the universe. Her debut EP will be out in early 2017.
"IDCBU"— SIBA
The Danish artist tackles the emotions of heartbreak on his latest single, "IDCBU." 
"Chameleon"— PNAU
PNAU just released their first track in over four years. Accompanying the single is an incredible video featuring vocalist Shakira Marshall decorated in fluorescent garb.
"Six Flags in F or G"— Surferblood
The Floridian quartet rocks Wild West-type nostalgia on this chill rock track. Play while in the car, hanging with friends, or imagining yourself as a central character in an underfunded indie set in the Midwest.
"Vines"— D∆WN 
Former Diddy protegé D∆WN has released spacey, future-leaning single "Vines" ahead of her forthcoming studio album, Redemption. It's a techno and R&B collision for when you are in your feelings.
"Insubordinate"— Liana Bank$
New York-based singer-songwriter Liana Bank$ recently released her long-anticipated debut mixtape Insubordinate. Over the 12 tracks of syncopated beats, the singer delivers a lyrical message to always do you, and never apologize for it. 
"Ready or Not"— Laura Mvula
This Fugees anthem gets reinvented yet again by British vocalist Laura Mvula. Her rendition is an eclectic mix of soul and pop with a splash of gospel, creating a track that hits all the right spots.
"A Jaded Attempt at Something Iconic"— Santangelo
This latest release from Santangelo has the most melancholy vibes to it. The delivery is so soothing and personal, it almost makes you look forward to crying your eyes out. 
"Molino"— Mark Johns
Mark Johns' Molino EP takes her from the dance music she's known for into a more raw and vulnerable state.
"Blindfolds (Kennedy Jones Remix)"— Rilan feat. Naz Tokio
Here's the song you're going to lose yourself to on the dance floor this weekend. Close your eyes, put your hands up, and vibe out.
"Happy When You Go"— BANFI
BANFI will fill the alt-J hole in your heart. They've got the alternative indie scene in the palm of their hands and they're only one song in. Like their debut song says, "These people don't fuck around." 
"How Far I'll Go"— Alessia Cara
Alessia Cara is the perfect voice to soundtrack Disney's new princess story, Moana. She's bubbling with youthful hope and soul, which makes "How Far I'll Go" an excellent addition to the Disney canon of songs about self-discovery and exploration. 
"How You Like My Cut"— Peaches
For her first video from RUB that doesn't feature her image, Peaches subverts gender by enlisting Eisa Jocson, a Filipino dancer, to perform "macho dancing," a dance typically performed by male Filipino exotic dancers.
"Sleep Talking"— Ravyn Lenae
Ravyn Lenae composes an intimate visual for her single, "Sleep Talking." The video features melting clocks and hazy composite images that bring the most peculiar imaginations to reality.