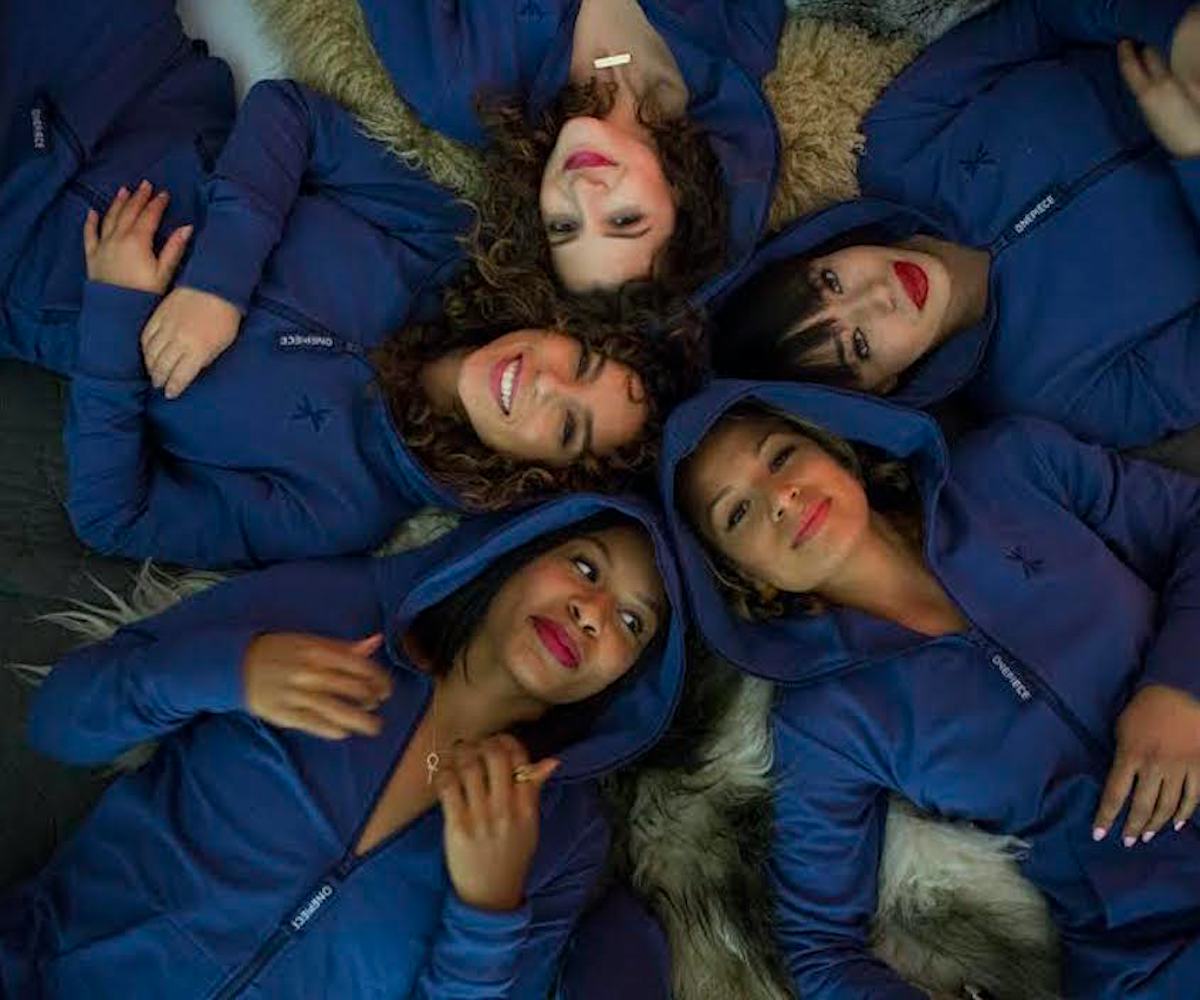 Photos courtesy of Jessica Lehrman
Women In Music Came Together For The Ultimate Sleepover Party
Imagine all your best friends are in matching onesies, doing each other's makeup between sips of champagne. Drake is bumping on the speaker to your right, and to your left sits three giant bowls of peach Sour Patch Kids. Everyone's laughing, smiling, and blissfully carefree. No, this isn't a dream.
Social media influencer Ashley Outrageous and Ramya Velury turned this teenage fantasy into a (very real) slumber party last weekend based on one novel idea: Put New York's coolest music-industry females together in one space and magic will happen. No networking, no pressure to prove themselves or perform, just a chance for creative women in a traditionally male-dominated field to come together and have fun.
This all took place at Brooklyn's Patch House, a decked-out "hotel" for traveling musicians sponsored by (and filled with) Sour Patch Kids. The night let artists like Kitty Cash, Ravie B, and Martina McFlyy get hype for Tinashe's show later that night with makeovers, food, and a surprise performance by rapper Jahkoy. In other words, Ashley and Ramya created the ultimate pregame. We caught with the two organizers about how they brought the fantasy to life, in the gallery below.
What inspired the event? Why did you think the Patch House would be the perfect location?
Ashley: Having been in the industry for seven years now, it's been a dream of mine to do something for all the creative women I've met. When I first saw the Patch House, I just knew I had to do something there. The ambiance is almost breathtaking and it gave me the feel of a house off MTV's Real World. While the house has only been occupied by artists, I thought to curate a night where I'd bring in artists and creatives, all women of course, to connect with each other and really spend some quality time. From that came the idea of, "let's throw a girls night/slumber party!" The house has four rooms, seven beds, a studio, dreamy bathrooms, and pretty much makes me want to live there. Me and Ramya, my right hand in all of this, hashed out the ideas for the run of the night, choose a few ladies in the industry, and pitched it to the Patch. I am now the first influencer they have partnered with to do an event.
Ramya: The Patch House definitely inspired the event. They had never done an event like this with a blogger like Ashley, so it was the perfect opportunity considering we had been planning for Women's History Month.
How did you choose the artists to invite? Did everyone know each other beforehand?
Ramya: All of the girls invited knew of each other to some capacity, but some had never even met. It's really easy in this business to have superficial relationships with quick small talk and not really know each other. It was important for us to create an environment where these women could form something genuine over something we all love: music. Out of this, experience photo shoots were scheduled, creative ideas developed, etc.. It was more than just makeup and pillow fights––these women are powerhouses.
Ashley: We also knew we wouldn't be able to invite all that we wanted to or else people would be sleeping on the stairs. We came up with a small list of women in the industry that we felt would be great to build more with one another: four DJs with other creative pursuits under their belt, two super-talented photographers, and one creative mind connecting dots making shit happen. The vibe throughout the night was close to perfect.
What was your takeaway from the party?
Ashley: That it's actually not that frightening to have women come together. I've met some people along the way that don't really enjoy hanging out or meeting other women because they're close-minded; they think that all women are catty or jealous, or whatever the case may be. We really had no problems at #AOGNO and that's what makes me happy. We were all able to build with one another, and now have memories together we'll never forget.
Ramya: It was like college—that collaborative experience of getting ready together and going out. We don't really do that as they get older. Being a woman, especially in a male-dominated industry is difficult, but as I spoke with the girls over the course of the night, I learned that we all wear that with a badge of honor.
Are you planning anything else like this in the future?
Ashley: Hell to the yes! I would like to stay in that onesie all day, all around the world, with all my fellow power women. I think we need to remake the Beyoncé "Formation" video with all of us wearing onesies.
Ramya: Definitely want to go on a sleepover tour. Coziest tour of the year!