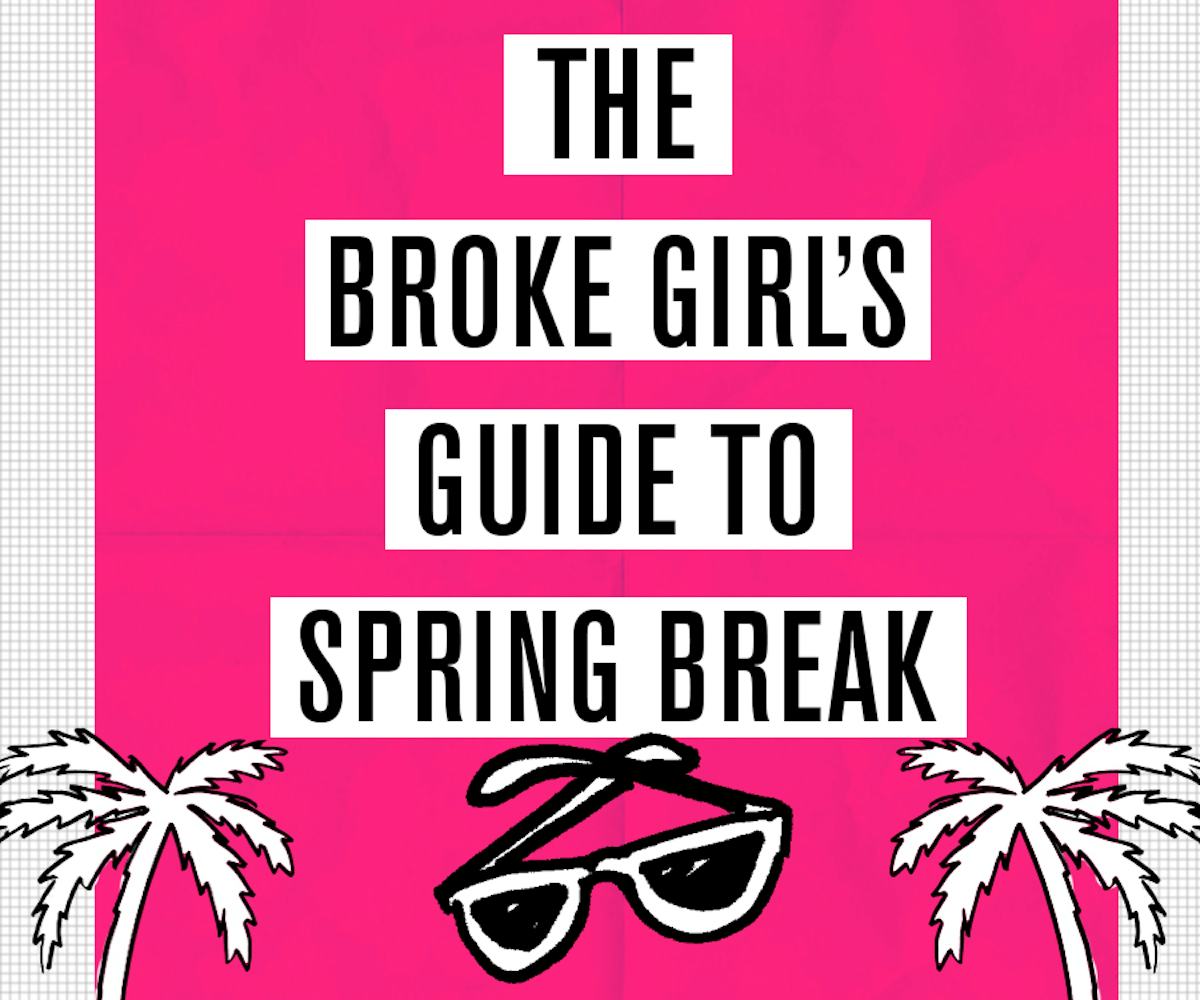 The Broke Girl's Guide To Spring Break
by dana guth + veronica radyuk
At some point in our lives, we have all been overcome by the urge to pack up our bags, hop on a plane, and travel to some exotic destination for spring break. (This moment can probably be pinpointed to when the first season of The O.C. aired, and ultimately sparked our interest in exploring the gritty Mexican city known as Tijuana.) But we're always instantly struck by the reality of our situation—in other words, our bank accounts. Not everyone can afford to go on a big trip, but that doesn't mean you can't indulge in other ways. There's always something fun (and affordable) to do in every city, even the ones that cater toward the big spenders. 
Before you and your friends go all Spring Breakers on us and rob a diner in your matching pink ski masks, here are a few tips on where to go and what to do, including the average cost of flights and hotels per city from our friends at Cheap Tickets, Trip Advisor, and Kayak.  
1. Charleston, South Carolina
If you're craving warm weather, but don't want to empty your pockets for a beachside hotel (or a New Orleans balcony), take a road trip down to this up-and-coming college town. Ryan Reynolds and Bill Murray's city of choice (the latter has been known to hang out at local cafes!) is known for its southern charm, perfect climate, and, above all, grade A culinary experiences. 
-Satisfy your sweet tooth: Charleston is a globally renowned food city, so if there's any time to put that diet on the back burner, it's now. We suggest top local bakeries Saffron and WildFlour Pastry for their to-die-for doughnuts and pralines. 
-Get witchy: This iconic ghost town is rife with creepy graveyard walks, haunted churches, and mystical folklore. The best part? Many of these on-foot tours won't cost you more than $10. 
-Beach it up: Still want that classic spring break experience? Pile into the backseat and head to Myrtle Beach, only about two hours away. 
---------------------------------
Average Daily Hotel Rate: $267
Average Daily Flight Rate: $185
2. Montreal, Québec, Canada
You might not think of Canada as a premier spring break destination, but trust us, this quintessential Québec city is at its peak in mid-March. The weather is getting gorgeous, the outdoor locales are just opening up, the drinking age is 18, and, best of all, the prices are still low until summer. 
-Wander the jungle: The Montreal Biodome, that is. Montreal boasts one of the largest indoor animal and plant sanctuaries in North America, and admission is under $20 for students. Sloth cuddles, anyone? 
-Try poutine: That's french fries covered in gravy and cheese curds. Healthy? Hell no. Delicious? Hell yes. Spots like La Fabrique Montcalm will create this classic Canadian dish for you, starting at $5. 
-Practice your french: Seriously, going to Montreal is like being transported to a sprawling European village. With so many shopkeepers, bakers, waiters, and waitresses who cite English as a second language, this is the perfect place to put those high school classes to the test. 
---------------------------------
Average Daily Hotel Rate: $86 
Average Daily Flight Rate: $274
3. Cape Cod, Massachusetts
This Massachusetts beach town probably conjures images of popped collars and croquet, not wild beach parties. While that's not totally inaccurate, March is an off-season month for this vacation destination, making spring break the time to snatch up a cheap rental and explore the beautiful landscape. 
-Hit up the drive-in: Remember all of those high school dates we spent outside in our cars, sipping milkshakes, and gazing up at the drive-in movie screen? Us either, but we saw it on That '70s Show, and it looked super romantic. Luckily, Wellfleet Drive-In has preserved the magic, complete with a mini-golf course.
-Shop around Commercial Street: Take a day trip to Provincetown for one of the most quintessentially New England downtown hubs. Food, music, art, shopping, all quaint, walkable, and affordable. 
-Plan a picnic: Cape Cod is known for two things: beaches and lighthouses. When the sun is shining and the weekend parties are winding down, there's nothing more relaxing than packing up that wooden picnic basket and settling down against the scenery.
---------------------------------
Average Daily Hotel Rate: $128
Average Daily Flight Rate: $211
4. Delray Beach, Florida
While all your friends flock to Fort Lauderdale and Miami—and pay the high flight prices that inevitably go with those major student hubs—head toward the coast and give Delray a visit. This rapidly growing resort town offers competitive nightlife and unbeatable beachside views just a day's trip away. 
-Rent a kayak: Who doesn't love manatees? Delray is a major hotbed for stunning wetland wildlife. Grab an oar and keep your eyes peeled—and get a tan and a workout, to boot. 
-Catch a show at Arts Garage: This old-school performance space in downtown Delray offers an ultra-accessible night out, featuring everything from jazz freeformers to big-time stars.
-Go mansion spotting: Some of the wealthiest people in the world call Delray home (think Jimmy Buffett and lots of early Hollywood retirees), and they have mansions of houses to prove it. Simply driving through some of this area's swankiest neighborhoods (at a safe and legal distance, of course) is an activity in itself. 
---------------------------------
Average Daily Hotel Rate: $182
Average Daily Flight Rate: $313
5. Austin, Texas
This bustling college town has managed to remain affordable while skyrocketing in popularity—at least for the time being—making it the best of both worlds for a spring break getaway.
-Dive into Hamilton Pool: This stunning natural swimming pool is a gorgeous and green enclave just outside the city. Take a dip to escape from it all. 
-Go taco tasting: Austin is known for its authentic Mexican cuisine. That means cheap tacos and burritos for days—and there's no shortage of blogs chronicling the best of the best. 
-Sing the songs you love: Karaoke Underground is exactly what it sounds like—a bar that specializes in indie, classic rock, and sub pop staples. Finally, a chance to belt out The National for all to hear. 
---------------------------------
Average Daily Hotel Rate: $239
Average Daily Flight Rate: $198
6. Asheville, North Carolina
Feeling more in touch with your natural, mountain girl side this spring break? Stop by America's number one hippie destination, Asheville, for peace, love, and small-town vibes.
-Browse the River Arts District: Music, art, and independent sellers abound in this colorful destination. Get lost in store after charming store.
-Embrace your femininity: The aSHEville Museum, a women's cultural center, is a shrine to feminine energy, which sounds right up our alley. 
-Take a hike: The best things in life are free. Case in point: the stunning Smoky Mountains surrounding this buzzing little town. Don't miss out on the seriously breathtaking views and refreshing North Carolina air. 
---------------------------------
Average Daily Hotel Rate: $140
Average Daily Flight Rate: $330
7. Park City, Utah
It's not too late for snow bunnies to get their adrenaline fix. If you'd rather hit the slopes than lay on the beach, consider snagging a cozy rental on the outskirts of this skier destination. With the craziness of Sundance Film Festival finally dying down, now's your chance to scoop up a cheap room.
-Feel like an Olympian: Whatever heart-pumping activity you prefer—be it skiing, luging, or ziplining—you'll find it at Park City's historic Olympic Park. One inexpensive weekend pass will score you access to every attraction. 
-Thrift, thrift, thrift: If mainstream, fast-fashion shopping isn't your thing, step into vintage boutiques like Panache, Alaska Fur Gallery, and Burns Cowboy Shop. 
-Get wet: Whitewater rafting is unbeatable in Utah, and can cost under $15. Grab some friends and hang on tight. You're in for a ride.
---------------------------------
Average Daily Hotel Rate: $104
Average Daily Flight Rate: $393
8. Brooklyn, New York
Skip Times Square and the Empire State Building—trust us, New York has way better and cheaper things to offer. Board the L subway train and head across the river for a more low-key and, let's face it, cooler adventure in the Big Apple. 
-Stuff your face at Smorgasburg: Consider this the mecca for artful foodies. With miles of cutting edge takes on apps, burgers (Ramen burger, anyone,) paninis, and desserts ranging from $3 to $10, you really can't go wrong here.
-Jam out: Brooklyn is, at its heart, a music town. Intimate and cheap venues dot the borough, including very frequent shows at Baby's All Right and the iconic Brooklyn Bowl. 
-Meander around Coney Island: It's cheesy and, yes, often crowded. But after all, these years, Coney Island is still full of life. Embrace the festival spirit, grab a corn dog, and hop on the Ferris wheel to soak up rays Brooklyn style. 
---------------------------------
Average Daily Hotel Rate: $169
Average Airfare: $237