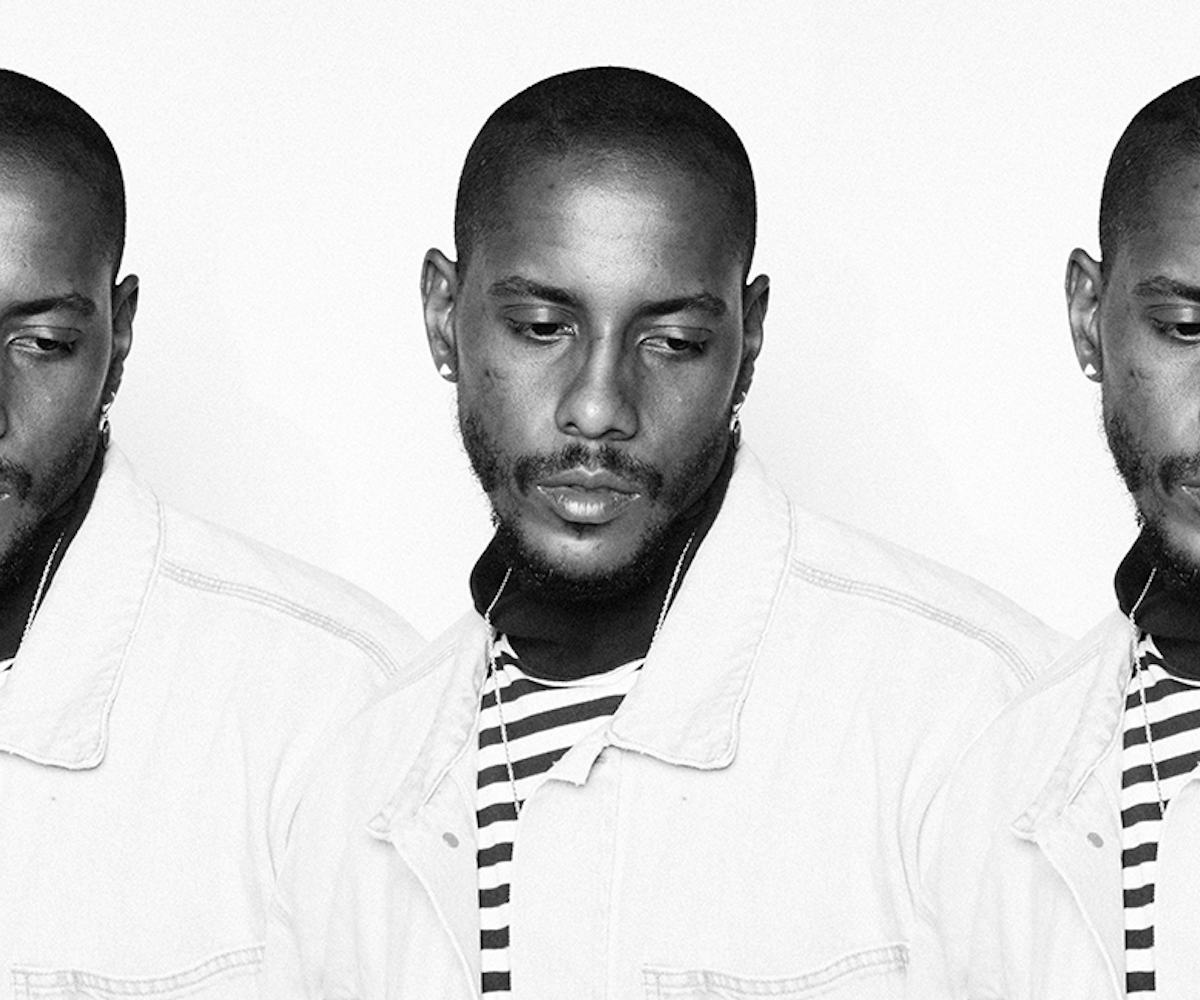 Photo by Ian Patrick O'Connor
Steven A. Clark's Miami Is Both Glamorous And Grounded
The singer-songwriter discusses his new album and premieres the video for "Found"
Steven A. Clark emerges on stage at New York's Brooklyn Steel flanked by a pair of warm, illuminated palm tree sculptures. While there's an air of minimalism given the size of the venue, the two faux trees are a perfect embodiment of the Miami that Clark depicts on his captivating new record, Where Neon Goes to Die. They're glitzy and inviting, but clearly artificial, similar to how the lucid dream-like nature of a trip to South Beach only becomes more apparent the longer you spend there.
Originally from Fayetteville, North Carolina, Clark has been in Miami for more than a decade, and the picture he paints of his adopted city toes the line between outsider's objectivity and hometown embrace. When he arrived in the mid-2000s, the music scene was heavily rap-centric, with artists like DJ Khaled, Rick Ross, and then-Miami resident Lil Wayne running the show. Clark struggled initially to figure out where he could carve out a niche.
"I didn't even really know where I fit in or who I was as a musician back then. I loved making beats, I loved writing and singing. I was doing all of that," he said. "It was definitely a hip-hop thing. I kind of had one foot in hip-hop, the other in R&B. I was still figuring out what I wanted to be."
But while the bright lights and perpetual party scene drew a young Clark to Miami, his introspective nature kept him focused on his art in the face of ample distractions.
"My first record was called The Lonely Roller. I identify with that a little bit. I'm a quiet guy, was a loner kid in school," Clark said of his past. "I just wanted some opportunity and to get some new culture. I wanted to be able to be okay with making music."
Eventually, he found his footing, releasing 2014's Late EP and 2015's The Lonely Roller. His projects are earnest and yearning, but also undeniably catchy. The Lonely Roller track "Can't Have" even wound up being sampled by Miami's best known musical ambassador, Pitbull, something that Clark says restored his faith in the art he was making and was a "full circle" moment given that affiliates of Pitbull were instrumental in the singer-songwriter establishing himself early on. Clark also found a regular collaborator in rising Florida rapper Denzel Curry, who appears on Neon standout "Did I Hurt U." Along the way, he continued to hone his skills as a performer, writer, and producer.
For Neon, which pulls its title from a Lenny Bruce quote ("Miami Beach is where neon goes to die"), Clark sought to make an album that could live more in the spaces that are still dominant in Miami's music ecosystem: nightclubs.
"A lot of my friends are DJs and club promoters, and that's kind of the life that you get—that's the music scene basically. I always wanted to just make some shit that my friends could play," Clark explained of the new record's more uptempo nature.
A meeting in Miami with famed German producer Alexander Ridha (aka Boys Noize) and a shared love of '80s music led Clark to record the album with him in Berlin. He credits Ridha with bolstering the percussion and beefing up some of the original demos, as well as the decision to open the album with "Maria, Under the Moon," the track that perhaps best encapsulates Clark's view of Miami and grounds all the shimmery guitars and grand, gooey synths in something undeniably real.
"Maria, Under the Moon," an oceanside evening fantasy complete with the sound of lapping waves, may seem like another glitzy ode to tropical romance, but it's actually Clark's take on a song that had been in his family for years, written by an uncle who died before the album's release.
"He's always been like, my No. 1 fan. 'Maria' and 'Days Like This,' if you listen to the lyrics, they're both in that fantasy escapism realm," Clark explained. "[My uncle] was a lifelong musician who had it rough at times, and I can feel where those songs came from. Growing up in Carolina fantasizing about those things—the beach, being in love, beautiful women. Those movie scenarios, you fantasize about those, living in North Carolina and watching a lot of TV and movies."
Another one of Clark's signature fleeting fantasies is "Found," which NYLON is premiering the video for below. Directed by Ariel Fisher, who also collaborated with Clark on the visuals for "Feel This Way," it's a gorgeous, nostalgically lit tribute to muses that plays like a south Florida-inspired Phantom Thread. In one particularly striking shot, a Hawaiian shirt-clad Clark sits with a woman in a room full of art in front of a horizontal mirror. The visible reflection only shows the singer gazing into the distance, a nod to the isolation that can come from being constantly surrounded by beauty both corporeal and created.
Clark ends Neon with "What Can I Do," an ode to his mother's sacrifice replete with a fiery guitar solo and choir backing vocals. It's a heartfelt, honest note to close the album on, one that recognizes how our day-to-day hardships and flights of fancy aren't isolated but intertwined, with no place better representing the latter than the Magic City. 
"Miami is a fantasyland. You go there to play, and it's there whenever you want, pretty much all the time," he said. "But at some point, you're going to have to live a real life. Reality steps in. The high wears off."