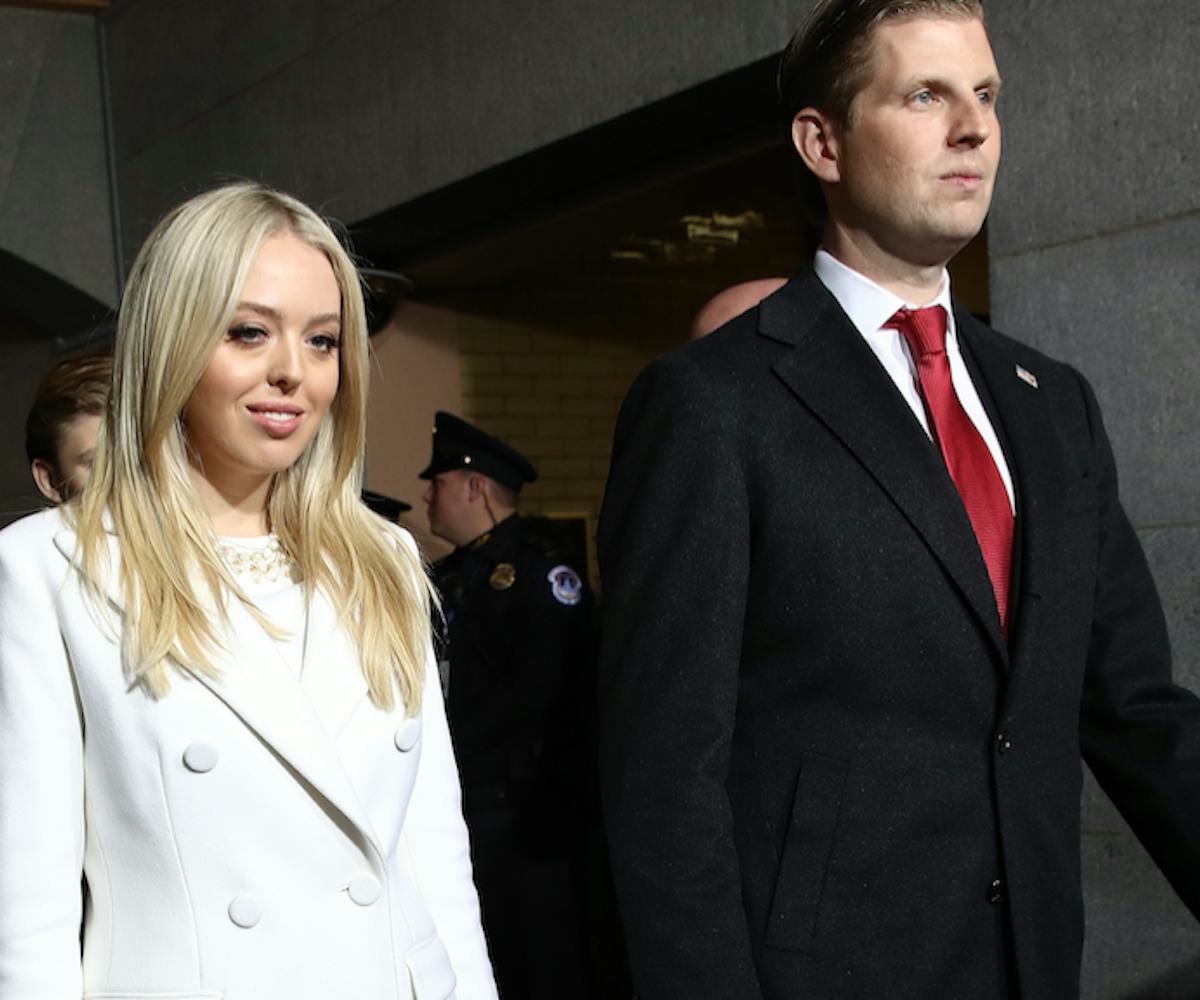 Photo by Win McNamee/Getty Images
Stop Normalizing The 'Trump Kids'
Four out of five of them are not actually kids
The latest cover of Us Weekly features a photo of all five of Donald Trump's children, engaged in a playful moment filled with laughter and, um, tie-pulling and noogies; an accompanying tweet reads: "Exclusive: Everything you didn't know about the Trump kids!"
After this hit Twitter, the brutal replies were instantaneous, with mocking comments like, "Us Weekly in 1925: Everything you didn't know about the Mussolini kids! Staggering wealth! Intense Competition!" There were also countless promises from Twitter users that they would never buy the magazine again. 
While the article's very existence is massively troubling, and the fact that there is now a possibility that I will be greeted by this demonically grinning quintet the next time I innocently walk past a newsstand seems incredibly unfair, if I had to highlight one thing that disturbed me the most about this, it is that Us Weekly refers to Trump's spawn as all being "kids." 
Donald Trump has one offspring who can be described as a kid; that is 10-year-old Barron, and, as now-suspended Saturday Night Live writer Katie Rich is aware of, he is off-limits. This is fair. Barron is a minor, and there are inherent limitations because of that with regards to what he can and cannot do in terms of resisting his father's policies. 
But the rest of those "kids"? Well, they are fully-grown adults, most of whom are in their 30s and all poised to benefit greatly from their father's administration, not only in terms of financial capital but also social. (For example, Us Weekly makes sure to point out that Tiffany Trump's presence on the Rich Kids of Instagram is going to be a boon for the page, which "is going to make the White House their new locale. They're ready to up their Instagram game big time.")
Seeing as how Trump has appointed his son-in-law, Jared Kushner, into a senior position at the White House and has long involved his children in all of his business dealings, it is not only right but it is also the duty of the press and of all Americans to cast a critical eye on the eldest four Trump progeny. They might be the president's "kids," but their active participation in America's future is anything but child's play.