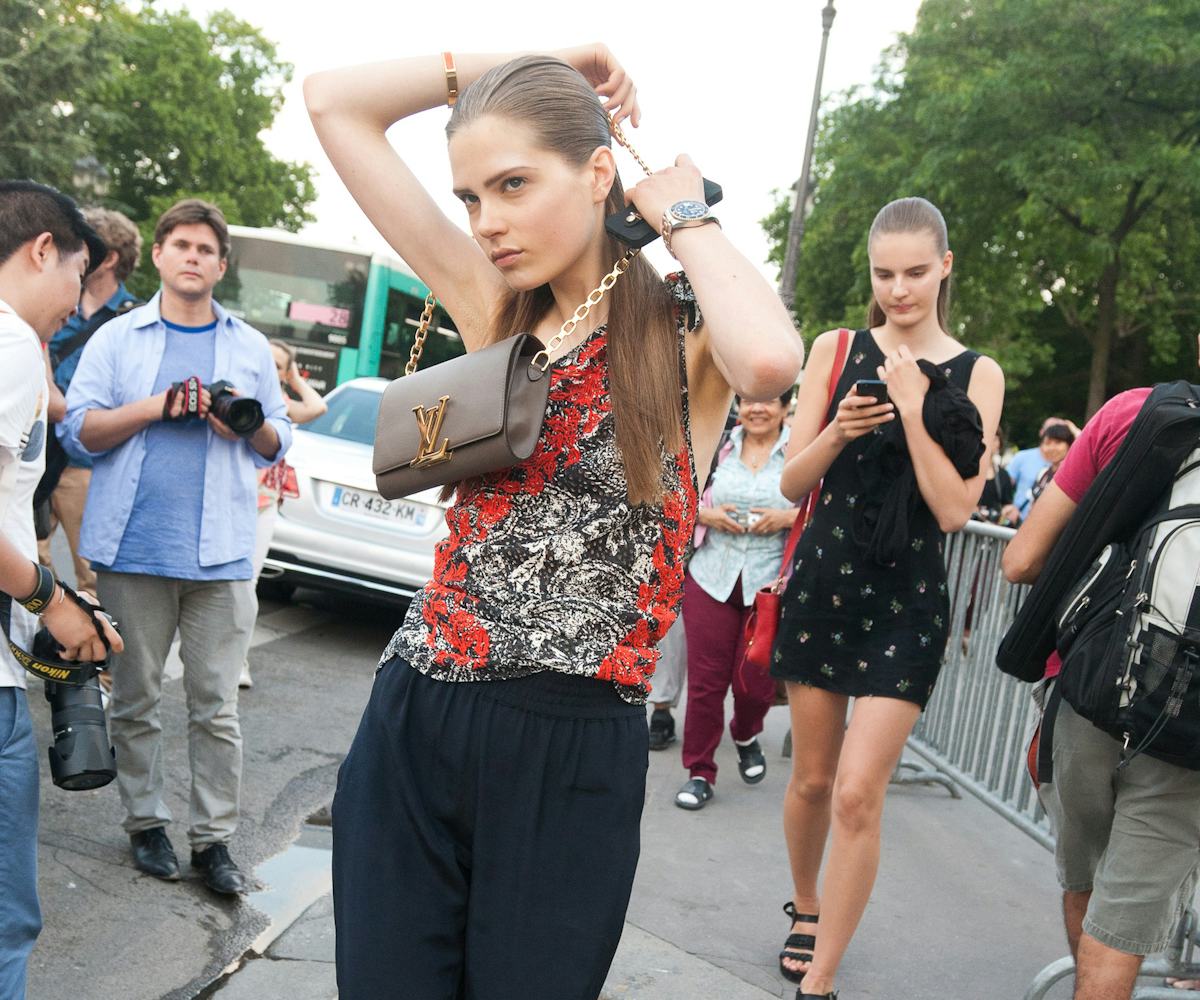 Melodie Jeng / TheNYCStreets.com
occupational hazards: street style photographer
a report from the front lines of the street style pack.
No matter how much we're in denial about it, New York Fashion Week is justaround the corner, meaning that hoards of fashion folks will be descending upon New York any day now. A major component of that group are the street style photographers who crowd around the venues getting pics that help spread the NYFW buzz around the globe. While it seems like everyone with a camera is a part-time street style photographer nowadays (slash-blogger-slash-model-slash-art-director), there's actually a real craft to being a professional people-chaser. (So much that two photogs wrote a meticulously detailed book about it that you can check out here, but that's another thing.)
We asked our friend and intrepid street style photographer, Melodie Jeng of the NYC Streets blog, to explains the ins and outs of being a street style photographer during New York Fashion Week to us. She details everything from missing meals to telling a model "I love you" in Greek when she meant "thank you." It's a weird life out there on the street, but someone has to do it.
Work First, Food Second
"Having to choose between holding an iced coffee or your camera is a major problem as a street style photographer. I'm always afraid I'll miss a shot because I'm drinking coffee when I first go out in the morning, but I'd probably fall asleep or miss a shot without it later in the day. I often forget to eat, too, because I'm too anxious that I will miss something. I try my best to have real meals during fashion week, though I could make an entire Tumblr of photos I missed because I was eating or drinking. Oh well."
What Social Life?
"When I want to hang out with someone I try to plan it when the weather isn't great, at night when I can't shoot, or in neighborhood without a lot of street style bait so that I won't get anxious and distracted if I see someone I want to run away and shoot. I'm actually working to remember that life doesn't always have to be about work, even though it's hard when you love your job. Hi to my three friends. I haven't seen you lately because I've been hanging out with my camera-boyfriend."
Tourist Traps
"I'm not a tourist. I'm just Asian. And happen to be a photographer! Getting mistaken for a tourist can actually be a blessing sometimes though, especially in Midtown or Bryant Park. In those areas it's is a little easier to take candid Bill Cunningham-esque photos because there are so many people walking around. Everyone there is focused on going to work, and they don't pay attention to me because they probably think I'm just another tourist taking a cheesy photo of a pretty building behind them, when actually I'm getting a photo of their outfit."
Overcrowding
"It's quite crazy and crowded nowadays at Fashion Week--it seems like everyone is a photographer now. I try my hardest to just shoot what is true to me, unique, and beautiful. I want to make sure my subjects are happy and comfortable. I also don't want to photograph someone because they are famous or the same same people over and over again."
Language Barrier
"For a while I tried to learn how to say simple phrases in lots of different languages, so I could say 'hello' and 'thank you' to models who don't speak English well. I accidentally told someone 'I love you' instead of 'thank you' In Greek once which was awkward and the worst, so I've stopped pretending I know languages now."
Don't Judge A Book By It's Cover
"One of my friends said, 'It's hard being superficial 24/7,' which really clicked with me. I do love fashion and finding great style on the street, but I ultimately think inner beauty, personality, and confidence are the best style. There are times when I have to take a break and just let people pass me, because focusing on clothes all the time can be too much."
Anger Management
"Sometimes I get passively aggressively mad at people when they walk into the frame of a photograph I'm taking. Working as a street style photographer, there are a lot of elements you can't control, and you have to learn to be OK with that."
Beware of Zoolander Wannabes
"I hate when girls over pose for a photo. Like. Relax. Why is your head tilted so much? Do you have balance problems? Why are your legs so crossed? Is that your 'sexy' face? So many questions! It's also pretty funny because a lot of guys will say, 'OK, I won't over pose,' and then totally go Blue Steel. Just relax, dude."
I Love It
"My job is basically being a professional creep, but I love it. I think we all see people on the street and think, 'Wow, I want those sunglasses,' or, 'That girl looks so cute!' My job is just to ask them for their photo and capture it. Ultimately, I just want to learn about fashion, take great portraits, and make people happy."
All photos by Melodie Jeng / thenycstreets.com