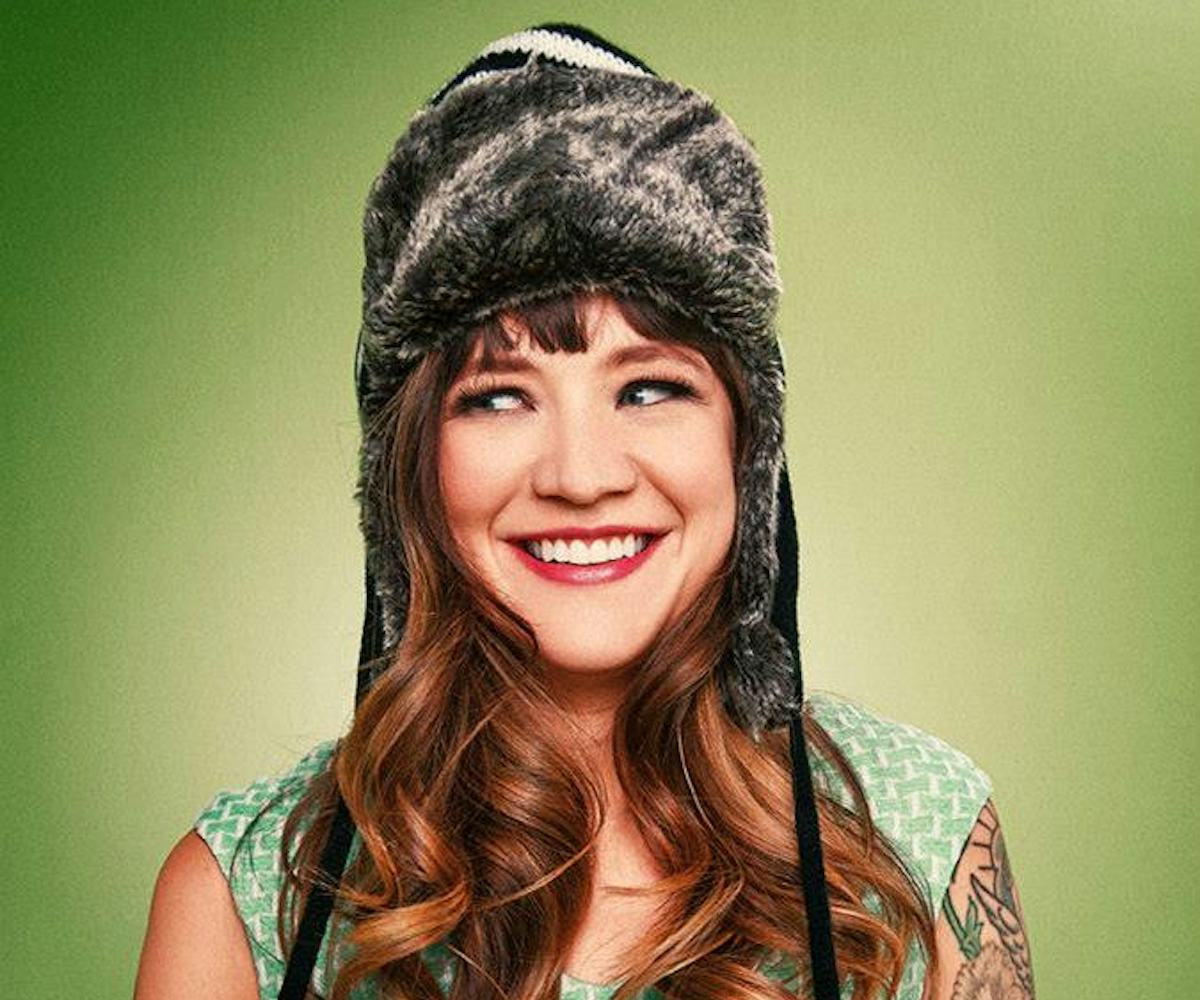 Photo by Tim Bailey.
meet sue smith, your new fav funny human
and listen to an exclusive track from her debut ep
Sue Smith's sassy brand of millennial feminist comedy—which involves things like heading into McCarren Park alongside a woman in a vulva costume to ask strangers about menstrual cups—is as relevant as it is groundbreaking. And as the host of an all-female open mic event called Open Michelle and a podcast called Tits & Giggles, Smith is carving out a space not just for herself but for other young women in comedy. 
As if those projects weren't enough to keep her busy, Smith is gearing up to release her debut stand-up EP, Slutty Pretzel, which touches on life in New York City, dating, teaching yoga, and having a gluten allergy. We caught up with the comedian to find out what exactly a slutty pretzel is, and what she thinks about the state of women in comedy. Read our interview and then listen to "Dudes," an exclusive track from the EP, below. 
How would you describe your comedy to someone who's not familiar with it?
Like a little pissed off, but mostly approachable and fun.
Where did the name Slutty Pretzel come from?
When you say you're a yoga teacher, people just assume that you're a slutty pretzel. So that's what the title became, because that's a funny phrase. I felt good about keeping the word "slut," because I don't think it's offensive the way I use it and everyone should hear that.
You're really good at making jokes about things like periods and vaginas, while being clear that you're woman-positive and feminist. How do you cover those topics in comedy without ridiculing them?
Well, I always approach all of my copy from a point of like, "Everyone is thinking this, but not talking about it." So when I'm talking about periods, or being a woman, or experiencing catcalling or anything like that, I think that's a feeling that everyone in the audience has had. And I don't make it about something that only women experience. 
Do you feel like women in comedy are finally having their moment or does it still feel like a boys' club to you?
I think we're absolutely getting there. It's getting a lot more attention, we're getting more attention. However, sometimes you'll still go into places and be one of two women on the show, and that's still pretty common, but culturally I think it is getting better and I'm really stoked about that.
What advice would you give someone who is just starting out in comedy?
I think that the most important thing is to know your voice, know who you are, and know what you think about things and really reveal that through your comedy, your creative artwork. I think the funniest thing is when people like to be honest and are themselves. That's always so funny to me.