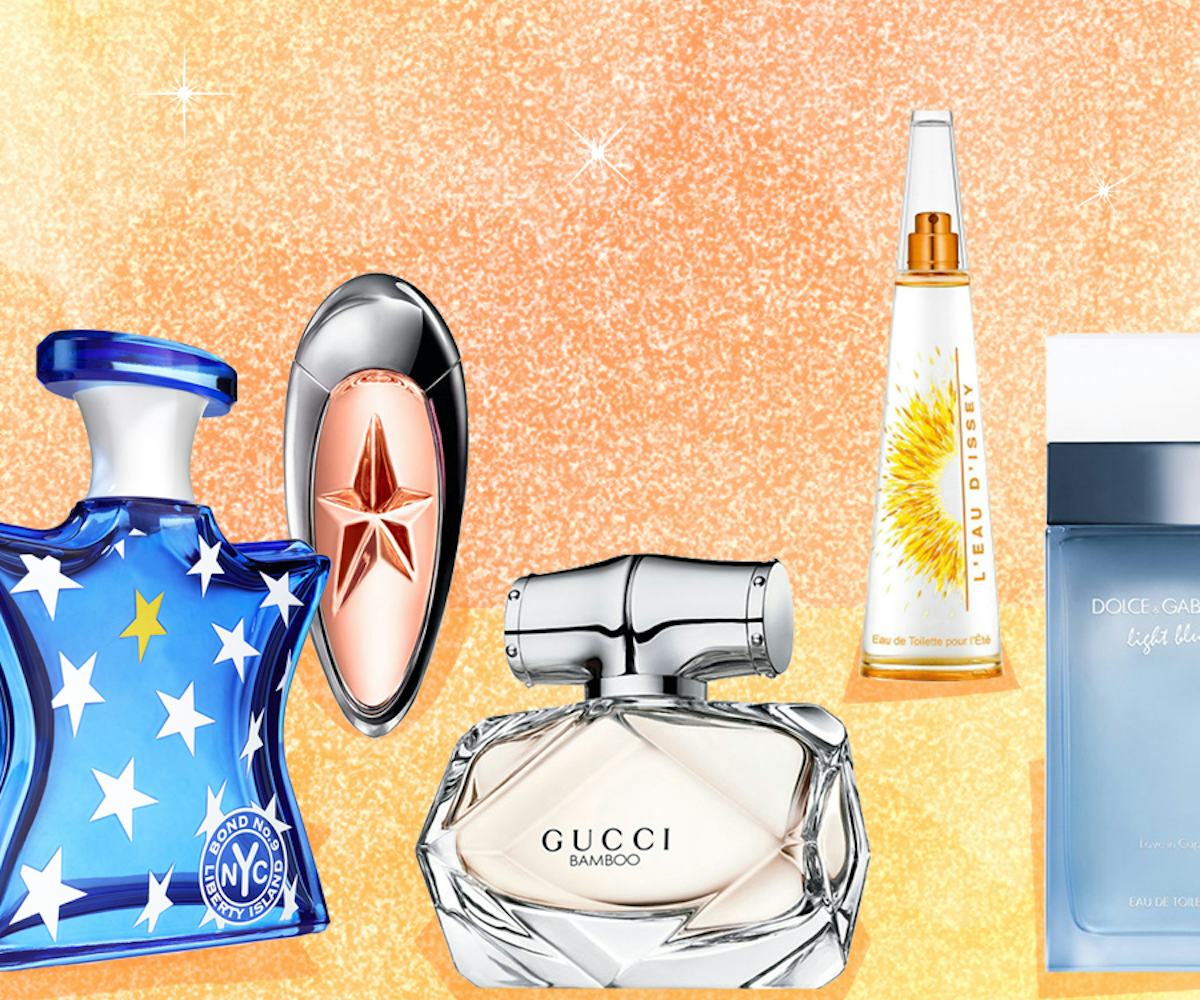 What Your Zodiac Sign Says About Your Signature Summer Scent
Your fragrance horoscope is here
Summer's intensity poses a threat to the senses, and for some, this season arrives as less of a harbinger of fun in the sun and more of a stench-n'-sweat fest. There's no time of year when a spritz of something sweet (or sultry) is so vital, a magic potion to lift your mood in scorching temps, beguile the next object of your summer fling, or pump up your energy with bright, citrusy notes.
But why switch it up when you like what you like? Physiology and your "personal chemistry" changes everything when the seasons shift and your favorite wintertime fragrance could seem off in summer—or worse, send the wrong message entirely. After all, none of the five senses trigger emotional response quite like the nose (hello, pheromones!). Luckily, we've done the guesswork for you on choosing the perfect perfume for your personality. Read on for your guide to the best signature scent for you by astrological sign.
Aries: Bond No. 9 Liberty Island
Nothing illustrates the power, freedom, and spirit of summer quite like Lady Liberty herself, and no sign understands the charge of leadership and bold ingenuity quite like action-packed Aries. Fire signs like Aries are known to put themselves on the line, both as natural leaders and revolutionaries, and with a ruling planet like war god Mars, there's little the first sign of the zodiac can't achieve with a positive, progressive attitude. Liberty Island, Bond No. 9's assertive summertime scent inspired by the NYC landmark, welcomes the season of sun and sand with a union of lush, lively notes of bergamot, mandarin, blackcurrant, musk, and jasmine in a thoroughly patriotic, star-spangled bottle. Taking cues from completely original as well as heritage perfumes, Bond No. 9's Liberty Island appeals to Aries' relentless need to remain competitive. Be sure that the daring, frisky vibe of the fragrance will announce Aries' arrival on the summer scene.
Bond No. 9, Liberty Island, $220, available at Bond No. 9.
Taurus: Comme des Garçons Grace by Grace Coddington
Calm, cool, and collected to the max on the exterior, Taurus still craves a bit of mischief once the sun returns to its triumphant throne in summer. Aside from the totally cheeky, design-focused feline bottle poised for any tidy Taurean's vanity table or countertop (interior decor is art, after all), the cute-but-classic tones of Moroccan rose absolute, freesia, and peach blossom will make a stylish impact without overwhelming, making CDG Grace by Grace Coddington the ideal fragrance for earthy, Venus-ruled Taurus. Plus, as Grace Coddington's first collaboration with Comme des Garçons Parfum, this elixir's collectible value will appeal to Taurus' treasure-seeking spirit.
Comme des Garçons, Grace by Grace Coddington, $145, available at Barneys New York.
Gemini: Issey Miyake L'Eau d'Issey Summer
A complex, cerebral sign like Gemini, the double-dealing twins, needs a complex combination scent. Enter: Japanese icon Issey Miyake's summertime fragrance, L'Eau d'Issey Summer, a formidable melange of floral scents like lotus, cyclamen, freesia, carnations, and white lilies, with hints of amber seed and musk. So many diverse notes and tones of pure floral and woodsy provenance will keep everyone—including Gemini!—on their toes, which is exactly what these Mercury-ruled air signs crave in a fresh and sparkling signature scent.
Issey Miyake, L'Eau d'Issey Summer, $78, available at Sephora.
Cancer: Dolce & Gabbana Light Blue Love in Capri
Romantic and oceanic, Dolce & Gabbana's summer fragrance Light Blue Love in Capri conjures images of sandy lovers tumbling in the beach surf. A perfume this sensual was practically made for idealistic, tenderhearted dreamers like Cancer. Fresh citrus tones, like lemon and mandarin orange, are sure to brighten even the deepest recesses of these moody moon dwellers' watery souls, while lovely honeysuckle and almond blossom mingle with powerful heart notes of cedarwood and amber—the perfect dash of drama these water signs thrive on during the hot-and-heavy heights of summer.
Dolce & Gabbana, Light Blue Love in Capri, $78, available at Macy's.
Leo: Thierry Mugler Angel Muse
Did someone say drama? Any Leo knows that no summer can be considered a season well spent in the sun without a heaping dash of drama with a capital "D," baby. Thierry Mugler's Angel muse, the self-proclaimed scent that you will "#HateToLove," illustrates this fire sign's celebrated star power. Bright grapefruit and pink peppercorn mix sharply with feminine hazelnut, vetiver, and patchouli to create a uniquely addictive fragrance that's been said to make you "lose your mind," much like Leo's personality.
Thierry Mugler, Angel Muse, $70, available at Mugler.
Virgo: Gucci Bamboo
Woodsy, warm notes capture the strong, feminine essence of Gucci Bamboo, a perfect vibration for Virgo's savvy, confident vibe. Earthy, natural ingredients like sandalwood, Tahitian vanilla, and grey amber appeal to the rooted nature of Virgo as a powerful, commanding earth sign. Intellectual Mercury, Virgo's ruling planet, demands that things are kept interesting and academic, illustrated by Gucci Bamboo's exotic floral notes of soft Casablanca lily, orange blossom, and ylang-ylang. 
Gucci, Bamboo, $104, available at Macy's.
Libra: Another Oud Juliette Has A Gun
Libra won't settle for just any summer scent—this sign needs to be at the top of the style game in any season, but forget any silly passing fads or trends. This graceful air sign's eye for lasting design and all things chic aligns with Another Oud's modern and original summer scent, Juliette Has A Gun. Faraway adventures are recalled with Middle Eastern notes of raspberry, oud, musk, and ambroxan in a thoroughly new composition sure to spark Libra's Venusian imagination and passion for world travel.
Another Oud, Juliette Has A Gun, $28, available at Sephora.
Scorpio: YSL Mon Paris
Inspired by the city of intense love, YSL's Mon Paris matches Scorpio's legendary intensity. Based in essences from the exotic white Datura flower, a mystic, ethereal white blossom that only blooms in the shade of night, the scent's pear, creamy musk and patchouli sensualize summer for this lusty water sign. Exacting and focused Scorpio can easily shimmy through the warmer months with this fragrance splashed on their most sensual powerpoints—the pulse of wrists and neck, between the breasts, and the lower abdomen—and own their raw sexuality and bewitching allure brought on by the steamy season of passion. Plus, the sultry lingerie-inspired bottle is just the ticket for these ultra-private libertines.
YSL, Mon Paris, $92, available at Saks Fifth Avenue.
Sagittarius: Jimmy Choo Illicit Flower
Adventurous Sagittarius is no stranger to taking risks, and nothing gets these fun-loving fire signs pumped quite like summer. Jimmy Choo's tongue-in-cheek summer fragrance, Illicit Flower, was created for this chance-taking sort of spirit in mind—the fiercely independent lady at the drawing table of her own destiny. Flirty ginger notes and a modern, feminine Turkish rose mix with Sambac jasmine, ylang-ylang, and honey amber makes for an edgy-yet-elegant fragrance perfect for inspiring Sag's next whirlwind adventure.
Jimmy Choo, Illicit Flower, $65, available at Sephora.
Capricorn: Hermès Eau De Neroli Dore
Fresh greenery comes through potently in Hermès' Eau De Neroli Dore, an extraordinary and earthy summer fragrance made entirely of neroli, oil extracted from orange blossoms, and spice saffron, the perfect companion for nature-oriented, simplistic Capricorn. These earth signs don't need much to keep them happy, but their outdoorsy core nature and flair for natural ingredients match up with Hermès' philosophy in creating this perfume. Serious Saturn, Capricorn's ruling planet, gives these personalities a deeply rooted respect for artistic legacy and time-tested classics like the brand Hermès itself, and the sleek, minimalist bottle will blend into any Capricorn's design aesthetic seamlessly.
Hermès, Eau De Neroli Dore, $129, available at Sephora.
Aquarius: Giorgio Armani Air di Gioia
An airy blend of mandarin orange, neroli, pink peppercorn, and musk is just the ticket to energize Aquarius' nimble mind and enterprising, adventure-seeking spirit in Air di Gioia, Giorgio Armani's latest summer fragrance. The salty, electric breath encapsulated in this streamlined cerulean bottle infuses the ethereal, vital scent with the energy of a beach holiday on the Italian coast. No Aquarius can resist the urge to daydream, so why not take a quick trip by astral projection and aromatics this summer?
Giorgio Armani, Air di Gioia, $70, available at Sephora.
Pisces: Tom Ford Soleil Blanc
Tom Ford masterfully bottles the essence of a private island hideaway with his latest olfactory opus, Soleil Blanc. Notoriously private and prone to falling way, way down the rabbit hole with little coaxing, Neptune-ruled water sign Pisces are the true dreamers of the zodiac, often prone to introversion and isolation to re-energize in their downtime. Tom Ford's exclusive, "private" blend of solar flowers and amber inspires the unapologetic and relentless pursuit of healing solitude in the sun and surf of an exotic, possibly imaginary locale.
Tom Ford, Soleil Blanc, $595, available at Tom Ford.