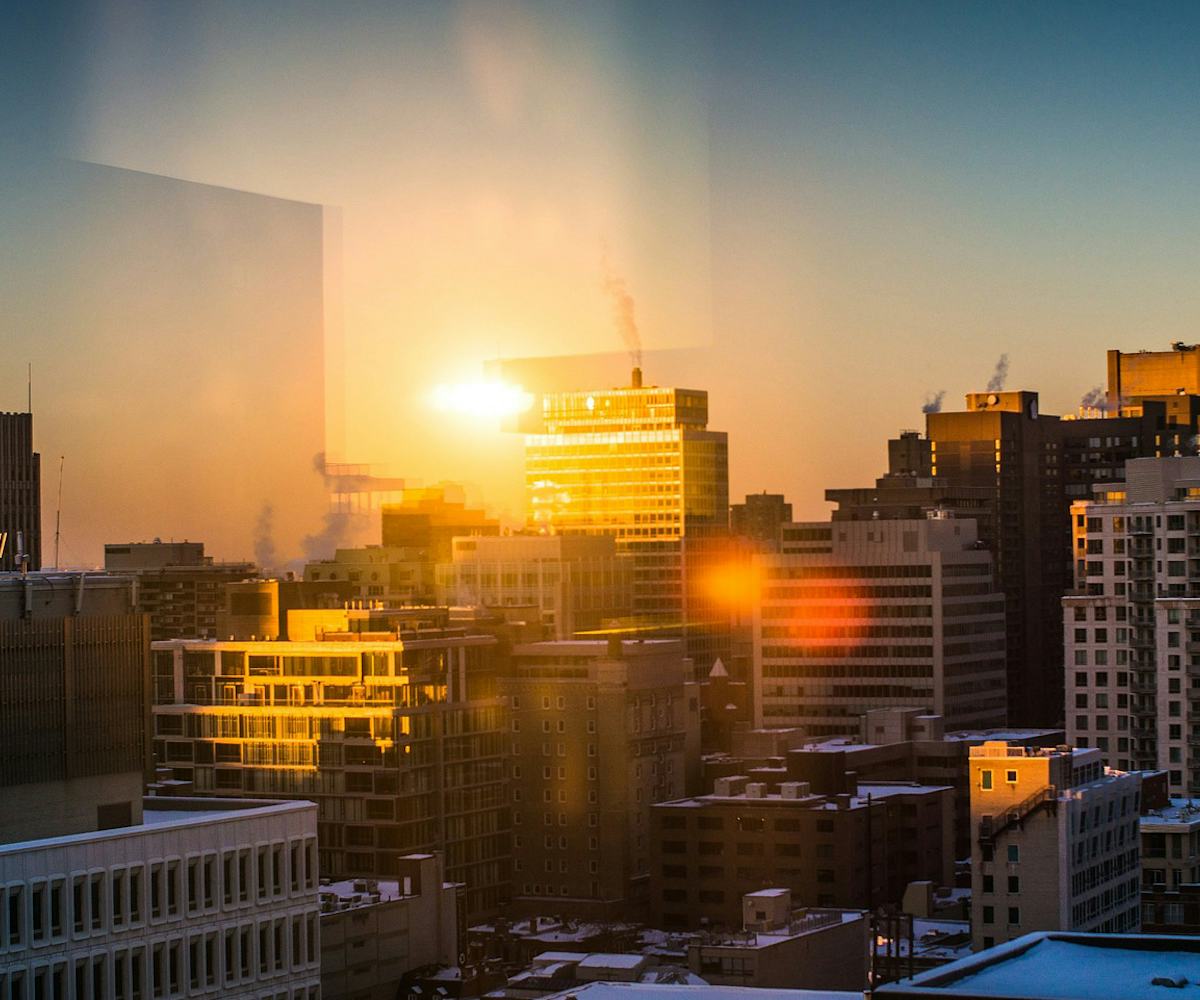 Photo via Pixabay
Your Summer Guide To Winter Cities
When the seasons change, so do these seven cities
People who live in East Coast cities are brave souls. For about four months each year, your city transforms into a cold and inhospitable place, and everything that traditionally makes cities fun—parks, waterfronts, festivals, outdoor venues—becomes inaccessible. You stay indoors, and question why you live there in the first place.
But then, as the weather gets warmer, something miraculous happens. The city begins to reveal itself for what it really is and always has been: a green, vibrant, and welcoming town with an abundance of things to do. And every time this happens, year after year, it never stops being a surprise.
So now that it's summer again, and cities are becoming peak versions of themselves, here's our guide to some of the great cities at their absolute greatest. We could only scratch the surface, so you use this as a jumping off point, and indulge responsibly!
Toronto
It's telling that Drake structured his latest album, Views—a love letter to his native Toronto—around the city's transition from winter to summer. "It's just to show you the two extreme moods that we have," he told Zane Lowe. "We love our summers but we also make our winters work...You start to value your days a lot more when most people won't go outside type of thing...It creates a different person." And if Drake says it, you know it's true. The Canadian city's transformation from the harsh winter to sweltering summer is encapsulated best in Trinity Bellwoods Park, a barren wasteland in the winter months that comes alive at the very first hint of warmth, and by June is the boozy social epicenter for the city's young and beautiful.
Toronto rests on the waterfront of Lake Ontario, and although it doesn't have the urban beach culture of another Great Lake metropolis like Chicago, Torontonians still make the most with what they have, a fact embodied by the Beaches neighborhood, an upscale enclave east of the downtown core, packed with bars, restaurants, parks, tennis courts, a boardwalk, and yes, a swimmable beach.
Another way to experience Toronto lake is via ferry to Toronto Island, a ten-minute ride from the city center to a getaway that's crisscrossed with bike paths, dotted with jam-packed patios with scenic views of the city's formidable skyline, and home to several music festivals throughout the season. Oh, and there's a nude beach.
Best Patio: Cold Tea, named after Torontonians' code word for the illicit beer Chinese restaurants serve after-hours, is tucked away in the back of a tiny mall in Kensington Market, and in the summer becomes one of the city's most popular spots thanks to its ambient patio which feels like an urban hideaway. Go on Sundays, when some of the cities best DJs and coolest kids converge to eat, drink, and be merry.
Montreal
Oh Montreal, how you torture your inhabitants with some of the cruelest winters around, only to tease them for five short months with your glorious true self, hidden so often under oppressive blankets of snow and crippling sheets of ice. (Sorry for getting emotional, but I went to school in this town, so I know firsthand how brutal the winters can be, and how euphoric the summers are.) Montreal in the summer is a very special place, a patio-crazed, bike-friendly city where you can overdose on street festivals; obnoxious students from out of town disappear and the city's various parks give off a heaven-on-earth kind of vibe during the warmer months.
Mont Royal is the obvious place to start, a welcoming mountain in the heart of town that gives the city its name. Designed by Central Park creator Frederick Olmstead, you can follow a winding path around the mountain's perimeter or take the stairs straight to the top for astounding views of Quebec's largest city. Every Sunday at the base of the mountain is Tam Tams, a gathering of the city's freaky and freakier who congregate to bang on drums, dance in circles, and inhale various types of smoke.
The Montreal Jazz Festival is a great way to catch music outdoors, and if you're unwilling to shell out $450 dollars for a Radiohead ticket off Craigslist, may we suggest hitting up Osheaga, Montreal's annual music festival at Parc Jean-Drapeau which the British rock gods are headlining this year.
Best Patio: Okay, so you can't nurse a frosty pint on the patio of Cafe Social, but if you want to see how the locals live, go to this old-school Italian joint in Montreal's ultra trendy Mile End neighborhood, order a cafe latte, spark up a Gauloises, and soak up the scene of bleary-eyed Montrealers recapping their heavy nights (people here like to party).
Boston
I hit up my Bostonian friend on Gchat to find out if winter in Boston sucked (I already knew the answer). "Yeah, terrible," was his response. So there you go: Winters in Boston are terrible.
But in the summer, Boston springs to life, with outdoor drinking being a favorite local pastime. But don't take our word for it. The experts over at Boston magazine have painstakingly crafted this list of the 52 best patios and rooftops the city has to offer. Once you've caught a day buzz, you'd be best served to check out the Lawn On D, an "innovative and dynamic outdoor event space in the heart of the thriving Waterfront District," according to the website, but basically it's a park-meets-art installation with glow in the dark swings and bright lawn chairs where young professionals congregate to sample the future of urban recreation.
The Charles River Esplanade is one of Boston's most picturesque hangs, and also the site of the city's official fourth of July celebrations, which will feature performances from Nick Jonas and Demi Lovato. One of the best ways to see the city is via bicycle, so make use of the city's bike share program and cruise along the Charles River, which is lined with parks and people hanging out in them. To escape the bustle of the city, grab a ferry to the Boston Harbor Islands, where you can camp, hit the beach, explore the city's oldest lighthouse, and enjoy very sweet views of the city.
Best Patio: There are many, but our money is with Deep Ellum, a little bit outside of the downtown area, which that same friend describes as a "very hipster backyard patio type thing." Sounds perfect.
Detroit
You might know Detroit as one of the most broke cities in the United States, but it's also one of the coldest. That combination can make the Motor City a pretty bleak environment for half the year. But like any great American city, Detroit is making a comeback, and if you head over during the summer months it won't be hard to see why. Thanks to a youth movement that has taken advantage of the city's cheap rents, Detroit has become a center for ingenuity filled with pop-up restaurants and a thriving start-up culture.
Detroit has the reputation of being a decaying industrial wasteland, but the Dequindre Cut is a wonderful example of the city and nature intermingling seamlessly. It's a 1.15-mile path that runs below street level and has been redecorated by the city's noble street artists. A very fine way to get to the city's riverfront. Speaking of that riverfront, it is one of the city's pride and joys, and the Riverwalk specifically is a newly developed piece of land with fountains and gardens and a carousel and everything else you need to enjoy a hot summer's day, except for food and drink. Which is why you need to head to Campus Martius Park, a revitalized downtown green space that has become a symbol of Detroit's rebirth and place where food vendors congregate. But of special interest in the area should be The Fountain Detroit, a newly opened restaurant and bar housed in a 40-foot shipping container and is home to a mock beach. It was essentially designed for the summer. 
Best Patio: Did you not hear what we said? Mock beach.
Chicago
The Windy City is also The Freezing Cold City for half the year because damn can Chicago get frigid. But thanks to the earth's yearly orbit around the sun, the summer months reveal a city that was designed with warm weather in mind.
Look no further than Chi Town's emerald blue waterfront, with its multitude of beaches that quite frankly don't belong in an oceanless Midwestern city. But there they are, and they're spectacular, particularly Montrose Beach. It's one of the city's biggest, and it's home to The Dock, one of the city's best summer hangouts with reggae parties, nightly luaus, and some killer fish tacos. Also, even if you're not a baseball fan, Wrigley Field, the 102-year-old home to Chicago Cubs, is a great place to spend a sunny afternoon (it doesn't hurt that the Cubs are in the midst of a historically great season. Chicago is a city of street festivals and sidewalk sales too, with Division, Green, West, and Wicker Park being among the best. It's typical street festival stuff—vendors, live music, people watching—done very well.
And of course, Chicago boasts one of the country's most spectacular skylines, so enjoy a drink on one of the many rooftop bars the city has to offer. For a classy affair and stunning views of Millennium Park, head to Cindy's. But if you want the more blue collar experience Chicago is known for, head to the Rooftop at Gene's Sausage Shop, an establishment whose name speaks for itself. Also, Radiohead and LCD Soundsystem are headlining Lollapalooza this year, so there's that.
Best Patio: This Wicker Park standby is always packed, and for good reason. It's the place locals bring their friends to impress them, and it often works. Equally famous for their tacos and gigantic patio, Big Star boasts a party atmosphere and we're pretty sure their margaritas are to blame.
Philadelphia
In 1991, a rapper named The Fresh Prince and his partner DJ Jazzy Jeff, both hailing from Philadelphia, released "Summertime," a school's-out anthem that immortalized summer in Philadelphia. "Back in Philly we be out in the park," he raps. "A place called the Plateau is where everybody goes." That was a long time ago, so we're not sure if everyone still goes there, but where you should go is the Independence Mall Cafe and grab a seat on the secluded patio, and sip on some sangria in the shadow of what is basically America's birthplace, Independence Hall. As the buzz slowly creeps in, ponder all the sacrifices that are the foundation of this great country. Freedom never felt this good.
You're also close to the very beautiful Rittenhouse Square, the ostensible heart of the city and a great place to relax in some shade. The nearby Parc Brasserie is Parisian in both name and atmosphere, and its sidewalk terrace feels imported from Europe. You should go there. Also, check out Philly's famed Italian Market. Touristy, yes, but also authentic, another blast from the past packed with cheese shops, butcher stores, cafes, restaurants, all with a decidedly old-school charm. But while the rest of Philadelphia has gentrified, so has the market.
Speaking of gentrification, head to Fishtown and/or the Northern Liberties to hang out with all your hipster friends! Al fresco drinking and dining is the name of the game in these hoods, and if you don't believe us head over to Frankford Hall, a massive beer hall in Fishtown with an even more massive outdoor space. 
Best Patio: While the above-mentioned Frankford Hall will not disappoint, it's hard to vote against Talula's Garden, home to one of the most enchanting patios on the Eastern seaboard.
New York City
New York is a pretty great city any time of year, partly because it doesn't get wildly cold in the dead of winter, but also because it tends to be the greatest city on earth, so a little cold weather is not going to fuck that up. However, New York in the summer is extra, extra special, with an overwhelming amount of things to do that are geared specifically toward summer.
One of those things is Smorgasburg, an absurd collection of food vendors that take over various locations around the city and sell an astounding array of street food-style dishes from around the world. Central Park is a no-brainer, but may we suggest checking out Gantry Park in Long Island City? Just across the river from Midtown, this newish, beautifully-designed park is studded with hammocks and Adirondack chairs and offers the best views of Manhattan's skyline you're likely to find anywhere. Go at sunset.
NYC is also a town where some pretty major acts play free shows at outdoor venues across town, like Chairlift in Red Hook Park (June 14), Neon Indian at House of Vans (June 29), and Patti Smith at the Lincoln Center's outdoor bandshell. If a party is what you're after, and when is it not, then make your way to MoMA PS1's weekly Warm Up parties, which have been going for 19 years strong and feature some of the world's best DJs who turn up from day to night in the courtyard of this Queens institution. Also, pro tip: Spend a measly four dollars and ride the East River Ferry for as long as you want. The views are almost as cool as the breeze.
Best Patio: Any rooftop on any building in any neighborhood. BYOB.