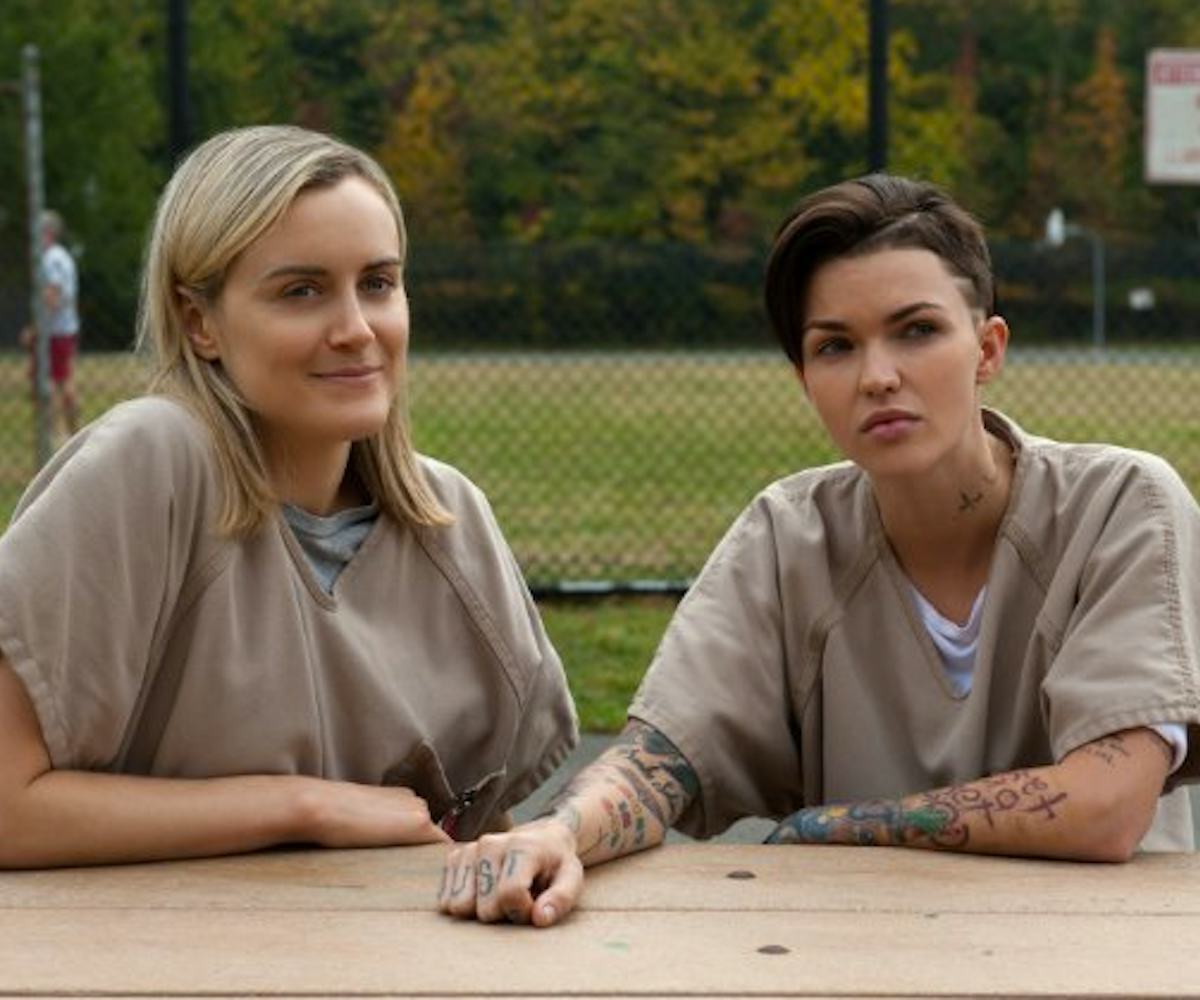 Photo Credit: E!
the ultimate summer tv guide
it's summertime, and the living's easy.
Sure, there are tons of outdoor concerts to attend and picnics to plan, but what about those days and nights you'd rather spend in front of the AC?
Lucky for us, there are more than a few tasty televised offerings this summer, both on regular TV, cable, and streaming. So let your summer be about what is most important in life: Sitting indoors and watching hours and hours of televised programming.
Here are a few we're looking forward to.
Orange is the New Black (Netflix)Currently streaming on Netflix.com
Originally slated to premiere on Friday, June 12, Netflix surprised everyone by dropping the entire damn series on Thursday night. Who needs sleep when you've got Daya's baby brouhaha, Alex's dramatic return, and the fantastic backstories of Big Boo, Chang, and Norma?
True Detective (HBO)
Premiere date: June 21 at 9 p.m. EST on HBO
Colin Farrell, Taylor Kitsch, and Rachel McAdams play wildly different cops who end up in a tangle with a local criminal, played by Vince Vaughn. It's a little disappointing that this season will be free of all occult spookiness, but that means at least 95 percent fewer horribly tortured naked women, which is always a good thing. Plus, it's high time for a Rachel McAdams-issance, and for Taylor Kitsch to reclaim his small-screen throne after a slew of box office bombs.
Ballers (HBO)
Premiere date: Sunday, June 21 at 10 p.m. EST on HBO
Dwayne "The Rock" Johnson stars as a former pro-football player turned businessman named Spencer Strasmore, who spends his days advising young athletes how to keep themselves (and their finances) on track. Expect plenty of debauched parties, fancy cars, sexy drama, and snappy suits.
The Brink (HBO) Premiere date: Sunday, June 21 at 10:30 p.m. EST on HBOTim Robbins stars as a hornball secretary of state, alongside Jack Black as a louche Foreign Service Officer who's been sent to Islamabad with Rafiq Massoud as his driver. And then there's Pablo "Pornstache" Schreiber as a fighter pilot who deals (and occasionally takes) drugs. Can these suckers stave off World War III? Maybe not, but it will be fun to see them try.
Humans (AMC)Premiere date: Sunday, June 28 at 9 p.m. EST on AMCAnglophiles will want to tune in to this sci-fi show that takes place in a familiar but alternate future, where it's perfectly normal for an average family to have its own high-tech bot to perform menial tasks around the house. Different synths do different things, from taking care of senior citizens to performing sex work, but whatever their specialty is, something seems a little…off.
Scream (MTV) Premiere date: Tuesday, June 30 at 10 p.m. EST on MTVThere's a killer on the loose in Lakewood, and the town is full of pretty little liars with secrets to hide. The meta-horror film franchise has gotten a 21st-Century tweak for millenial MTV viewers, complete with YouTube, smartphones, and Gossip Girl-style mansions.
Masters of Sex (Showtime) Premiere date: Sunday, July 12 at 10 p.m. EST on ShowtimeWilliam Masters (Michael Sheen) and Virginia Johnson (Lizzy Caplan) are still steaming up the small screen in this Showtime drama. There's sex and science and fantastic, period-appropriate lingerie. Best of all, you don't even have to have cable to snag Showtime online.
I Am Cait (E!) Premiere date: Sunday, July 26 at 9 p.m. EST on E!Caitlyn Jenner gets personal in this eight-part "docu-series" about her life as a transgender woman. Given that I Am Cait airs on E!, the same channel as the Kardashians' series, Botched, and Fashion Police, it seems that the show's producers and star want to make it clear this isn't your regular, old scripted reality show, but a good look at Jenner's "new normal."
Wet Hot American Summer (Netflix) Premiere date: Friday, July 31 on NetflixThe gaggle of now-famous actors and weirdos that starred in David Wain's summer-camp comedy are returning to Camp Firewood for another go at things. Sure, 20 years have passed for us mere mortals, but First Day of Camp actually takes place two months before the movie. Get ready to fondle your sweaters!
Married (FX) Premiere date: Thursday, July 16 at 10:30 p.m. EST on FXJudy Greer and Nat Faxon star as a married couple in suburbia, and although the premise doesn't sounds like much, the cast is stacked with funny folks like Brett Gelman, Jenny Slate, Paul Reiser, and John Hodgman. Plus, FX is known for its raucous material, from fan fave The League to Louis C.K., so it's entirely possible you'll fall in love with this sitcom.