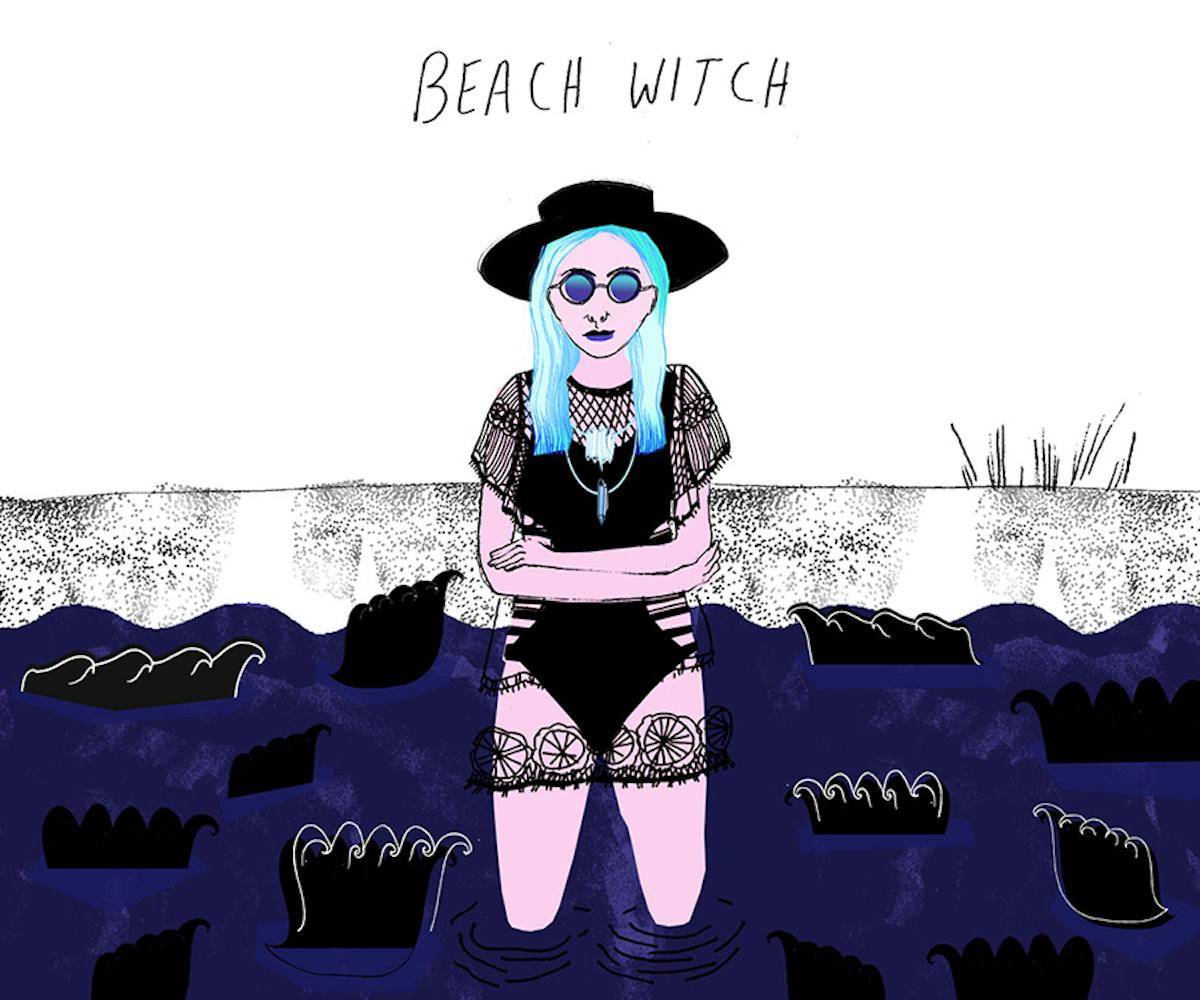 illustrations by liz riccardi
what's your summer vibe?
a guide to finding your warm weather inspo
We're about to ask you a very important question, and you might want to take a minute before you answer: What's your summer vibe?
You see, a defined summer vibe—how you'd describe your signature style for the next three months—is crucial. No one has time to stress about outfits when there are warm-weather adventures to be had, and having a moodboard of sorts means more time in the sun. We're not recommending you wear the same thing every day, but having a #goal really simplifies things. Like, if you know you're feeling very Beach Witch this June, you can count on wearing variations on a theme of mystical layers of black with crystal necklaces every day. Or you might have a Camp Counselor situation going on, which will help you establish your day-to-day fashion routine. No need to try on everything you own before going out; just grab the things that fit into that catogory and you're good to go. 
Click through the gallery for the summer vibes we're into—from Camp Counselor to Parisian Picnic. 
unicornYour summer vibe relies on the infinite power of sparkles, glitter, and pastels. You're ethereal; magic, even. You understand that nothing looks better in the sunshine than things that shimmer, and you're not afraid to go all-out about it.
Other unicorns: Kesha
camp counselor You don't have to literally be a camp counselor to vibe like one. Spend your summer in an outfit consisting of tank tops and cut-off shorts—you'll be ready for anything at any moment, whether it's a hike, a game of frisbee, or some spontaneous friendship-bracelet making. 
Other camp counselors: Lena Dunham, Anna Kendrick
minimalist The summer minimalist is as close to naked as possible at all times. Hey, it's hot out. Just make sure you've got your SPF handy for all that skin you're showing. 
Other minimalists: FKA Twigs, Kylie Jenner
parisian picnic You've got your sack dress, your wide-brim hat, and your babely sunglasses, oui? Then it doesn't matter whether or not you're actually French. Throw a baguette in your clutch and go be effortlessly chic. 
Other Parisian picnics: Diane Kruger, Rachel Antonoff
festival fairyFor you, festival season isn't a period of time—it's a state of mind. Your flower crown, high-waisted denim, and boho accessories are as quintessential to your summer as cool bands and sweaty crowds of attractive strangers. 
Other festival fairies: Vanessa Hudgens, Selena Gomez
street-style starIt's 100 degrees in the shade, and you're the girl who looks good anyway. So good, in fact, that if a photographer happened upon you chillin' in power-clashing prints and sweet kicks, they'd have to shoot you for a street-style roundup. 
Other street-style stars: Leandra Medine, Taylor Swift
sporty baeDo you feel naked without a mesh jersey under all of your clothes? Do you sleep in your Air Jordans? Well, girl, you're the ultimate sports bae. Do your thing—bring that basketball to the beach, check your team's stats poolside, and, above all, show some favorite love to your favorite athlete. No one balls like you do.
Other sporty baes: Rihanna
yacht ownerIf you're the kind of fashion girl that wears layers of black for every occasion, consider switching to all-white once it's hot. You'll still have that monochromatic thing going, with the added benefit of making people wonder, "Does she or doesn't she own a yacht right now?" White wine pairs nicely with this outfit as well. 
Other yacht owners: Nicole Richie, Tilda Swinton
beach witchA close cousin of the fashion goth, the beach witch is committed to wearing all black regardless of the sun's intensity. Crystal necklaces, weird lipstick, and dedication to beach days are all key here. But not your average days in the sand by the sea: You understand that within the ocean is the energy of the goddess, and by floating in its waves, you absorb some of it into your spirit. 
Other beach witches: Grimes, the NYLON digital team