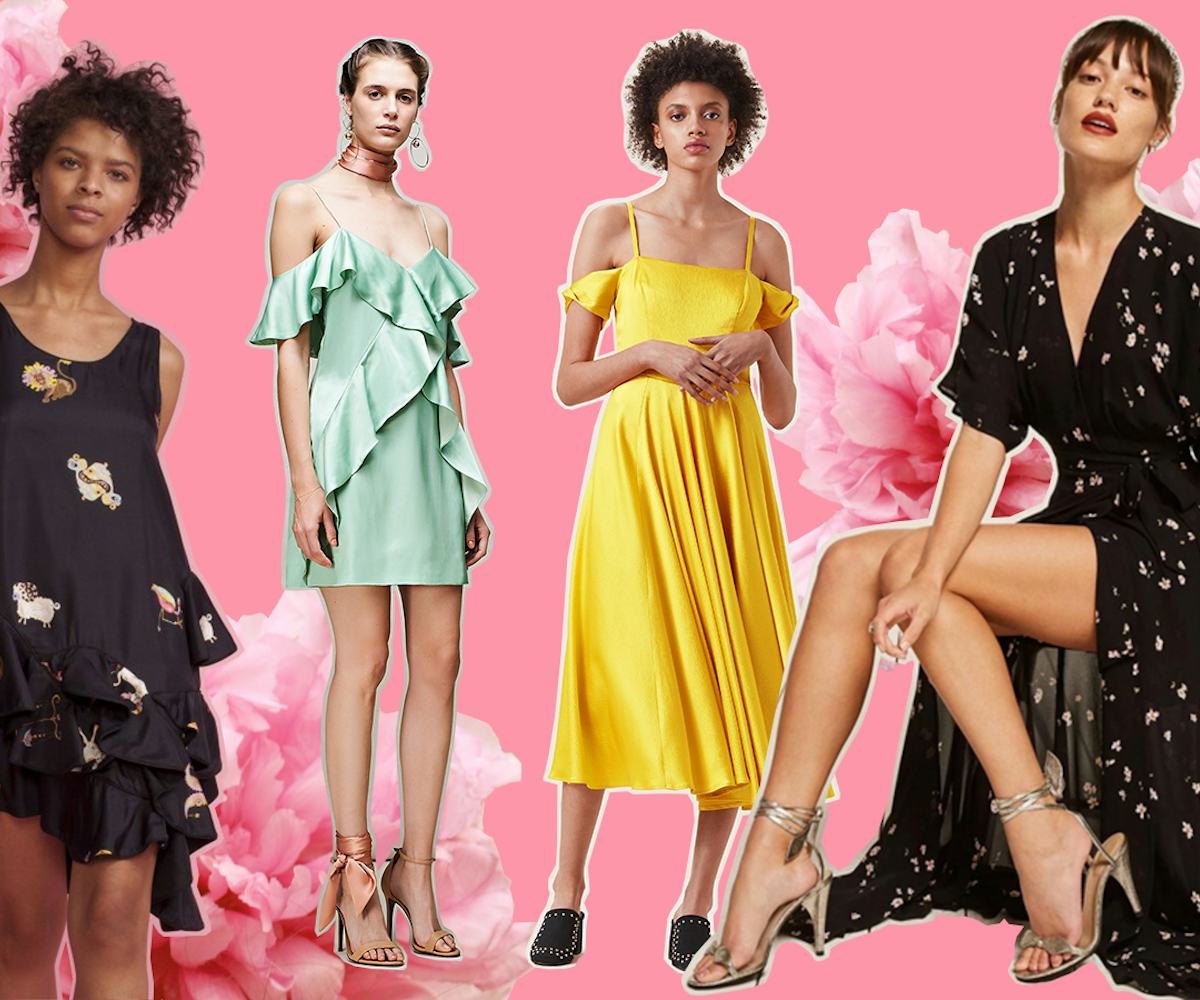 18 Stunning Dresses To Wear To All Those Summer Weddings
Never wonder what you're going to wear, again
Doesn't it always seem that as soon as the weather gets nice and warm, your calendar is suddenly filled to the brim with weddings? Whether you're celebrating friends and family members or the co-workers you're aren't even that close with on finding true love, 'tis the season for nature-surrounded nuptials. As the attendee, the only question you're probably asking yourself (err, popping?) is, What the hell am I going to wear? Well, maybe also, What wedding gift should I get?
Don't worry, though, we're here to help. To make things less complicated for you—and to give you more time to lock down the perfect date(s)—we rounded up 18 knockout dresses, jumpsuits, and two-pieces ideal for your (many) summer receptions. From dreamy pastels and summery tropical florals to frilly styles as romantic as the evening itself, we've got you covered. Check out our picks, below.
Whatever you do, just don't outshine the bride. At least don't try to.
Halston Heritage, Printed One Shoulder Gown, $425, available at Halston Heritage.
C/MEO Collective, Enlighten Long Sleeve Dress, $190, available at Fashion Bunker.
Reformation, Winslow Dress, $268, available at Reformation.
The Jetset Diaries, Oasis Floral Maxi Dress, $220, available at The Jetset Diaries.
Cynthia Rowley, Zodiac Print Multi Ruffle Dress, $375, available at Cynthia Rowley.
RACHEL Rachel Roy, Crepe Sheath With Chiffon Overlay, $169, available at Rachel Roy.
Pixie Market, Mint Button Cold Shoulder Dress, $132, available at Pixie Market.
Topshop, Ruffle Shift Dress, $100, available at Topshop.
Finery, Holland Hammered Satin Ballerina Dress, $225, available at Finery.
Oak + Fort, Dress 1168, $78, available at Oak + Fort.
& Other Stories, Flounce Dress, $95, available at & Other Stories.
ASOS, Floral Fol Bow Front Bandeau Scuba Midi Dress, $87, available at ASOS.
River Island, Light Beige Lace Bardot Bodycon Dress, $150, available at River Island.
Fame And Partners, Cici Jumpsuit, $315, available at Fame And Partners.
Amur, Olivia Dress, $448, available at Amur.
Silence + Noise, Satin Shine Two-Piece Set, $109, available at Urban Outfitters.
Black Halo, Pabla Mini Dress, $320, available at Shopbop.
Rachel Zoe, Leigh One-Shoulder Ruffled Metallic Dress, $199.75, available at The Outnet.