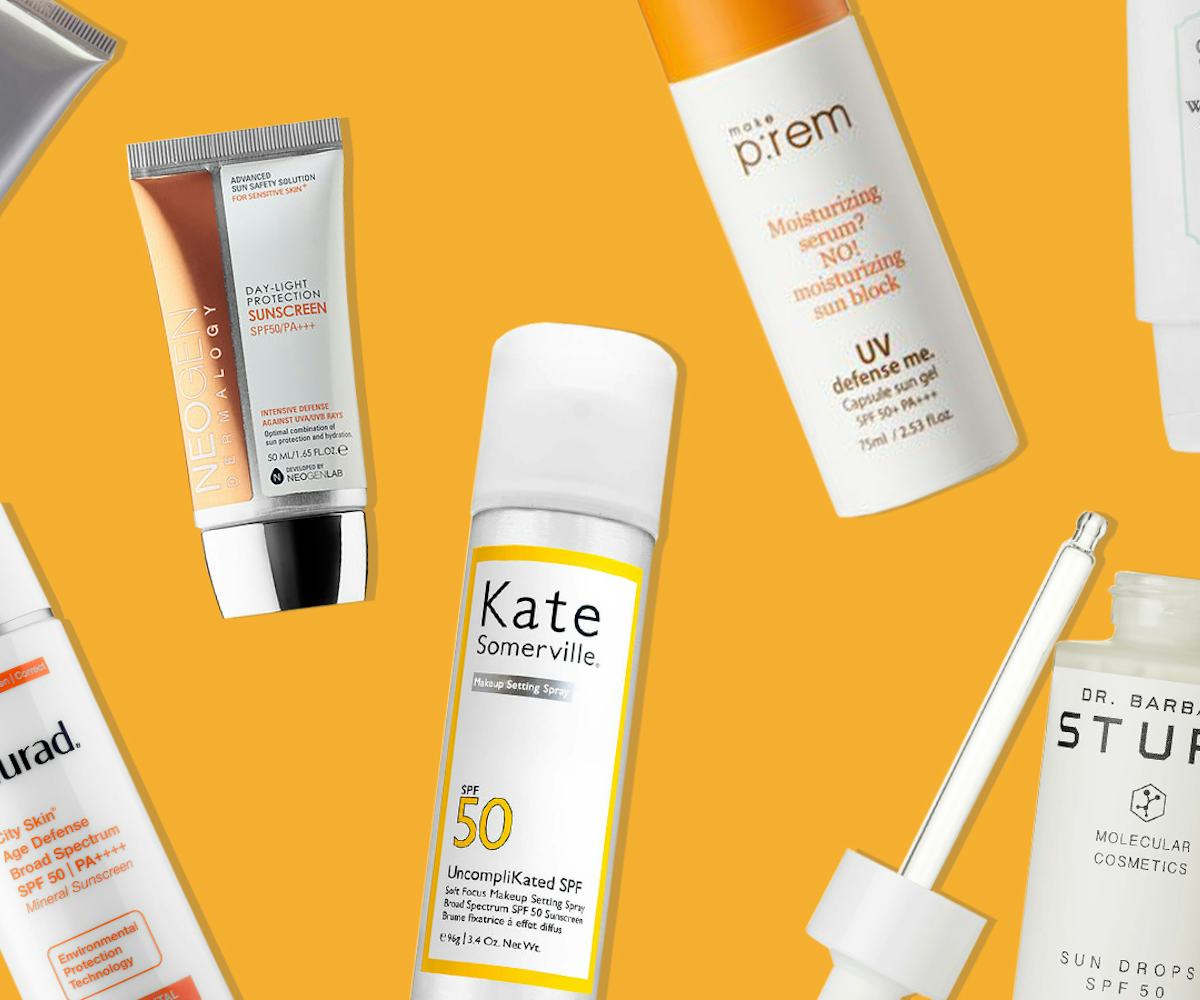 11 Sunscreens That Won't Leave You Looking Like A Ghost
Brown skin-tested and -approved
Good sunscreen is hard to come by. Well, the ones that you slather on out of obligation rather than enjoyment—the requisite and often mediocre ones—those are everywhere. But I'm talking about the ones that don't have that chemical smell, won't leave your skin feeling five pounds heavier, and will actually protect you (meaning SPF 30+); and for my brown boys and girls, I'm also talking about the ones that won't leave you with a white cast. Yeah, those are hard to come by.
It's always been an issue, but I never really noticed how bad it was until I actually started wearing sunscreen daily... about two years ago. Sad! I know. What took me so long? We should all know by now how dangerous the sun can be and how vital protecting yourself from it is. But I didn't! I was ignorant and stubborn. I know now that sun doesn't discriminate against skin color. It's a threat to us all. 
This is what makes finding the kind of sunscreen that you want to put on every day—and that looks good and doesn't require you to check your skin in every light available in your apartment to make sure it's rubbed in properly—very important. So I did some testing and rounded up the absolute best brown skin-friendly sunscreens on the market right now. Pack up the others taking up space on your vanity, they're no longer needed here. Just kidding, you can still use them as long as they bring you joy—and give you adequate protection. 
Let's get this one out of the way first because it's probably the product you've heard about the most recently. Adding on to our own glowing review, it's very, very good. It's invisible, yes, and shields well. Yes! The pump packaging is ingenious, and so is the featherweight water gel consistency. The size makes it perfect for traveling, though that's also the one thing we wish we could change—we wish there was more of it.
Glossier, Invisible Shield SPF 35, $34, available at Glossier. 
Spray-on sunscreens for the body are common. For the face, though, not so much. Kate Somerville's latest creation is tapping into that untapped market with its SPF makeup setting spray. The application process for this one is my favorite on this list, but I will admit it's hard to tell how much is coming out while applying because your eyes are closed. But the smell is pleasant and the convenience is great.
I noticed that some users, in the review section for this particular product, complained that the directions recommend you reapply it every two hours. When, really, you should be doing that with all sunscreen, regardless of the SPF number, packaging, or quality—especially if you're going to be outdoors. Let this be a SPF PSA for all.
Kate Somerville, UncompliKated SPF 50 Soft Focus Makeup Setting Spray, $38, available at Sephora.  
We all already know that Korean skin-care products are some of the best on the market, don't we? Well, same goes for the sunscreen. Plus, because Asian women, on the whole, make it a point to apply SPF religiously, it makes sense that the options being produced by Korean brands are some of the best. Take Earth's Recipe's sunscreen. It goes on very light and applies opaque. Though I would describe the texture as being more serum than gel, it doesn't take away from the fact that I'd rank it in the top five of the products listed. If you're adverse to strong-smelling beauty products, though, you might want to look elsewhere.
Earth's Recipe, Waterful Sun Gel SPF 50+, $25, available at Glow Recipe.
Sunscreen in dropper form is a first, so is the concept of Dr. Barbara Sturm's sun drops. It can be mixed into your moisturizer and foundation, eliminating the sometimes-hassle of layering products. It can also be used by itself, but note that it will take about three drops for your face to really feel covered.
Dr. Barbara Sturm, Sun Drops, $145, available at Dr. Barbara Sturm. 
Infused with rose, honey, and raspberry, this sunscreen hydrates just as well as it protects. I was left with a very faint shade of white after I applied it, but it dissipated and sank into my skin very quickly after that. It's not as light as the others, but its thickness makes it feel like it's doing something.
Neogen, Day-Light Protection Sun Screen, $30, available at Soko Glam. 
La Roche-Posay's sunscreens have been touted as some of the best by, I don't know, tons of beauty people who know what they're talking about, including lots of French beauty people, who definitely know what they're talking about. This primer is the only product, so far, that I've tried from the brand's selection, but it's live-up-to-the-hype worthy as far as I'm concerned. It goes on translucently, and while the formula itself is heavier than I'd like, the mattifying effect makes up for it. My face is usually shiny, greasy, and oily before I even step off the subway in the morning. It was none of those things when I tested it out. 
La Roche-Posay, Anthelios Daily SPF 50 Primer, $39.99, available at La Roche-Posay. 
I've declared this the sunscreen that made me actually like sunscreen in the past, and I stand by that statement. It's somewhat of a holy grail in the Asian beauty space because of its high dose of SPF, essence-like texture, and, possibly, because it's pretty hard to get a hold of. But once you do manage to track one down, hold on tight (and buy multiple).
Biore, UV Aqua Rich Watery Essence Sunscreen, $18.82, available at Amazon.
Fun fact: This sunscreen was created by Frank Ocean's mother, Katonya Breaux. She created the product because she wanted something that didn't leave a white film on her face. She told us in an interview: "I decided that if I needed this, if I had this problem, then a whole lot of other people that look like me probably had the same problem. I thought, Wow, this could be something that could work. It could be good, it could be fun. And then it just started." We're so glad it did.
Unsun, Tinted Mineral Sunscreen, $29, available at Unsun. 
Murad's City Skin SPF comes out a peachy color which is intimidating at first, but rest assured that it won't transfer onto your skin. Plus, it's infused with vitamin C which basically means your skin is doubly protected from city threats like sun and smog. Also, you should know by now how much we stand by vitamin C.
Murad, City Skin Age Defense Broad Spectrum SPF 50, $65, available at Sephora. 
This sunscreen was voted the best one sans white cast on Into The Gloss (prior to Glossier launching its own sunscreen, of course) and I partially co-sign that accolade. It is great—hence it making the list—it's oil-free, absorbs super fast, and feels like a second skin. I do want to point out, though, that the price tag is pretty high for its size.
Lancôme, Bienfait UV Super Fluid Facial Sunscreen SPF 50, $39, available at Nordstrom. 
This is me saving the best for last. And, of course, the best would hail from beauty mecca that is Korea. P:rem is my favorite of the bunch for a couple of reasons, but the main one being the texture. The product is very watery in both appearance and feel. I say that in a good way. How it differs from water is that it leaves a mattified appearance that's great on its own, even better under makeup, and especially vital in the warmer months. It's so beloved that the ladies over at Glow Recipe can't seem to keep it in stock for more than a couple of months at a time (they should be getting a new batch soon), which is a pretty good problem to have.
P:rem, Capsule Sun Gel, $32, available at Glow Recipe.