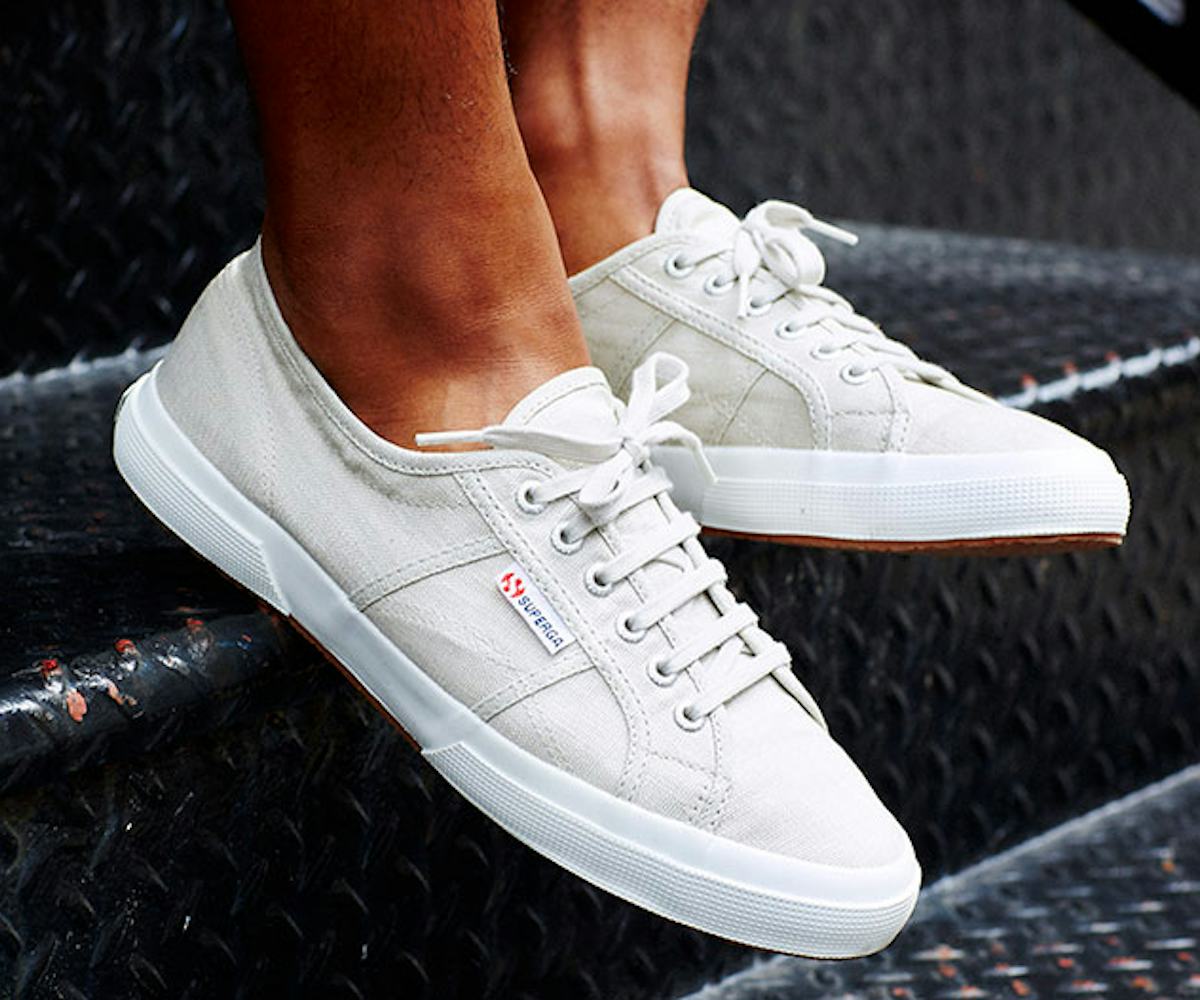 photographed by roman yee
how one sneaker fits six different styles
take a walk on the classic side
Trends come and trends they go, but a classic is forever. And at the rate trends are a changin', a wardrobe staple is mandatory. Think: your favorite white tee, that one pair of jeans you know goes with anything, and that one pair of shoes that's been with you through thick and thin. There's a nostalgia element to your wardrobe classics that keeps them fresh. And no other brand understands nostalgia quite like Superga.
In the 100-plus years since its inception, the Italian brand has reached iconic levels of recognition. Blame it on its classic design and durability, but once you set foot in Supergas, you really don't want to set foot anywhere else without them. To prove that, six NYLON editors tell their own #SupergaStories and reveal how its iconic shoe fits into their lives and diverse array of styles.
Life happens fast, folks, but it happens comfortably in Superga. See for yourselves ahead.
Taj Reed, planning & ad ops director
I dress like my granddad. Or, what my granddad would dress like if he were a 27-year-old working for a fashion magazine. I like to keep things cozy even when the party invites read, "formalwear suggested." With Superga, I can seamlessly go from black t-shirt to black-tie, without compromising comfort or style. And, most importantly, I can do Grandpa James some justice.
Superga, 2750 Linu, $89, available at superga-usa.com.
Marissa Smith, fashion market editor
This is my first pair of Supergas and being a new-ish sneaker head, it's about time I got a pair! The great thing about Superga is that they come in literally every color you could wish for. I opted for a color that you wouldn't see any other sneaker in, one that would definitely stand out. I paired them with a white skirt and a blue top, making sure my sneakers weren't competing with the rest of my outfit. Supergas have such a great shape, so they can be worn with just about anything in your closet, and are such a classic style that they can be dressed up or down. Pair these with an LBD and I'm good to go for a night out.
Superga, 2750 Cotu Classic, $65, available at superga-usa.com.
Ben Barna, senior digital men's editor
Ever since I got my pair of Supergas last month, they've been the only shoes I've felt like wearing. The biggest reason is that unlike most other shoes I own, my Supergas work just as well with shorts as they do with pants—a clutch factor in the summer months. Also, when it comes to sneakers, I've spent my life wearing Nikes or Adidas—so it's nice to branch out and not feel like mindless, corporate automaton.
Superga, 2750 Cotu Classic, $65, available at superga-usa.com.
Hayden Manders, staff writer
My style has vacillated tremendously over the past two years. Where there once was color there is now black, white, and gray. I pride myself on my sock game, though. That has always been colorful. And as such, I tend to gravitate towards a more classic shoe to make the socks pop. Superga's 2750 Cotu Classic is perfect for bringing that level of ease (and a little grit since they wear in so well). I find comfort in knowing my Superga kicks will always fit my style—even if everything above 'em is evolving. 
Superga, 2750 Cotu Classic, $65, available at superga-usa.com.
Busra Erkara, senior editor
I found my first pair of fashion-conscious sneakers at the age of 13, and in true tween fashion, I would wear them every day and reject letting them go—long after they became tattered. It felt like they not only went with all my outfits but also improved them. After all these years, I found that exact same connection with my Supergas—I love how they look all vintage-tennis chic. I've found them to flaunt both my wide-leg and straight, cropped pants—not to mention high-waisted jean shorts. I don't know if it's the minimalism or the classic design, but these shoes share so much DNA with other Italian classics like Vespa and Bialetti, and are dear to my heart now.
Superga, 2750 Cotu Classic, $65, available at superga-usa.com.
Mickey Stanley, senior editor
I tend to look down when I get embarrassed. Maybe it's something leftover from when I had done wrong as a kid, but the only safe place to look was directly at my feet wrapped in whatever shoes I had on at the time. They were typically sneakers, and for years I associated sneakers with being little, but that all changed when a friend pushed me to try Superga. Good ones, like its 2750 Nappaw, can project the same sophistication as the fancy dress shoes I have in my wedding rotation. On top of that, they wear-in just like my favorite well-worn military boots do—a huge plus in my book. So nowadays when I'm putting on my Supergas and looking down at my feet, I'm proud to see a really nice pair of sneakers, because hey, sneakers can be grown-up, too.
Superga, 2750 Nappaw, $129, available at superga-usa.com.