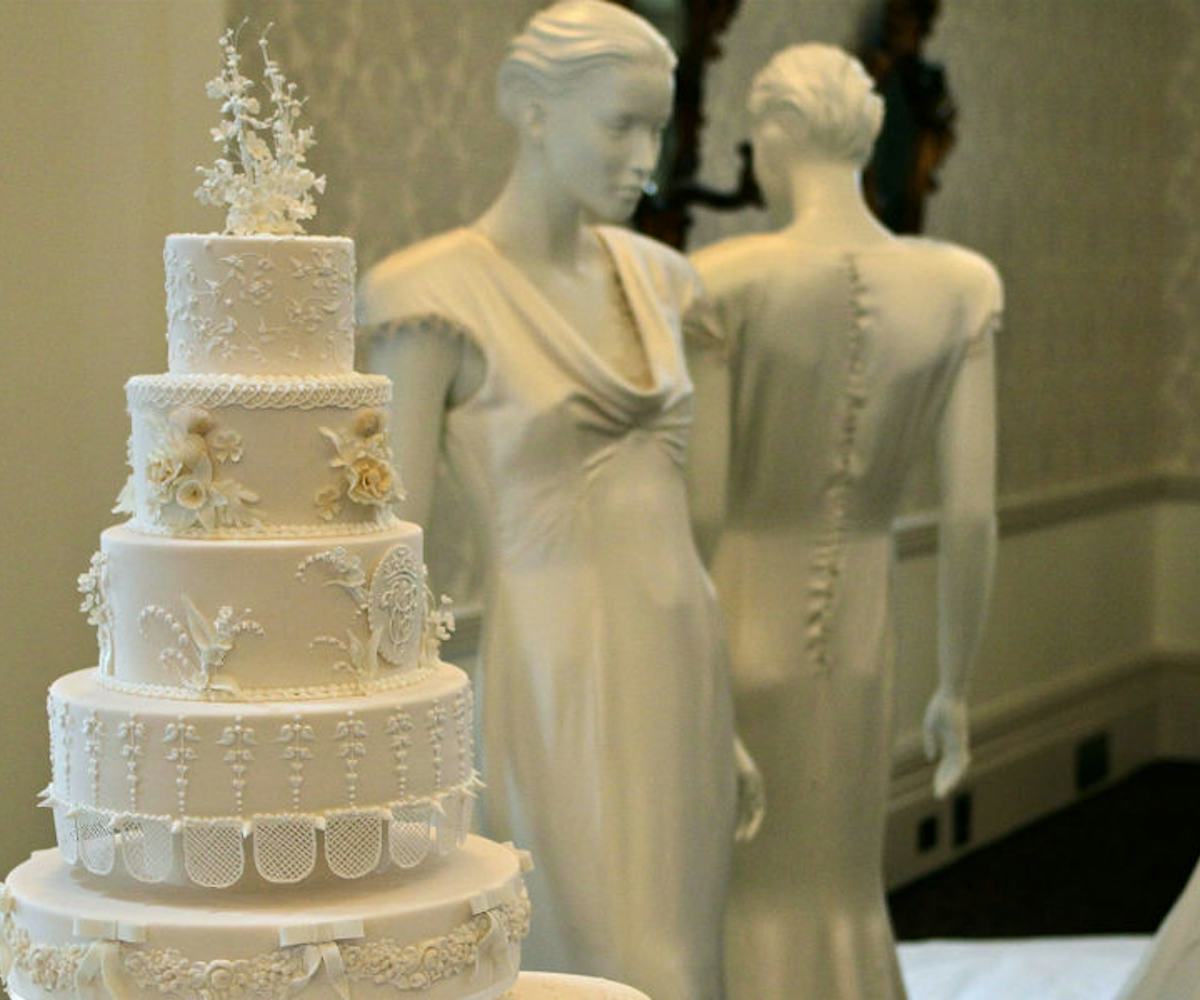 Photo by Mike Flokis/Getty Images.
Would You Pay $1,000 To Attend Your Friend's Wedding?
One bride thought her guests would
According to the Daily Mail, somewhere in Canada, a woman named Susan sent out her wedding invitation to friends and family with one hefty caveat: guests would have to pay $1,500 CAD (about $1,162 USD) if they wanted to attend. Somewhat expectedly, only eight people were willing to pay the price, which pissed Susan off. Like, a lot. Or, at least, enough for her to write a lengthy Facebook status venting her frustrations.
She starts out with the news that she had to cancel the wedding only four days before planning to tie the knot and that she and her fiancé had broken up, accusing her friends and family of ruining her relationship and life. "How could we have our wedding that we dreamed of without proper funding? We'd sacrificed so much and only asked each guest for around $1,500. We talked to a few people who even promised us more to make our dream come true," she reportedly wrote on Facebook. Those people, apparently, were her maid of honor who pledged $5,000 CAD (about $3,873 USD) and her ex's family who offered up $3,000 USD (about $2,324 USD). "So our request for $1,500 for all other guests was not fucking out of the ordinary. Like, we made it clear. If you couldn't contribute, you weren't invited to our exclusive wedding. It's a once and a lifetime party."
Susan explains that her dream wedding would cost around $60,000 CAD (around $46,352 USD), but that she and her fiancé only had $15,000 (around $11,588 USD) saved. She didn't want to give up on her vision though because their "love was like a fairytale" and she really, really wanted to live "like a Kardashian for a day." "We just needed a little push… All we asked for was a little help from our friends and family to make it happen," she writes.
As we mentioned, they didn't get that push, and, in fact, her ex's family and her maid of honor even took back their offers. "We were fucking livid," Susan writes. "I was so shocked and tearful." Shit really hit the fan when her then-fiancé, realizing they weren't going to be able to afford the wedding of their dreams, suggested they just tie the knot in Las Vegas (the nerve!!!). "I laughed in his face, but he was dead serious," she writes. "Am I supposed to like the idea of getting married in the heart of shady gamblers, alcoholics, and the get rich fast fallacy?" Yikes.
She goes on to share that her maid of honor tried to talk her down, telling her she should stick to her budget. In response, she called her a "poor excuse for a friend." Her bridesmaids jumped ship also, and she claims her then-fiancé/now-ex started talking about her behind her back. "Anyway, I am exhausted. I am bone tired. My heart is not the same. It's stone cold," she writes.
I've been a bridesmaid in two of my best friends weddings this past year. I love them, would do anything for them, but if they were to ask me to pay over $1,000 just to be on the damn guest list—on top of spending the money to be in the wedding—then I would have no other choice but to consciously uncouple from that friendship.
It's unclear what Susan is up to now. She mentioned in her status that she's going to be backpacking in South America for the next two months, "exploring my soul and ridding myself of toxic energy brought on by my friends and family." We just hope she manages to come down off her high horse while doing so.