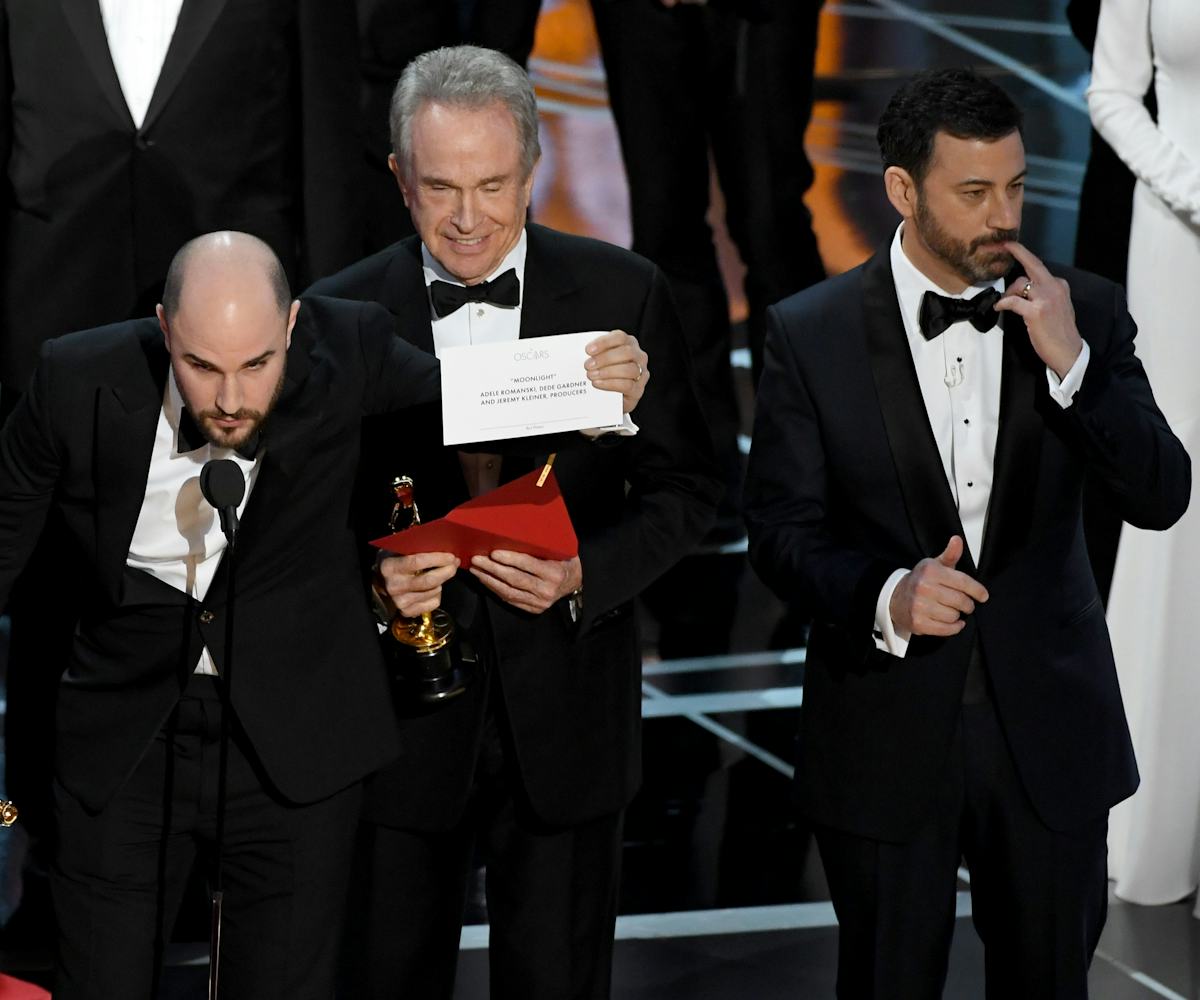 Photo by Kevin Winter / Getty Images
9 Takeaways From Last Night's Bonkers Oscars
We're still trying to process the absolutely insane ending to last night's 89th Academy Awards, one that people will be talking about for the next week and probably beyond. It transformed what would have been an above average Oscars ceremony into a historic and unforgettable one. But even if the envelope mix-up didn't occur, Moonlight winning over La La Land would have still gone down as possibly the biggest upset in Oscar history, and that should be celebrated in its own right. Like we said, we're still trying to process it. Here are nine takeaways from one of the craziest Hollywood nights ever.
Holy fucking shit.
The last five minutes of last night's ceremony will go down as not just one of the most shocking moments in Oscar history, but in the history of all of live television. This audience reaction shot during Envelopegate says it all. 
Nothing makes sense anymore and anything is possible.
Donald Trump is president. The Patriots came back from 28-3 to win the Super Bowl, and La La Land, with a record-tying 14 nominations, lost the Best Picture race to Moonlight. The fact that it won is almost as shocking as how it won.  
Don't for a second feel bad for team La La Land.
They won six Oscars. Their movie is a worldwide smash hit. Last night was probably lit. They're good. 
The right movie won Best Picture.
If La La Land went home with the Best Picture win it had been promised all along, we would have all forgotten about it by tomorrow. But Moonlight winning is historic. It is the first movie with an all-black cast to win Best Picture and, for once, it is actually the consensus best movie of the year.
THANK GOD the reverse didn't happen. 
Can you even begin to imagine if Faye Dunaway had read Moonlight instead of La La Land? And then, in the middle of Barry Jenkins' speech, it was revealed that La La Land was the actual winner, and the world had to watch as one of the blackest movies in Oscar history had to hand the award for Best Picture to one of the whitest? No, you cannot imagine it. Because it is unimaginable.
Donald Trump got off easy.
Jimmy Kimmel took some shots, and Barry Jenkins promised to stand with disenfranchised people for the next four years, but, for the most part, acceptance speeches shied away from politics, instead choosing to focus on the power of art and the awesomeness of the film community. Casey Affleck, for example, called the administration "abhorrent" and "un-American" when he won the Best Actor award at the Film Independent Spirit Awards on Saturday. But last night, with people watching all over the world, he said this instead: "I wish I had something bigger and more meaningful to say, but I'm just really proud to be a part of this community and I look out at all of you and I have this whole year, and I'm just dumbfounded that I'm included. And it means a lot to me." That about sums it up.
Matt Damon is a good sport.
Many people thought the phony Jimmy Kimmel vs. Matt Damon feud overstayed its welcome, but it had its moments, like when Kimmel played Damon off as he was trying to present an award alongside Ben Affleck. But give Damon extra credit for letting Kimmel publicly burn him for two career low points, We Bought a Zoo and the more recent The Great Wall, which Kimmel told the world lost $80 million dollars. Ouch. 
Jimmy Kimmel should host again. 
No Oscar host will ever be perfect, but Kimmel, with his blend of insider-y camaraderie with the audience and the acidity with which he brought jokes about Mel Gibson, Donald Trump, and, of course, Matt Damon, did a fine job. He shouldn't have mocked people's names during the divisive tour bus bit, but the whole thing got people talking, which is refreshing for an awards show that typically plays it safe. And then there were the last five minutes, where, amidst confusion and panic, Kimmel was a calming presence, cutting the tension with improvised jokes, including one about Steve Harvey that was ideally timed and delivered.
Moonlight won Best Picture, guys.
This should be the only real takeaway from last night, which is why we're repeating it. Don't let the conspiracy theories or the backstage intrigue or the Beatty bashing (leave Warren alone!) take away from this fact, incredible as it is.