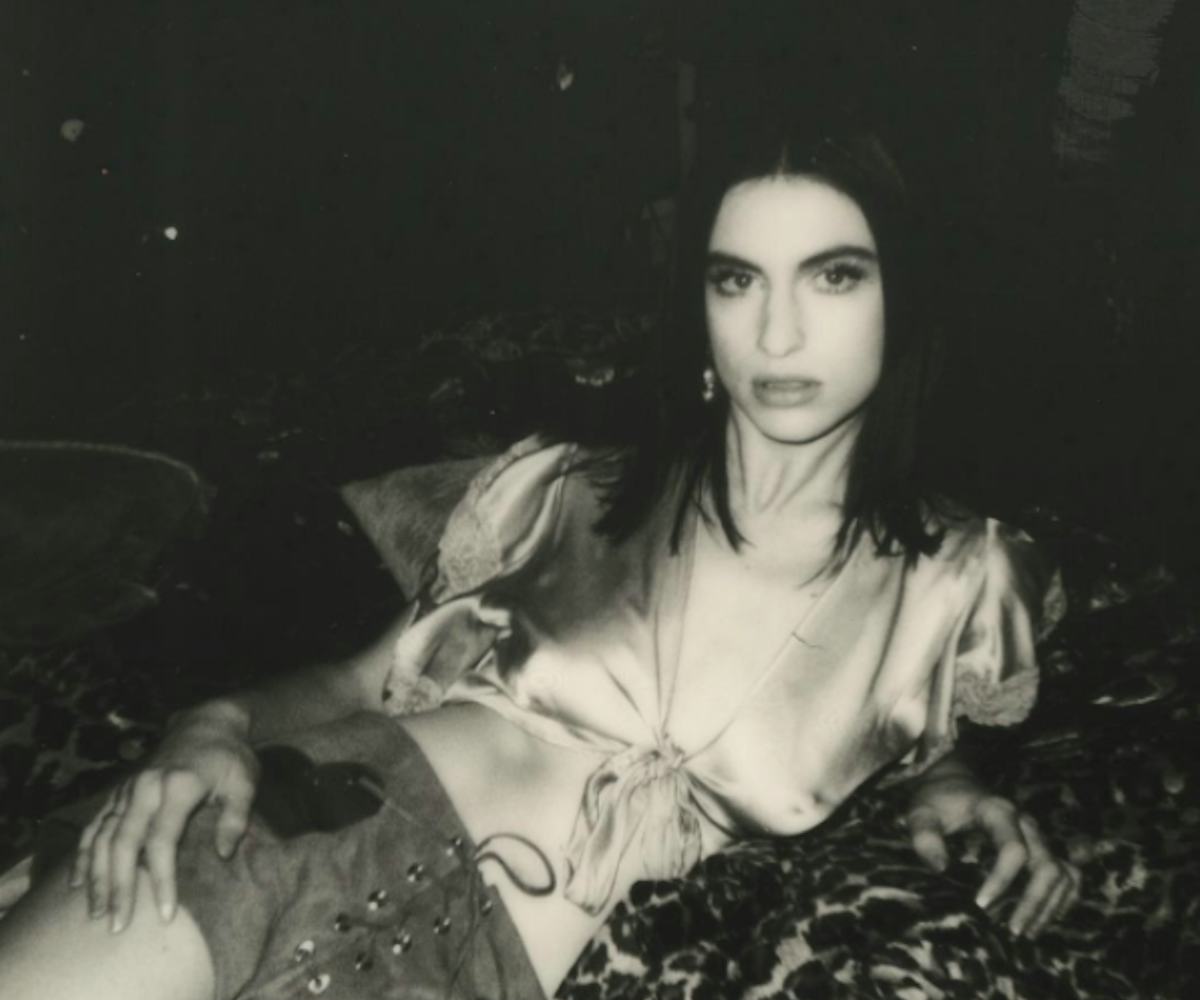 Photo via @talilennox/Instagram
Tali Lennox Reflects On Life And Death In Her Art
"You can feel it, but it's a dead moment"
These days, it can feel like every rising talent is known by a hyphenate, and 23-year-old Tali Lennox is no exception. But this model-painter-actress is so much more than someone who simply dabbles in different art forms; she's a wildly creative young woman who has an interesting perspective on why she likes to shift her artistic focus from one thing to another. "I have to mix mediums to keep it fresh, so I do installation work and I do a lot of acting," she says. "Painting can be extremely isolating. It's intense but it's a beautiful process for me."
Just over a year ago, Lennox went through severe personal trauma when she and boyfriend Ian Jones were involved in a tragic kayaking accident that resulted in his death. Lennox remains composed as she touches on how the experience deeply affected her, but there's no doubt that this tragedy was a source of inspiration for her recent one-night-only exhibit "ASHES & CONFETTI" sponsored by Vogue and AG Jeans.
"Confetti is a symbol of something that's passed, of an energy that has happened. It's the pretty yet melancholic sparkles left behind on the floor. I wouldn't want the message of the show to be anything pessimistic or negative; it's rather to look at things that might frighten us in with curiosity, and it's just something that I have dealt with personally," she says. "We are just visitors here, after all. I have tried to use my art to try and explore it."
Held at the soon-to-be-closing Chelsea Hotel's restaurant El Quijote last week, the exhibit celebrated the journey of life and the iridescence of spirits. All the paintings were reinterpretations of original black-and-white photographs that Lennox randomly found tucked away at antique stores and flea markets or on the streets. She also configured a gigantic memory box made out of clear, plastic cubes that contain items that Lennox hopes will remind people of "a game they played when they were five, a religion, or their grandmother's perfume."
Lennox works out of her home, which has served as a "trinkety, treasury" hub to host all of the pieces until this point. For the past year, she has "lived with the images," and describes them all as the people she sees every day. The location for the show was crucial to the atmosphere that Lennox aimed to create with the pieces, which almost blended into the pastel-colored walls. 
"Everyone used to come and have dinner here: Andy Warhol, Patti Smith, Janis Joplin, Jimi Hendrix. This was the spot they would all hang out when they were in the hotel," she says. "The skeleton holds so much, but at the same time, it's kind of a gone moment, so in my way, it's kind of an evening trying to recreate a moment passed which will never be recreated."
The gutted and renovated appearance of the hotel almost adds character to her creative vision and complements the spirit of the show. "You can feel it, but it's a dead moment," she adds. "So it's kind of that window between life and death that I find really interesting."
As she continues to go on about life and death, Lennox is reminded of how her mother always said she had a "morbid curiosity" when she was a child. "For me, it's the unknown and it's the mystery, and I find there is such great beauty in that. I don't make assumptions about death at all, but it's the mystery of it," she says. "It's one of the biggest unanswered questions of history. It's just playing with time, and it's also kind of in a way fighting death with memory or fighting death with the recreation of memory... And just trying to get to grips with the transients of life."
Learn more about the source of Lennox's inspiration in the interview, below.
How has living in New York influenced your creativity?
There is always so much going on so for me. I get inspired when I am just like having my own kind of internal adventures, whether it's walking through Chinatown or having dinner at some place like El Quijote, [where] I find some of the waiters so beautiful in their old outfits. It's so accessible to you that you can spend one night walking around New York and you will absolutely be inspired. And I love that New York has these old relics of history. To me, my heaven is somewhere like El Quijote; to me, it was a dream to do a show there. Not everyone understands that. Like there are some old places in New York, and I feel so drawn here. I feel so drawn to the old diners and the old dive bars. I have always felt that way toward history, but especially [in] New York because it's touching, because it's been built from nothing and it's a mix of cultures, and it's also touching because it's a fading culture. It's a dying culture, and a lot of the work is about dead cultures.
Why did you feel attracted to that art medium?
To me, the process is really, really fulfilling because I was working in mixed media and found objects [for my sculptures and paintings], and it's really nice putting these together.I really like the process of going out and finding these but [with] painting, all of it's coming from you. You are controlling the brush, and absolutely everything is coming from you; to me, it's so raw and you have to be so present, you have to be so focused; the tools are simple, the canvas, paint, it's been the same for centuries. And when you finish a painting, and hopefully it's one that you like, you can say it's all you. You put everything into it, and in that way, you definitely expel something personal and energetically. I also compare it to love affairs. I have a room of paintings in my apartment that I never look at, I just have them around and put them in the room. With a lot of them, you put everything you have in you in the moment, and, to me, I love it and I love absorbing myself into them like that, and it's very meditative and then when you are done, you're like, "It's gone, it's done." Some of them stay with you forever, and some of them, you realize they really mean a lot, and some of them, you want to put against a wall and you're like, "I don't know what I was thinking" but it helped me along the way. I don't think you can waste time with creativity. Even when you do something you don't like, you are still learning from it.
Where did the inspiration for these pieces come from?
At the time that I made it all, I was going through grief myself because I had a personal death that was quite close and intense to me. I guess rather than trying to fear it and turn away from the circumstance, I wanted to contemplate it. I think in any situation it is always best to be inquisitive and in that way, especially as an artist, anything can be interesting. Something that can be terrifying can also really be beautiful. So looking back at the work now, I realize that a lot of it is me making sense of how to come to terms with what is fantasy and what is reality and the passage of memory and perception.
What made you feel ready to share these pieces now?
It's funny for me because I find that I can't plan when works are going to come out. When I had the opportunity to do the show, the concept was completely different. This is what happened to me when I did my last show—something clicked halfway, and I completely changed direction. I think that's the trust you need to have in your path artistically anyway. You can't force something and I try not to premeditate what any of my work is going to be about. I just try to let it go and even when I have moments when I feel stuck, I do it anyways or work in different mediums because I know it's going to influence what I am doing next. And for me, I did it on the topic of loss and death, because it's been a year since my boyfriend passed away quite dramatically; you need a year to process a bit of that. I did some work at the time, but now, I am going back to it because it's not just my personal experience; I want to contemplate loss and passing as a universal experience. So that is why the work is not totally personal to me. I don't even know the people in the photos, I never will; they are strangers. But they are also very intimate to me because I have spent a lot of time with the images.
What are you hoping that people take away from this whole exhibit?
I would like people to take away an open-mindedness toward the transience of life, the beauty of the movement of time, and the sadness in it too. I try to put light and dark because I think both have to be acknowledged and both have beauty in them. There is sadness in that it's grieving this hotel because it's been ripped to shreds, but it's also a celebration of the hotel and appreciating time and remnants. In that way, the things we lose still live, because they live within us and they live within our consciousness.
What are you planning on doing with these after the exhibit is done?
I don't know what I'll do with these; I have been painting them at home, so this was a nightmare to put up. It's not really a nightmare, it's an anxiety attack because they are not glued together, so you touch one thing and the whole thing goes down. The paintings will be for sale. I want to keep doing both. I try not to think about what I am going to do with them afterward.
What else are you working on?
I still model here and there, but to me, it's just keeping on with acting and painting. It's great, there is no time limit with painting—you can just keep it going.