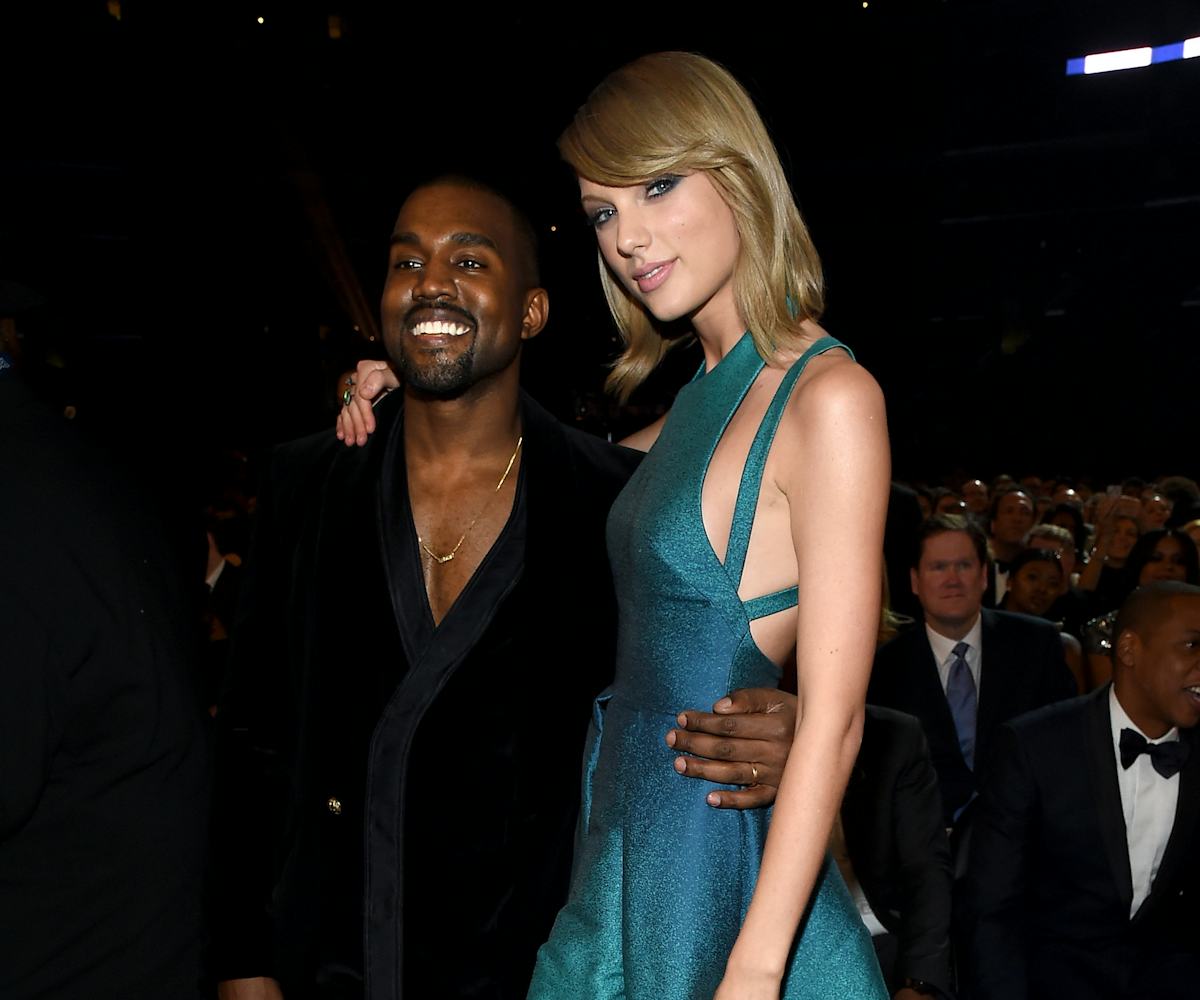 Photo by Larry Busacca/Getty images.
Taylor Swift Had No Idea Kanye West Would Call Her Out In A Song
baby, now we got bad blood
The above photo represents happier, simpler times in the ballad of Kanye West and Taylor Swift. But that was one year ago, when the pair finally made amends after Kanye crashed the stage during Swift's 2009 VMA acceptance speech, en route to becoming the most hated man in America. So when Kanye played a deeply misogynist lyric about Swift during Thursday's The Life of Pablo release event at Madison Square Garden, the Internet reacted with the appropriate amount of shock and awe. In case you're wondering, the song is "Famous," and the lyric is "I feel like me and Taylor might still have sex. / Why? I made that b*tch famous."
It's a rough bit of language, and various members of Swift's squad were quick to condemn the rapper via social media. Gigi Hadid, who was in attendance Thursday, tweeted the following: "My attendance somewhere does not mean I agree with everything being said in the music playing there. My friends know of my loyalty." Swift's brother Austin meanwhile, shared an Instagram in which he can be seen tossing a pair of Yeezys in the garbage. "Getting a head start on some spring cleaning. Here we go again," he captioned the video. 
Late Thursday, TMZ reported that Swift had in fact given Kanye the green light to release the song, after West called her in advance and asked for her approval, explaining that the lyric in question was meant as a joke. But as The New York Times' Jon Caramanica reports, that was not the case at all. According to a Swift spokesperson, the purpose of West's call was to convince Swift to release "Famous" on her Twitter account. Swift declined, and cautioned West about "releasing a song with such a strong misogynistic message." According to the statement, Swift had no idea about the lyric, and was probably just as shocked as the rest of us when it dropped. 
Karlie Kloss, another close friend of Swift's, was also in attendance Thursday, but has yet to sound off on the controversial lyric. Swift too, has remained silent. Perhaps she's crafting a diss track of her own, setting the stage for the first rap/pop crossover battle in history. And yes, our money's on Taylor. 
Update: West's Twitter, as it is wont to do, has just exploded with many, many claims, including the fairly farfetched notion that Swift herself came up with the lyric. No, seriously. Read for yourself.