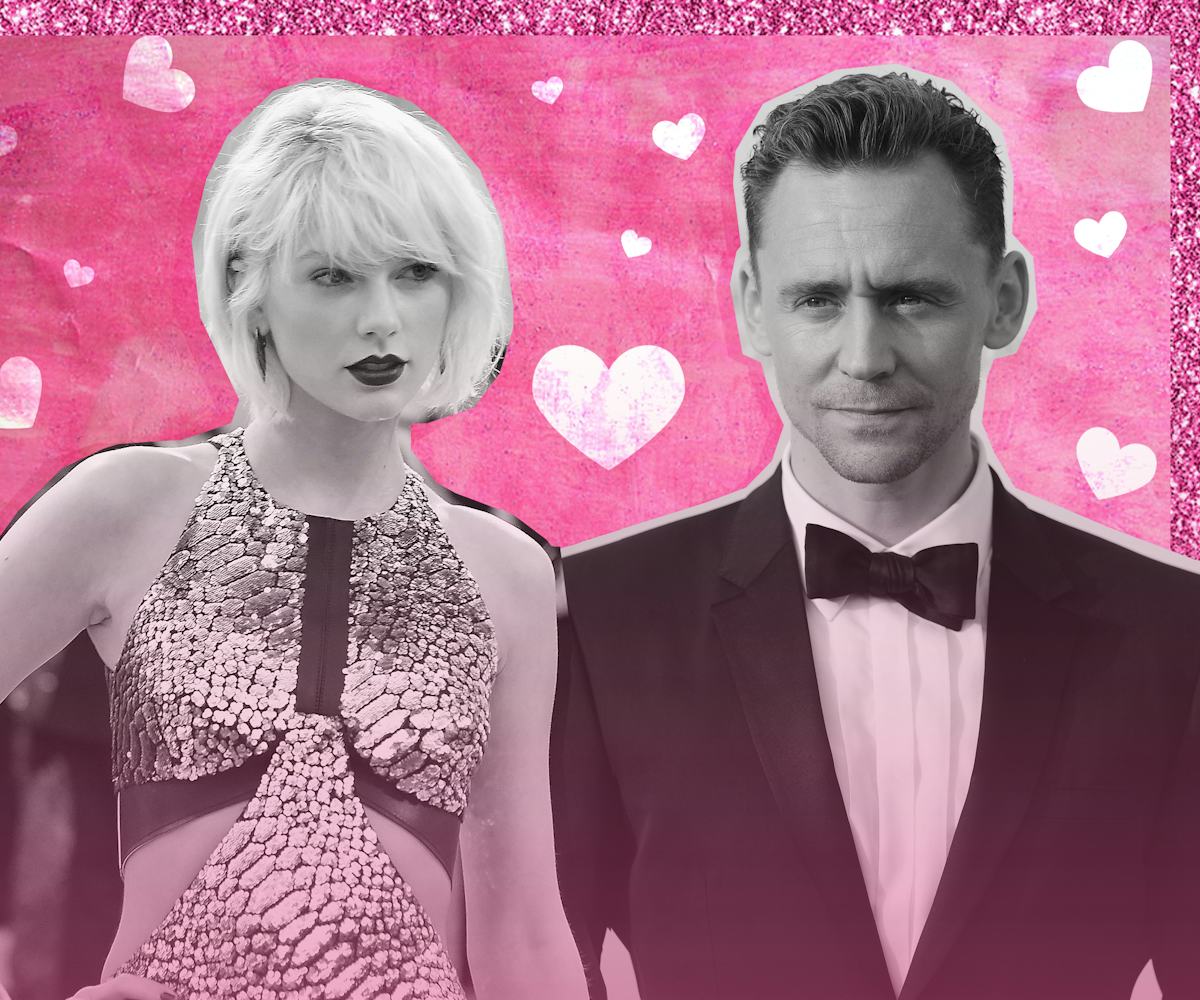 Photo by Mike Coppola/Getty Images for People.com; Stuart C. Wilson/Getty Images
6 Hiddleswift Conspiracy Theories That May Or May Not Be True
"Ain't it funny rumors fly?"
Taylor Swift was warning us all when she released "Blank Space" in 2014. She basically laid down her modus operandi when it comes to her highly public relationships, singing, not without a wink, "I can make all the tables turn."
Life imitates art (or is it the other way around?) and sure enough, moments after news broke that Swift and Calvin Harris split, images of her and The Internet's Boyfriend™, Tom Hiddleston, cozying up on some rock formations surfaced. Consider those tables turned.
Now, like the other lyrics she sings in "Blank Space," rumors are flying. What on planet Earth is going on between the couple currently known as Hiddleswift? There are far too many questions yielding far too little answers. Is this a stunt? Are they really in love? Why did an otherwise upstanding, dapper British gentleman, who has appeared naked on film, wear an "I <3 T.S." tank to go swimming? How did this happen? Is the Met Gala to blame? Are we out of the woods yet or are we in the woods? Who are we and why are we here?
The proverbial clear Swift sings of on 1989 does not appear to be nearby anytime soon, as Hiddleswift continues to jet-set around the globe, spawning obscene numbers of headlines documenting their every breath and coy wink, giving ample fuel for conspiracy theorists looking to expose the couple for who they really are. Ahead, six of the more popular theories that may or may not explain the sparks flying between music's most powerful and the possible future 007. 
1. Taylor Swift is trying to evade the media from the "Famous" scandal
Swift is media savvy. A few days before Kim Kardashian's GQ profile was published, which allegedly exposes Swift as a liar, photos of her cuddling up to Tom Hiddleston surfaced online. The internet ate it up—even after Kardashian's comments that Swift knew about and approved Kanye West's misogynist lyrics in "Famous" were posted. Hiddleswift was still a hot news item when West released the controversial video for the track that featured a nude wax figure of Swift. Swift manipulated the media to pay attention to her love life over West's "art." 
2. A fan-fiction author is actually a Swiftie oracle and predicted this entire thing would happen... two years ago
Jennifer Stanley penned a piece of fan-fiction in 2014 that tells the story of how Taylor Swift and Tom Hiddleston fall in love at the Met Gala. Two years later, Instagram videos of the two dancing at the Met Gala sweep the internet. Is Swift bringing this fan's fiction to life? If so, why? If not, what? How? Prophets walk among us.
3. Tom Hiddleston believes Taylor Swift will help him become James Bond
Hiddleston has been rumored to be the frontrunner for the upcoming Bond films for a while now. Though some outlets have allegedly confirmed he is definitely in the running, Hiddleston believes his association with Swift will give him an extra something-something for the producers. Unfortunately, there are other theories that his association with Swift has harmed his chances because, as a source told The Sun, "Bond needs an air of mystery—[Hiddleston's] public romance with Taylor has made him totally uncastable." Uh...To suggest that Hiddleston's love life, especially with Swift, is detrimental to his career as an actor is wildly problematic and sexist. Fingers crossed this is mere hearsay.
4. Taylor Swift has her eyes set on being a Bond Girl and/or singing the Bond theme song
Swift has stretched her acting chops on a few occasions. (She was fun in The Giver!) Some fans have theorized she is dating Hiddleston to snag a role as a Bond Girl, should Hiddleston be named the next 007. If that seems too implausible, perhaps she's gunning for that theme song glory. Her Swifties really, really want this to happen.
5. Taylor Swift is filming something for her new album, and Tom Hiddleston is the star
This is the most plausible. It's not uncommon for celebrities to pull a fast one on the media and paparazzi machine. Joaquin Phoenix did it with I'm Still Here. Many fans point to how ridiculous Hiddleston's "I <3 T.S." tank was, because, like, why else would he wear something if it wasn't for some over-the-top performance piece mocking the media's obsession with celebrity relationships—Swift's, in particular. Together, they've traveled across Europe, and Hiddleston's introduced her to his parents. The same paparazzi agency has been photographing them, too. Fans have also pointed out that Swift usually releases an album every two years, and 1989 was released in 2014, which makes this fall the prime time for a new album. Maybe she's pulling a Beyoncé and filming a visual odyssey on fame and romantic relationships when in the public's eye? One thing, though: Swift said she wanted to take a break from music after her 1989 tour. If that's the case, this theory is false.
6. This is all a dream. The Matrix is real. Nothing truly exists in this world and time is a flat circle.
Really makes ya think!