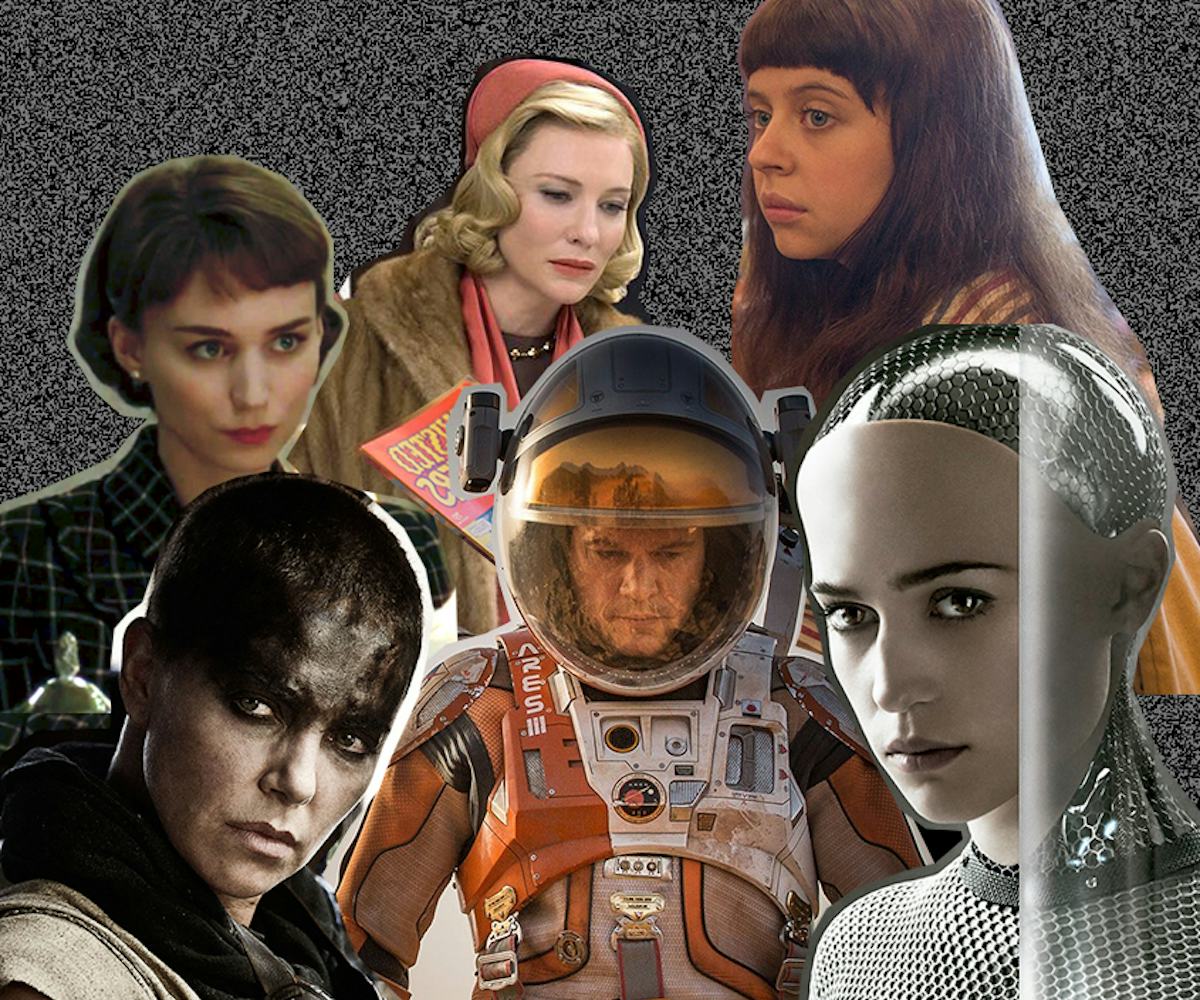 Photos via Village Roadshow Productions, DNA Films, Number 9 Films, Twentieth Century Fox Film Corporation, and Caviar Films
Ten Movies We Loved in 2015
2015 has been a grand reminder about what makes the movies so special. This year, we were transported to a post-apocalyptic hellscape where it turned out girls ran the world. We went inside the mind of an 11 year old and discovered that sadness is just as vital as joy. We lifted off to Mars to spend time with the funniest astronaut since Buzz Aldrin. And we traveled back to the 1950s to witness the swirling romance between two exsquisite women. Yes, the movies are awesome, and in 2015, these were the awesome-est.
Carol
An exquisitely shot and acted film about forbidden love in the 1950s, director Todd Haynes' haunting drama about a lesbian relationship between a married woman and a shop clerk is incredibly resonant, and reminds us why Cate Blanchett and Rooney Mara are two of our most treasured actors. 
Mad Max: Fury Road
There was no more visceral or astonishing an experience at the theaters this year than George Miller's nitro-fueled action epic about life (and death) on the road in a post-apocalyptic hellscape. While Tom Hardy's title character was the engine that kept this film going, it was Charlize Theron as instant-classic warrior Imperator Furiosa that made this blockbuster an unlikely feminist statement.
Ex Machina
2015 was the year Alicia Vikander became a star, and this chilling sci-fi parable was the main reason why. She is transcendent (and translucent) as a humanoid robot whose artifical intelligence becomes frighteningly real. Playing against her are Oscar Isaac and Domhnall Gleeson, who prove why they're two of Hollywood's most promising young leading men.
Inside Out
After a rare, year-long hiatus, the Pixar dream factory returned with arguably their most emotional film ever, which is saying a lot. The story takes place inside the mind of Riley, an 11-year-old girl whose life is uprooted to San Francisco. Her emotions—Joy, Sadness, Fear, Anger, and Disgust—are the movie's main characters, and are brought to blinding life thanks to brilliant vocal performances from the likes of Amy Poehler, Mindy Kaling, Bill Hader, and more. 
The Diary of a Teenage Girl
A Sundance gem, this engrossing and honest movie about a young girl's sexual awakening is told almost entirely from her point of view, and it's a remarkable one. British actress Bel Powley is the film's breakout star, and her relationships with Kristen Wiig and Alexander Skarsgård made for one of the weirdest love triangles every put on screen. 
The Martian
This breathless and surprisingly funny space adventure about an astronaut stuck on Mars featured the year's purest movie star performance from Matt Damon, and marked a return to form for director Ridley Scott. Featuring one the most dazzling and diverse ensemble casts in years, the movie was a box-office smash, serving as a reminder that in these cynical times, a little optimism goes a long way. 
Tangerine
Sean Baker is one of the most underrated and undervalued talents working in American film. Case in point, this remarkably vivd portrait of two transgender women in Los Angeles, which was shot entirely on an iPhone. Oh, and the actors playing the leads are themselves transgender. What a concept. 
Dope
A technicolor adventure for the Snapchat generation, Dope is one of the freshest and most fun coming-of-age stories in years. Set in a tough L.A. hood, the movie's color blind story follows three friends who try and ditch a bag of drugs over the course of one life-changing day. Nothing that hit theaters this year was designed to put a smile on your face quite like this movie.
It Follows
These days, horror movies don't get more original than this tense metaphor for the perils of teenage sex. They also don't get more terrifying, featuring imagery so startling that it will, er, follow you for days. 
Going Clear
In a world filled with searing exposés on the highly questionable Church of Scientology, prolific director Alex Gibney has crafted the definitive one. A must-see.