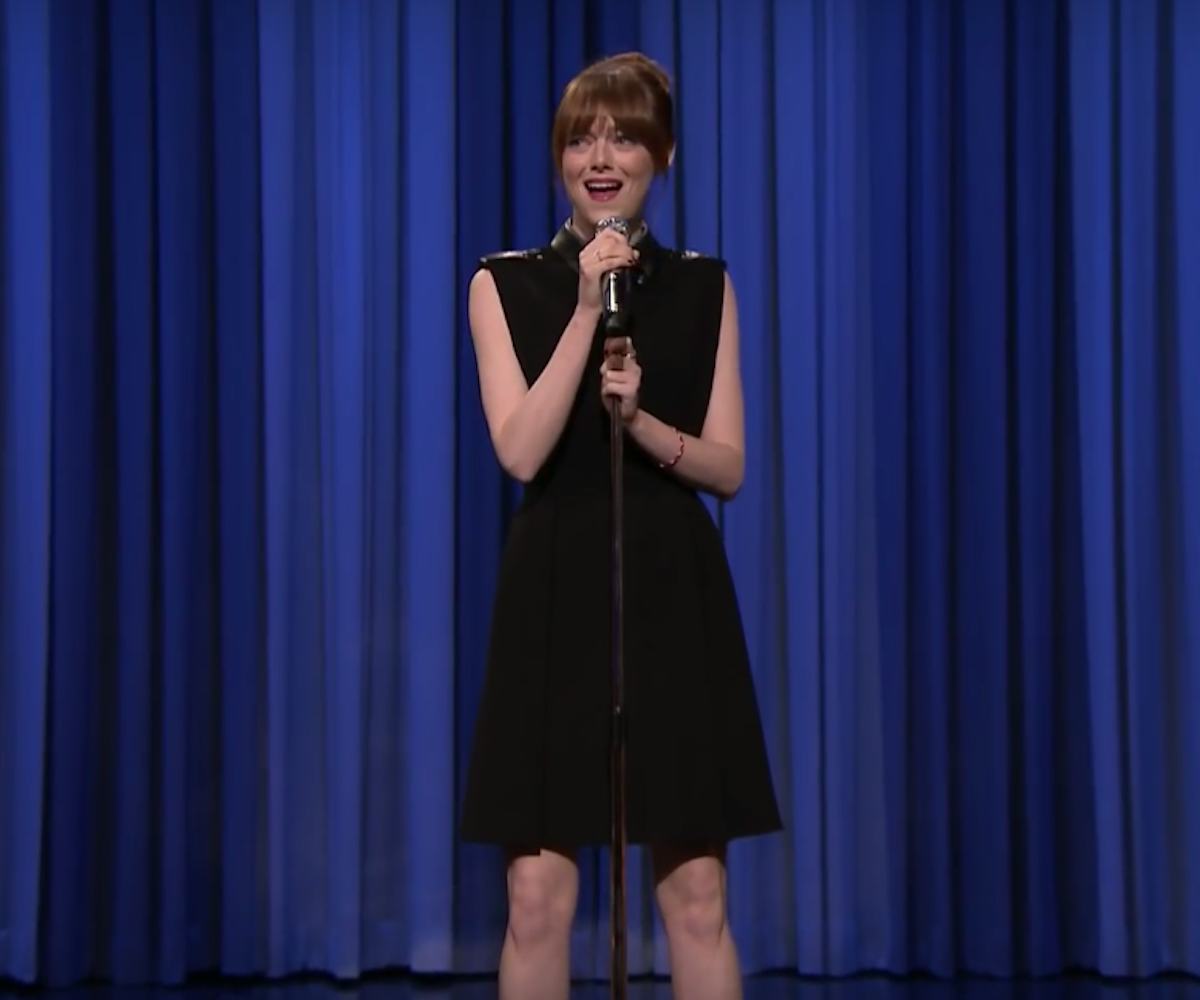 10 Videos That Made the Internet A Better Place in 2015
The Internet can be a pretty shitty place, filled with trolls, racists, misogynists and so much noise. But often, it can be a place that surprises you, makes you laugh, enlightens you, inspires you, and above all, entertains you. When it comes to that second part, the following ten videos represent some of the best the web had to offer in 2015. So press play, and enjoy.
Lip Sync Battle with Emma Stone
Poor Jimmy Fallon. Despite being one of the co-creators of the increasingly popular Lip Sync Battle, he never stood a chance against Emma Stone. The consummate performer slayed her renditions of Blues Traveler's "Hook" and DJ Khaled's "All I Do Is Win," making the Tonight Show host her bitch.
The cast of The Lion King sings "Circle of Life" on the NYC Subway
Viral videos of people breaking out into spontaneous song on the New York City subway are as old as Youtube itself. But there's something extra magical about it when it features the cast of the third-longest running show in Broadway history, singing arguably the greatest song in Disney's sparkling catalogue. Why doesn't this ever happen to us? 
Daniel Radcliffe becomes Nylon's receptionist for an hour
We don't mean to toot our own horn, but—okay, yeah we do. That time Daniel Radcliffe played receptionist at the Nylon office was completely, ridiculously awesome, and we've got the video to prove it. 
Between Two Ferns with Zach Galifianakis: President Barack Obama
from
Barack Obama on Between Two Ferns
The best interview show on Planet Earth is Zach Galifianakis' bizarro performance piece, Between Two Ferns. Still, the fact that they managed to book the leader of the free world remains a minor miracle. Watching Obama hold his own next to Galifianakis' depressed, depraved scoundrel was one of the great treats of 2015 and a reminder of why he's the coolest prez ever. 
Seth Meyers brings Jon Snow to a dinner party
We always assumed Jon Snow would be the ultimate dinner party guest. He'd regale us with harrowing tales from The Wall, and maybe recite a Night's Watch oath or two. But as this brilliant sketch showed us—mmm, not so much. Instead, he's kind of a downer. Albeit, a hilarious one. 
'Why the fuck you lyin'
It's hard to say what it is exactly about this Vine that has struck such a chord, but at over 53 million loops and counting, consider that chord struck. All Nicholas Fraser did was change the lyrics to Next's hit "Too Close," and perform them with movie star charisma and a smile to match. The fact that he's posing a question that we've all wondered at one point—"Why you always lying?"—didn't hurt. 
Ryan Gosling Loses it on SNL
Kate McKinnon's crackerjack performance alone is enough to make this wacko alien abduction sketch an instant classic, but add to it Ryan Gosling's complete inability to keep his composure—thus causing everyone else to also lose their shit—and this becomes totally irresistible. 
Calum Scott sings "Dancing On My Own" on Britain's Got Talent
We don't need anymore singing competition audition videos where an unassuming contestant blows the judges sky-high with a stunning rendition of a popular song. But Calum Scott's slow-burn take on Robyn's "Dancing On My Own" is so undeniable that not including it would be a crime.
Jimmy Fallon's Saved By the Bell Reunion
The pinnacle in a year filled with viral moments for Jimmy Fallon's Tonight Show. His remarkable recreation of Bayside High, where he somehow wrangled Zack, Kelly, Slater, Screech, and Mr. Belding—Lisa and Screech were nowhere to be found, for obvious reasons (check the tabloids)—was a surreal trip down memory lane that will be very hard to top. 
A former couple has an honest conversation about their relationship
Watching these exes probe one another on the factors that led to their split is both a heartbreaking and uplifting reminder that while love is fleeting, it remains everlasting.