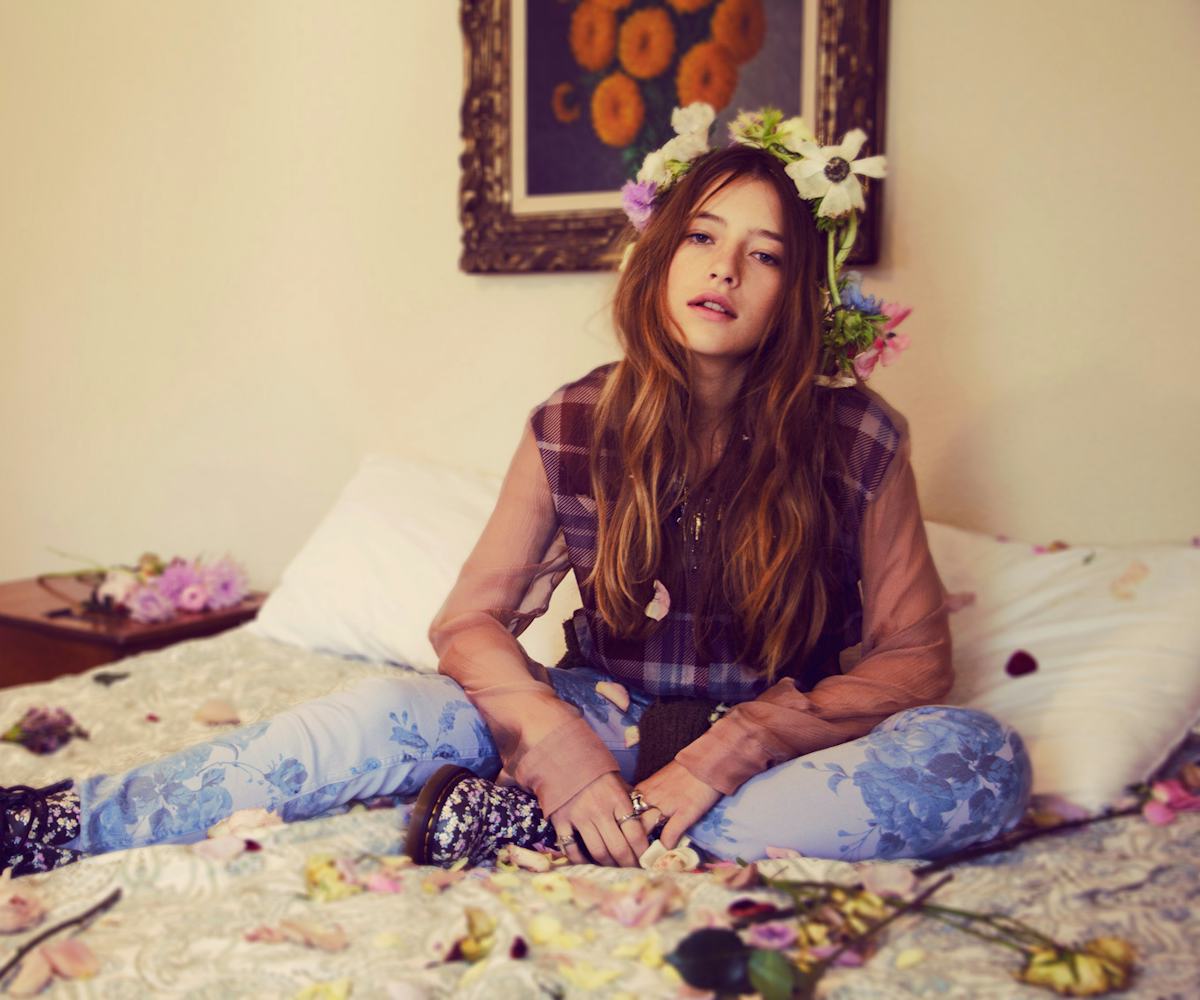 photo by silja magg
model citizen: teresa oman
hang out with the internet's favorite model.
If you go to Teresa Oman's
, you'll be greeted by pics of her in the words and her sixteen thousand followers. Search "Teresa Oman" on Tumblr and dozens of fan blogs pop up, along with thousands of photos, some with over twenty thousand notes. Tumblr even named her one of the
, alongside Miranda Kerr and Cara Delevingne. If you go to
you'll see her lounging in grass. NYLON readers will of course recognize her from the many times she's graced the pages of our print edition. What I'm trying to say is that Teresa Oman is pretty darn famous.
But she's also pretty darn cool, and probably one of the nicest, most fun models in the business. She speaks eloquently, has the best hair ever (a fact I can confirm upon meeting her), and a pretty rad wardrobe too. Of course, her Australian accent only makes her seem more cool, as do her slang phrases and love of rainbow clothing. So aside from being a supermodel in her own right (you can find even more proof of that on her agency, 
website), she's also a super girl IRL. Need proof? Just read on for my interview with her, where she talked modeling, music, and being a little bit of a hippie. 
You are one of the most re-blogged models in the world, what does that feel like?
Yeah, well that just recently came out online. I was so mind-blown because I had no idea, and I beat a bunch of Victoria's Secret girls.
Does that make you feel awesome or nervous because you're so recognizable? 
Pretty awesome! I'm quite happy with it because I would have never expected that. It's a nice little accomplishment, but I feel like it's just the people on the internet who have done all the work!
Do you feel it's been harder for you as a model because you're on the shorter side?
I think I definitely get different sorts of jobs, but I feel like the industry is changing in the way that girls can be a lot shorter now which is really good. I never thought that I would get to be in New York in the first place. I got denied by two agencies before I signed on with my mother agent in Sydney, and they pretty much said short people don't have much going on for them in the fashion industry. But things are changing and I'm really happy about it. One of my favorite models is really short. Her name is
and she was always my idol. I saw that she was always doing really well and she was always my inspiration to keep trying because you can be short these days.
So are Australians cooler than everyone else? I feel like all the coolest models, like you, Anja Konstantinova, and Abbey Lee, come from Australia.
We do have a lot of very cool models in Australia. I think it's something in the water, but I love American people too. I feel like Americans are the friendliest people by far, overseas. [laughs] 
Thanks, we'll take it! Was it a big transition for you to go from being a hippie Bryon Bay girl to literally traveling the world?
It was a massive transition. I moved to Sydney, so that was a transition in itself. I never thought I would be in a city as big as New York. I've definitely learned a lot and grown up as a person. I've learned to be alone because it would be hard at times being on other sides of the world without knowing one or anything, but now I've made so many good friends, I feel like the luckiest girl in the world. 
When you're traveling, what are five things you always put in your suitcase?
I have a framed picture of my two best friends and I that I bring everywhere. I've had that photo for ages. My suitcase itself is just a part of me now. My uncle and auntie got it for me for Christmas two years ago. It's a big, psychedelic rainbow suitcase. 
So you never lose it at bag check?
Never. It always stands out. I'm always getting compliments on it!
What would you say is your personal sense of style? I feel like that's a reason people are so drawn to you, because you always look cool in your own clothes. 
Thank you very much! I like anything that is old-school felling or has bright colors. I have a whole lot of secondhand clothes which are really cool. My best friend and I actually share clothes all the time. 
Do you have a favorite piece of clothing?
Yes. I have a denim jacket which is at my place in Sydney. I bought it in Portland, Oregon two years ago when I was visiting my sister. It's amazing. It's a regular denim jacket, but then it has all this rainbow embroidery all over it, and rainbow beading around the shoulders. It's like my lucky jacket. I think I wore it in to NYLON last year when Beth [Garrabrant, NYLON's Bookings Editor] was casting me for the one girl story in NYLON. It was my good-luck charm. 
I know your parents run a music festival. What was it like growing up in a community that was so musically-influenced?
Amazing. I remember when I was, maybe 11 or 10 years old, back when the festival was a lot smaller, I got to see James Brown live from the side of stage live. He was just so full of energy. I guess I never really understood how amazing what my parents do is because when I was in high school everyone would be like, "Oh, give me free tickets!" so I was actually kind of ashamed. But now I'm just so proud and so excited for them because every year the festival keeps growing bigger and bigger. You have to come!
What sort of music are you obsessed with?
I'm into a massive mix. One thing I always love is feel-good disco music. KC & The Sunshine Band is my absolute favorite. I think I inherited that off my mum. Apart from that, a bit of everything. I like Tame Impala and Flight Facilities, two cool Australian bands, and then I really love the classics that you can listen to on a record player, like the Rolling Stones and David Bowie.
If someone were going to Australia, and she had to edit down a list of things that she can do on her trip, what would you say she'd have to do?
I would say visit the East Coast--just everywhere on the East Coast. It's beautiful. I'm from the most easterly part of Australia which is a beautiful destination for surfing, but Sydney, where I live, is just incredible. There's no other city where you can get crystal clear blue waters and the city together. One thing I would suggest you can't miss is the Great Barrier Reef, which is one of the Seven Wonders of the World. Unfortunately, our new prime minister is trying to dump and mine it at the moment, but we're hoping that that won't happen due to everyone petitioning. Anyway, with global warming, it is slowly fading so I think it that's one place you would have to see in your lifetime before it's not there anymore.
What's your favorite Aussie slang word?
There is so much good slang! When I'm at home, with my housemates, who are my best friends, we always just talk in a super-Aussie accent. Right now, you haven't heard anything! I guess "mate" is my favorite slang word. How's it going, mate? [laughs] 
What's one thing that you're obsessed with that people might be surprised to learn?
One thing that I'm obsessed with is that I'm slowly working on becoming a YouTube sensation. t I love funny YouTube videos, so I'm just working on trying to find the right idea for me. I mean, I've got a pretty awesome "Wrecking Ball" parody that was shot in my living room in Sydney, but it needs to be re-done because it's a bit rough around the edges. I have a few good ideas cooking up and I'll be making sure to send you some links. 
Teresa Oman in NYLON August '13
Teresa Oman in NYLON August '13
Teresa Oman in NYLON August '13
Teresa Oman in NYLON August '13
Teresa Oman in NYLON August '13
Teresa Oman in NYLON August '13
Teresa Oman in NYLON March '13
Teresa Oman in NYLON March '13
Teresa Oman in NYLON March '13
Teresa Oman in NYLON March '13
Teresa Oman in NYLON March '13