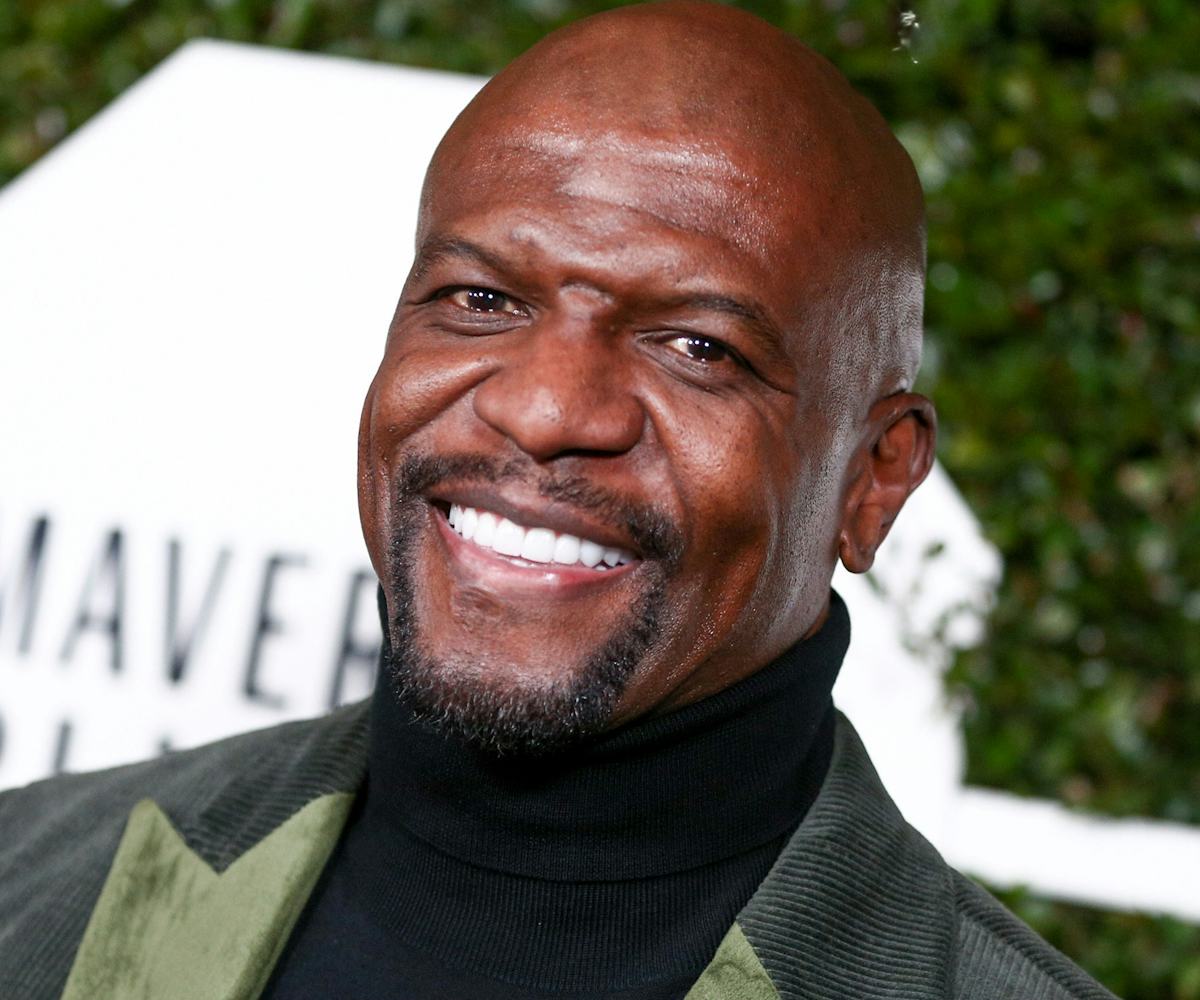 Photo by Rich Fury/Getty Images
Terry Crews Opens Up About The Backlash To His Sexual Assault Claims
"If this is the end of my career, just end it now"
In the six months since Terry Crews spoke out about being groped by Hollywood power agent Adam Venit, he's had to deal with a lot—legally and socially. 
In a new interview with BuzzFeed's Alanna Bennett, Crews opened up about moving forward, his ongoing battle against toxic masculinity, and the life-changing moment in which he tweeted about his alleged assault.
"I was on the set [of Brooklyn Nine-Nine], shaking," Crews said, explaining he was inspired to tell his story in solidarity with the women who had come forward after The New York Times Weinstein exposé came out. "I didn't call my publicist, I didn't call my friends, I didn't call my manager, I didn't call my wife. I just started tweeting."
"Once I hit send, I literally felt this weight come off me," he continued. "I went back to work, and I turned my phone off. And when I came back to my phone, the world had changed." 
In the months since, Crews has cut ties with Venit's employer, WME, and filed a police report. After the company demoted (but still kept) Venit following a one-month unpaid suspension, Crews tried to sue both parties. The suit was eventually dismissed by both the L.A. County and City Attorneys' offices because it was beyond the statute of limitations, per TMZ. 
"What I've been doing is just exposing," Crews told BuzzFeed. "If this is the end of my career, just end it now. Cause I'm gonna keep living, I'm gonna keep doing my thing." The actor also added that he's fine with not doing a sequel to his movie franchise, The Expendables, after producer Avi Lerner allegedly called his management about the "problems" a lawsuit against Venit could cause (Crews' co-star, Sylvester Stallone, is represented by Venit). Additionally, he claimed hip-hop mogul Russell Simmons emailed him to "give [Venit] a pass"—a request that Crews denied publicly, saying "no one gets a pass." 
Crews told BuzzFeed that, since he went public with his allegations, he's noticed a change in the way people treat him, noting that rooms "split right down the middle" when he enters. He also sees people keeping their distance from him, likely "because if you've got any kind of sympathy for these toxic dudes then you don't even want to be around me. Because I will put you on blast."
Neither Simmons nor Lerner responded to BuzzFeed's request for comment. And Crews has apparently not heard anything about The Expendables since he called out Lerner via Twitter. "No words from anybody. Nothing," he said. "Believe me, nobody saw that coming. Nobody thought that I was gonna put that out there."
Crews continued by saying, "People don't understand that Hollywood is a very violent place. The best way to put it is that it's like a plantation. You use extreme violence. You see a lot of people who never work again. For even speaking up the whole thing is that they cut your head off so that the next person doesn't speak." 
That said, according to BuzzFeed, Crews is still obligated to pay WME a "portion of his profits from any project he made while signed with them." 
"What business [is this] that you can do something like that to another human being, and I still have to pay you?" he said. "Everybody feels like that's okay. But this is not right. There are no checks and balances. There is no one to watch you. And given what he did to me, imagine some young girl, and an agent rapes them, and they're on a show or whatever, and they still got to pay this guy."
As troubling as this all is, Crews said that he's "not going anywhere" and that he wants to keep the conversation about industry abuse going.
"They lead this thing through shame. [They] shame you so you feel like you gotta hide in the house," he said. "[But] once you get rid of shame, you get to step off the slave plantation. And I get to be free. This is a good thing."