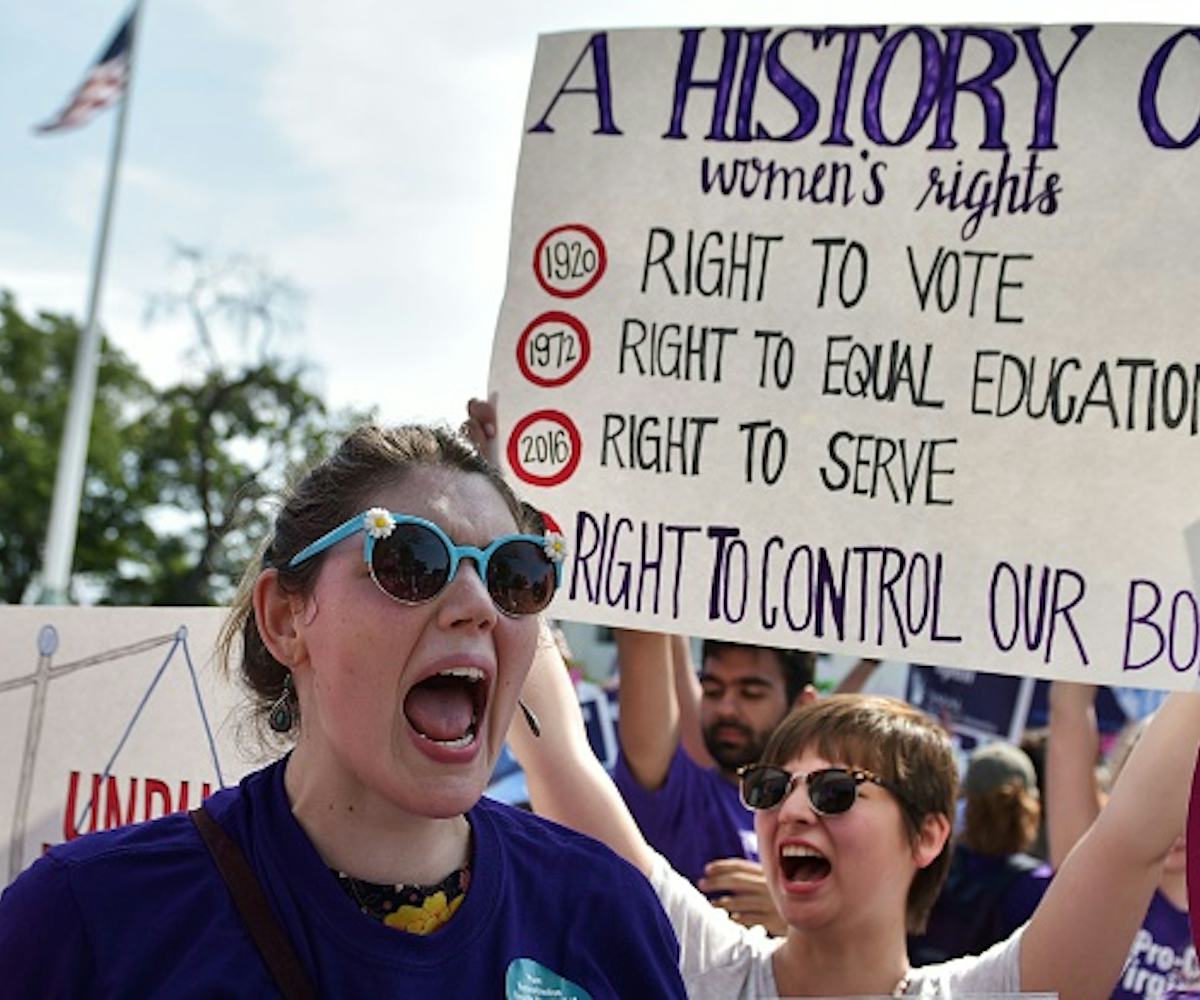 Photo credit should read MANDEL NGAN/AFP/Getty Images
New Anti-Abortion Regulations In Texas Are Terrifying
Women will be required to hold "fetal funerals"
Yesterday, the Governor of Texas Greg Abbott signed into law a sweeping anti-abortion rights bill that will, among other things, require burial or cremation of fetal remains, ban fetal tissue donation, and deny women access to a procedure that is one of the safest and most common methods for late-term abortions.
Some aspects of Senate Bill 8, which has been criticized for being "unconstitutional," will go into effect as soon as September. 
The bill bans what the anti-abortion rights movement has coined "dismemberment abortions," otherwise referred to as dilation and evacuation (D&E). The governor himself described the procedure in a tweet as "tearing babies limb from limb," which is grossly inaccurate. Under the law, women won't be able to get D&E even in instances of rape or incest. 
Only 11 percent of abortions in the U.S. occur after the first trimester, and approximately 95 percent are done via D&E, according to the Guttmacher Institute. Banning this procedure is effectively banning all abortions after 13 weeks. Women generally seek late-term abortions once they've discovered their life, the fetus, or both, is at risk. 
SB 8 also bans "partial birth abortion," which is redundant as it's already been banned for more than a decade. The bill also states that any physician who performs an abortion that would be considered illegal under the new law could face up to two years in prison. However, the language of the legislation leaves open the possibility that anyone involved in helping a woman procure a late-term abortion could face felony charges, including the friend who drives her to the clinic. "If the goal is to prosecute people who perform these acts, what's written here goes way beyond that," Representative Joe Moody said. 
In addition, women who've miscarried or had an abortion will no longer be able to donate the fetus for scientific research. This research allows medical professionals to better understand how diseases develop, according to the Mayo Clinic, and stem cell transplants can help treat everything from cancer and heart disease to Alzheimer's. Fetal tissue is also critical for the pursuit of vaccines for viruses like Ebola and for HIV/AIDs treatments. 
"By banning fetal tissue donation just for women who have had abortions — and not other patients — the state is singling out those women to shame them and send a clear message that the state does not approve of their decision to have an abortion," the Center for Reproductive Rights said in a press release. 
Lastly, the law requires women in Texas who miscarry or have an abortion to hold "fetal funerals." It mandates all facilities that treat pregnant women dispose of any fetal remains resulting from abortion or miscarriage be buried or cremated. Abortion clinics are required to pay for the burials and cremations, but the law includes a provision for the creation of a "burial or cremation assistance" registry to help offset costs. 
Governor Abbott also announced on Tuesday that he will hold a special session to begin July 18, in which Texas legislators will discuss, among other conservative priorities, whether or not to ban private insurance coverage for abortion, along with other anti-choice measures. Also on the agenda is a bill that would ban transgender students from using the bathroom of their choice. 
Currently, more
than in any other developed country. The number of Texas women who died from pregnancy-related complications doubled from 2010 to 2014. During that same time period, legislators have passed some of the state's
harshest abortion restrictions
.
"#SB8 is unnecessary & unwarranted," American Civil Liberties Union Texas said. "TX women deserve access to the care they need, not to be shamed & stigmatized by #TXlege."