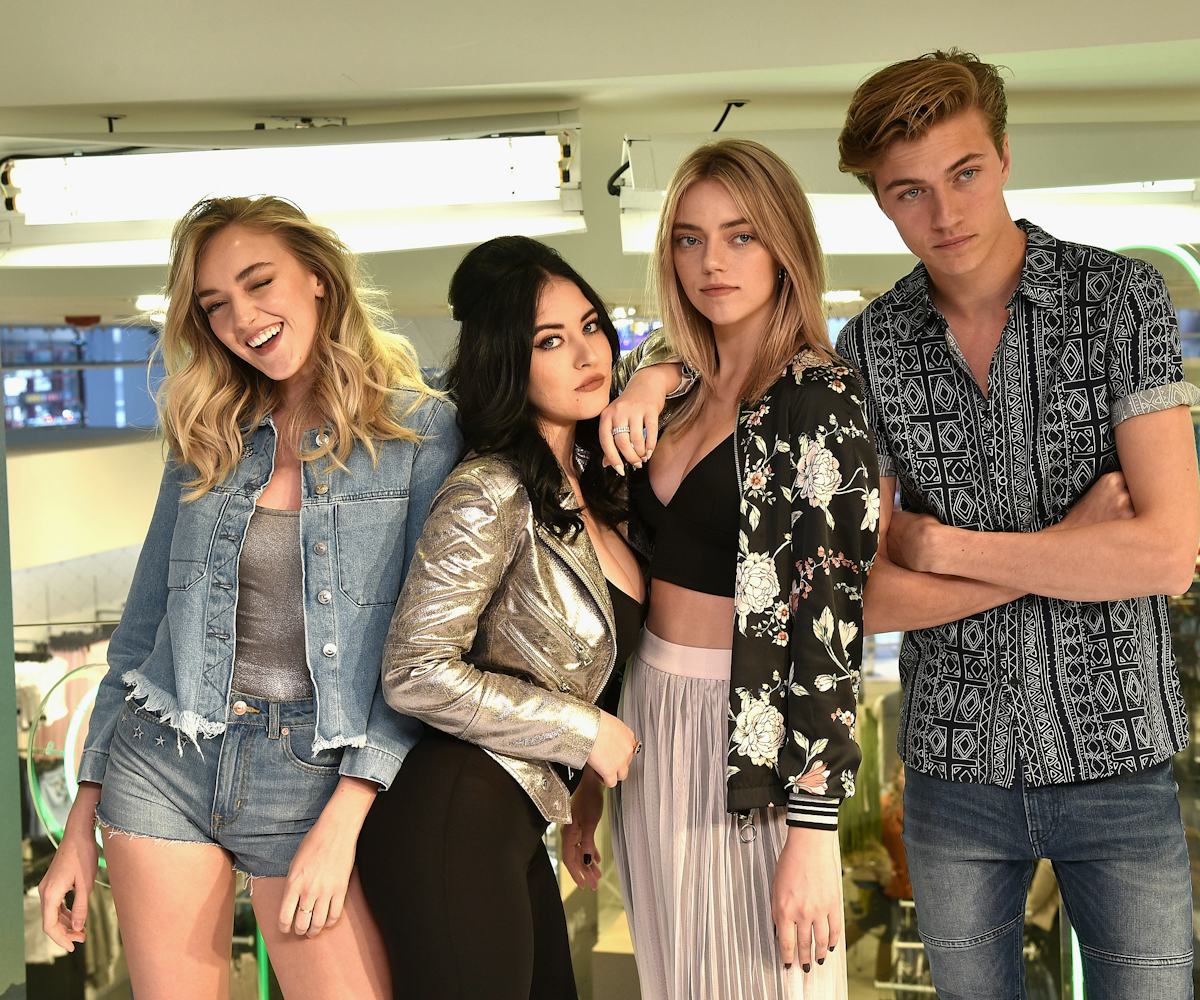 Photo by Getty Images for H&M
The Atomics Talk Coachella And Their Favorite Festival Fashion
They want to bring Elvis back from the dead
If you're seeking out the next It Band, look no further than The Atomics.
The band is comprised of a quartet of flawless model siblings that just so happen to have a real knack for making us dance. Lucky Blue Smith and his three sisters—Pyper America Smith, Starlie Cheyenne Smith, and Daisy Clementine Smith—create catchy surf rock that's fun, refreshing, and pretty much everything we're waiting to hear this festival circuit.
While they've been playing together as a band for years now (you know, on top of their blossoming modeling careers), it wasn't until last October that they performed their first big show in L.A.—at the legendary Roxy, no less. We can't say we're surprised to hear that just months later, they're gearing up to play their biggest gig yet at this year's Coachella festival. From the Roxy to Coachella in just a few short months? Their rise to stardom is meteoric.
However impressive that may be, though, it also seems pretty nerve-racking. How do they prepare for such a feat? While Lucky Blue approaches it with a laid-back state of mind—"You just don't stress, you just chill out and go with the flow," he tells me—Starlie Cheyenne goes about it much differently. "I lock myself in my room, and I practice for hours, and I get blisters on my fingers," she says. "I have a huge mirrored closet in my bedroom, so I'll go and practice my whole routine in front of it, over and over."
Of course, we're sure it helps that they have their festival looks covered. The four are the recent campaign stars of the new H&M Loves Coachella collection, which hits stores today. The collection contains all of your festival necessities on top of the season's hottest trends, simplifying your weekend outfit planning (whether you're heading to sunny California or not).
While the band was captured wearing a good portion of the collection in the campaign, they have a few pieces they're especially passionate about (aka the ones that are going to sell out quickly): "I'm so excited about the catsuit," says Starlie Cheyenne. "It's so tight, but it's super flattering and very comfortable—it's like yoga pants" Flattering and as comfy as yoga pants? Yes, please. Daisy Clementine's favorite happens to be the embroidered denim jacket for its versatility. "You can wear it with so many different things," she says. However, she certainly isn't playing favorites. "There are so many pieces from the collection that you can incorporate into your outfits all year round," she adds. "That's what I really love about it—you can play it up as much as you want to be full-on Coachella, but also tone it down to be more suitable for every day."
Combining their psychic fashion powers together, the siblings hashed out what the next big festival trend will be. While Pyper America, Daisy Clementine, and Starlie Cheyenne don't see the choker dying anytime soon (and we don't either, to be honest), Daisy Clementine predicts embroidery is going to be big. Lucky for us all, H&M's collection contains all of that. "I also hope people make [the embroidery] really personalized," she adds. "I'm obsessed with monogramming and putting your name on things and just making it feel very you."
So what's in the stars for The Atomics, post-Coachella? Well, aside from Lucky Blue gearing up for fatherhood, we should definitely be keeping our eyes peeled for more music. "Anything can happen, I feel like there are some secrets," hints Pyper America. Hmm… could that mean an album is on the way?
While we can more than likely expect new music to drop in the near future, don't be surprised if, in a few years from now, the four are throwing their own festival.
It may be nothing but a fantasy for now, but this quartet sure does seem to have it all figured out—well, sort of. While it may be impossible for some of their first festival choices to play (Elvis was a unanimous vote to bring back from the dead), we could expect anyone from Tom Petty to The Black Keys and Cypress Hill to grace the stage at "The Atomic Bomb," which would take place on the stunning Flathead Lake in Montana, a childhood family vacation spot favorite. If The Atomic Bomb Festival is one day brought to life, you sure bet we'll be the first on line for tickets.
Going to Coachella this year? Be sure to catch The Atomics rocking out both Saturdays (April 15 and April 22), and get yourself festival-ready by shopping the new H&M Loves Coachella collection for yourself, now available in store and online at H&M.