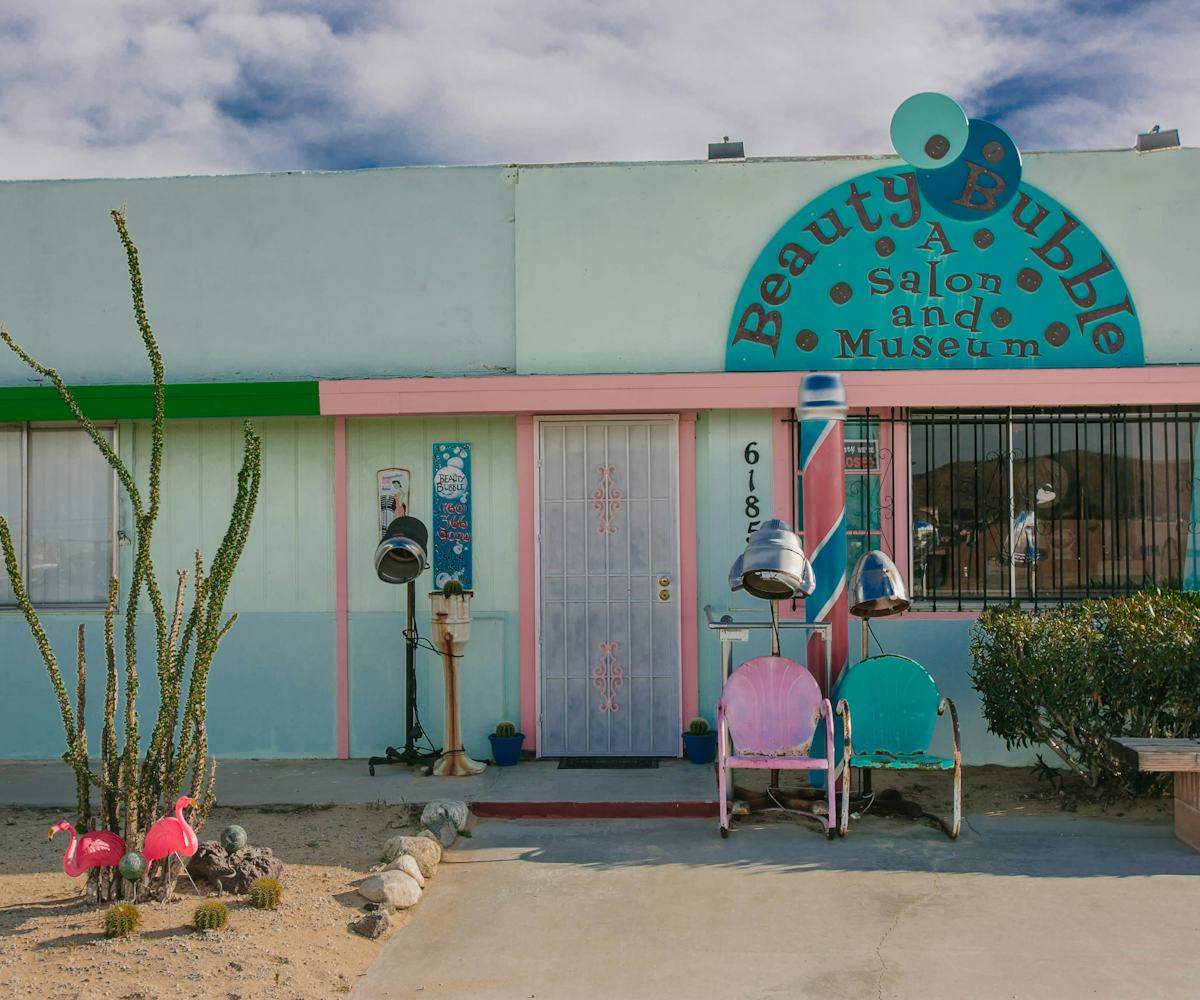 Photo by Aaron Purkey.
An Exclusive First Look Inside The Beauty Bubble: A Shrine To Cosmetics In The California Desert
The story behind the world's cutest and quirkiest new museum
If Wes Anderson designed a hair salon, it might look something like The Beauty Bubble, situated in a 1940s apartment along Joshua Tree's Route 62, a two-hour drive from L.A. Officially called The Beauty Bubble Salon and Museum, it stands as a classic Americana roadside attraction—a walk-in time machine that transports visitors to a pastel dreamland of beauty-industry memorabilia. Owned and operated by Jeff Hafler, a veteran salon owner and self-described "hairstorian," The Beauty Bubble officially opened on April 9, adding a dash of pin-up glamour to the Mojave Desert.
When I arrive, doo-wop music is playing and Hafler is sitting on a pale pink vintage 1960s clear-hooded salon dryer chair, with a metal ashtray built into the leather armrest. "Welcome to the Beauty Bubble," he says, all peachy and keen. Halfer, an Ohio native, has been cutting hair for over half his life, and began collecting cosmetology relics in 1991, after a friend gave him a Le John hairdryer. "I'd thrift often, and then eBay launched. It was easy to find obscure things for cheap; nobody bid against me. I became an avid collector." Hafler accumulated roomfuls of grooming mementos, and those artifacts—multicolored wigs, hair-growing Barbies, a bobby pin stapler called the Pin Wiz, a carousel of retro postcards—are on display at Hafler's shrine to American cosmetology.
The Edward Scissorhands-esque space includes three styling stations with old-fashioned barber chairs and "The Lustre-Cream Lounge," decorated with vintage beauty ads featuring Tinseltown starlets like Marilyn Monroe and Bette Davis. There's also a functional vibrating exercise belt and a 1960s yellow portable sauna thrown in for good measure—just the right dose of kitsch.
In 2001, Hafler opened Ohio, a West Hollywood salon named after his home state. He built a devoted clientele, who followed him into the desert when he moved to Wonder Valley with his partner Mikal Winn, to raise their young son. It was there that he opened the first version of The Beauty Bubble, running the salon out of his own home. Clients traveled all the way from Los Angeles and Palm Springs for routine trims, or for Hafler's magic touch with dramatic throwback hairstyles like beehives, bouffants, and pompadours. "I love volume," he says. "Fancy updos for proms, weddings, and marine balls at the 29 Palms base. Teased hair. Barrel curls. I do it all. The only hairstyle I'm allergic to is the perm."
The Beauty Bubble houses over 3,000, mint-condition artifacts from the world of cosmetology, spanning from the 1800s to present day. There's a perm machine from 1940, donated by Veronica Lake's hairdresser Earl Adams (which he reportedly used on Lake), dozens of Turbinator hair dryers, and a 1960s C-Bak viewer—mirrored glasses designed to allow you to style the back of your hair with both hands. Other prized hair-aphernalia include intact bottled beer shampoos from the 1940s, a kerosene heated curling iron oven from 1883, hairnets made from human hair (before hairspray eliminated the need for hairnets), and the first plastic hairpin (invented during WWII to conserve steel).
Hafler might also own the world's oldest handheld hair dryer. "Hamilton Beach claims to be the originator, in 1920, but the patent date on mine is 1908—predating the invention by 12 years." A history-buff-turned-hairdresser, Hafler was dubbed the "valedictorian" of his beauty school, and is archived in interviews at The Library of Congress and The Smithsonian, cited as an expert in the field of American hair history. His collection will likely be inducted in The Guinness Book of World Records. 
Launching the roadside Beauty Bubble in Joshua Tree will certainly broaden Hafler's reach—the national park and its namesake town now attracts two million people per year. "The Beauty Bubble is striking a chord," he says, "Hair is an important part of American pop culture, and I love introducing people to the history of it. All of it was being tossed and forgotten. I wanted to play a hand in preserving the fascinating history and evolution of American hair and beauty culture."
Hafler is now holding his most sentimental collectible: a hairdresser figurine which was a gift from his friend Michael Jackson. "I'm a beautician, not a magician" is written along the ceramic base. Hafler was first introduced to Jackson in 1998, when he styled a receptionist's hair at the L.A. salon where he worked. The receptionist was Jackson's friend, and Jackson loved his friend's new hairdo, and called the salon the following day to talk to Hafler.
"What would you do to my hair if you could do anything?" Jackson asked him. "Honestly, Michael, I'd cut it short and butch you up a little bit," Hafler said. Jackson laughed and said, "Well, I don't know about that."
Although Hafler never styled Jackson's hair, the two became fast friends. Jackson and his chauffeur Dorothy would pick Hafler up in a big, black SUV. They'd go to the movies together, laugh, drink beer, and talk on the phone frequently. "Michael was a big phone talker," Hafler says. "On Thanksgiving, Michael called me from Elizabeth Taylor's home. In the background, she said, 'Tell Jeff I say Happy Thanksgiving.' It was a surreal day. I was a young, bright-eyed Ohio native who'd just moved to L.A. I thought maybe I'd bump into a celebrity, but I never imagined I'd become good friends with Michael Jackson!"
Their paths eventually diverged and they lost touch. But Hafler continues to wears the braided silver ring Jackson gave him. "It's a good luck charm," he says, "We won the jackpot at the casino the night I decided to wear it. I haven't taken it off since." Hafler is still holding the ceramic hairdresser figurine. "Her little feet broke off, and the day Michael died I found her missing feet, and glued them back on. Farrah Fawcett died that same day," he says, pointing to a donated wig box with a young Fawcett on the cover—one of her first modeling gigs.
With new item donations coming in weekly, Hafler may soon need to expand to the empty lot next to The Beauty Bubble. "My dream, if I had the adequate financing, is to build a geodesic dome in the shape of a vintage hairdryer. Imagine driving in the desert and seeing a huge turquoise hairdryer in the distance! Now that would be the ultimate roadside attraction."
INFO:
The Beauty Bubble
61855 29 Palms Highway
Joshua Tree, CA 92252
Hours: Tuesday to Sunday, from 10am to 7pm.
Phone: 760-366-9000
Beauty Bubble stylists: Jeff Hafler, Emily Hunter Sprauer and Danielle Taylor.
Admission: Donations for museum visits and photo ops.  Museum and salon drop-ins welcome. Advance appointments highly recommended for salon. Haircuts start at $35.
Instagram: @BeautyBubbleSalon
Vintage 1960s salon chairs and Turbinator hair dryers, at the Beauty Bubble Salon and Museum in Joshua Tree, California. 
The Beauty Bubble Salon and Museum is a classic Americana roadside attraction along Route 62 in The Mojave Desert.
Hafler's collection of wigs in the Beauty Bubble's "Lustre Cream Lounge," a room decorated with framed Lustre Cream advertisements featuring silver-screen starlets.
Hairdryers and various hair and beauty memorabilia in the lobby of the Beauty Bubble Salon and Museum. 
Jeff Hafler's collection of wigs in The Beauty Bubble's "Lustre Cream Lounge."
Ephemera from Hafler's collection of over 3,000 beauty and hair industry memorabilia, including vintage salon chairs and a 1960s yellow personal sauna.
Vintage 1960s pink salon chairs in The Beauty Bubble lobby.
Naomi Melati Bishop at The Beauty Bubble's "Lustre Cream Lounge."
Jane E. Herrold, Jeff Hafler, and Emily Hunter Sprauer at the Beauty Bubble Salon and Museum's Grand Opening on April 9, 2016. 
Jeff Hafler's styling station at The Beauty Bubble Salon and Museum. 
A wall in the "Lustre Creme Lounge."
Jeff Hafler sitting at Emily Hunter Sprauer's station, one of the three Beauty Bubble Salon's hairstylists.
Jeff Hafler and Naomi Melati Bishop at The Beauty Bubble Salon and Museum.
Keeping time with Bonate as you enter the Beauty Bubble Salon and Museum.