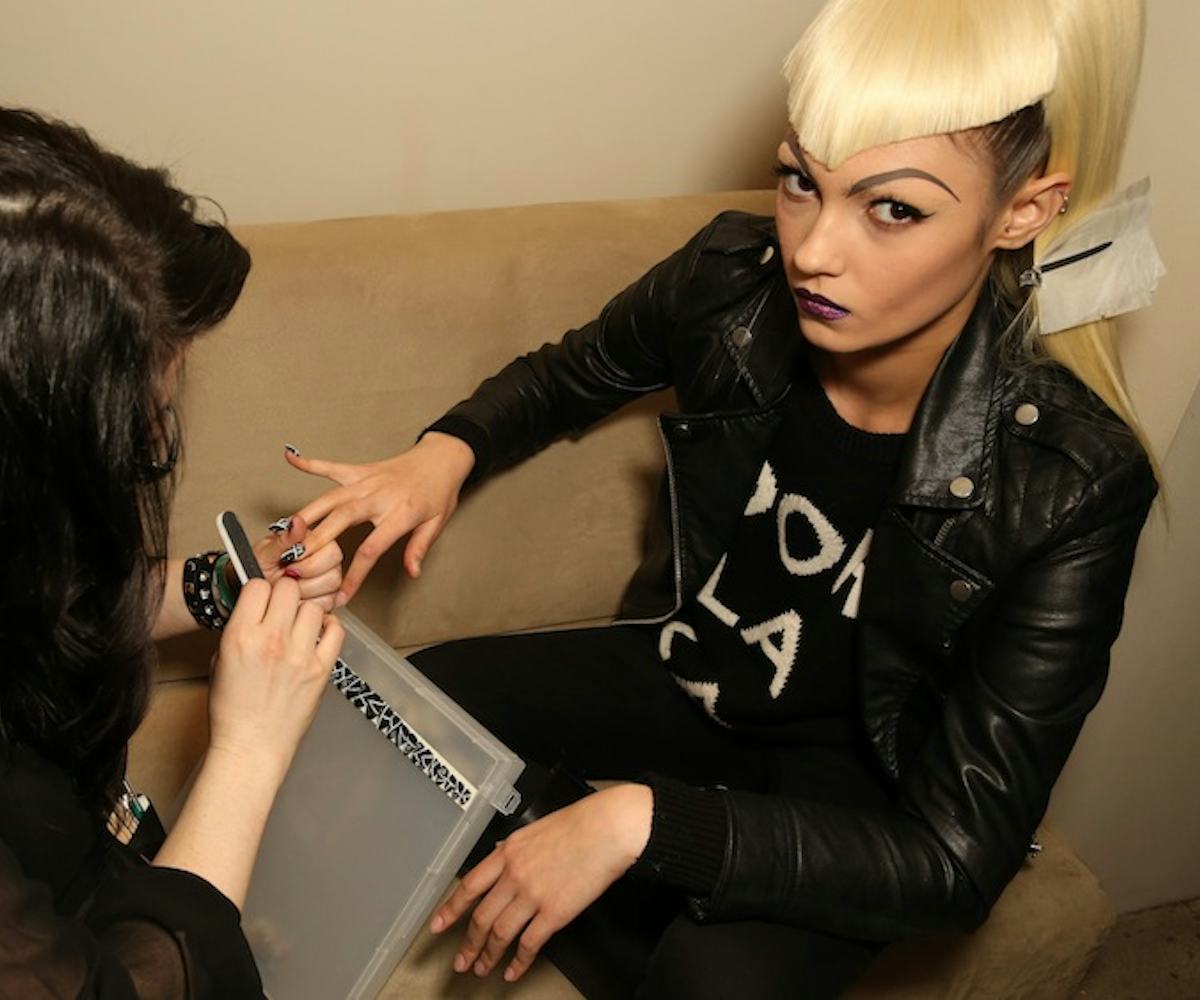 exclusive: the blonds fall '14 manicure
see how they nailed their runway look.
Sitting in on the pre-show nail test with Jan Arnold of CND and Phillipe and David Blond of The Blonds is like witnessing a meeting of mad scientists' minds.
Though the collaboration between the polish impresario and the designers had rather dull beginnings: The duo requested a beige shade to go with a parade of corsets for their New York Fashion Week debut. When Arnold suggested doing tiny versions of the runway looks instead, the Blonds took the bait. Now eleven seasons later, that original look seems tame, as recent shows have featured a series of ornate and pain-staking masterpieces meant to complement each individual design.
"We love working with The Blonds, and our creative process begins with their inspiration and then we merge what we know about the season and about the trends," says Arnold. "We're not just polishing nails, we're really creating little mini-masterpieces."  For the most recent brainstorm, Phillipe and David were presented with ideas that fit with this season's muse: Catwoman. From nails dripping in baubles for the cat burglar ("She literally has sticky fingers and reached into the jewelry box."), to a three-dimension face of the Joker alongside cartoonish weapons ("Can we make a flag that say's 'Bang' pop out of the gun?") to Edward Scissorhands-like claws that flip open like ten tiny switchblades ("They need to look like weapons."), these nails are the antithesis of this season's 50 shades of nude trend.
"They dangerous, they're intricate, they're over-the-top." declares Arnold. And though they're mostly not safe for work/real life, some of these creations can be modified for everyday, including the jeweled leopard print.
For an easy how-to on that purr-fect polish job, check out beauty assistant Jade Taylor's mani session with CND's Jan Arnold on NYLON TV.